ORION: PRELUDE – GAMEPLAY REVEAL
Happy Holidays, internet!
We are back with an extremely exciting update – we are showing off the first gameplay footage of ORION: Prelude! We have been hard at work after the Technology Demonstration we had on display for London's EuroGamer event – and we are ready to show it off.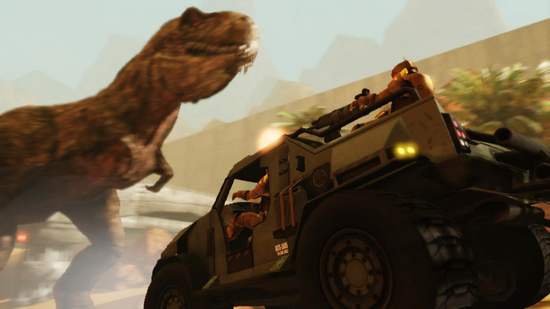 BUNKER DEVELOPMENT
It's been a long couple of weeks but this is something worth sharing. We've showcased it a bit here and there and the reactions have been extremely humbling. We are proud of what we have been cooking up and we are working hard to bring you the Multiplayer Beta in the earlier part of 2011 – which we will be talking about a little bit more in the later part of this post.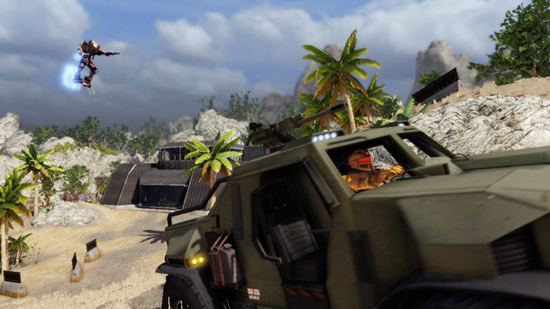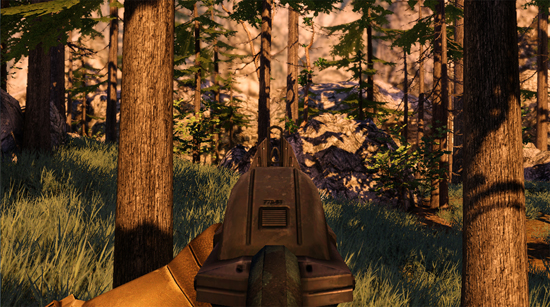 JETPACKS, BUGGIES AND DINOSAURS - OH MY!
We already have packed a wide variety of content and mechanics into the game. Right now Prelude already has more content and feature sets than what is in the latest public release of the Source Multiplayer Beta. This includes functioning Dinosaurs and vehicle combat and the newly re-invented jetpacks!
WEAPONS ARE A GO!
The weapons system is also back – with complete functionality already. This includes the stance-based mechanics that were featured in the Source Beta, the iron and zoom functions, the detailed damage tables and a whole bunch more. We are constantly updating this and maintaining that strong tight control that we showcased in the Source Beta.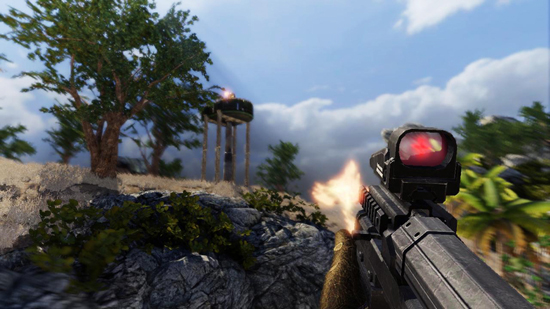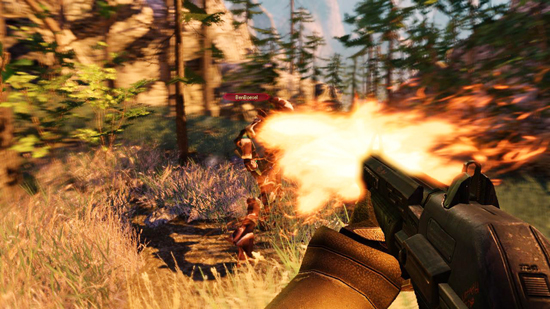 IMPORTANT THINGS TO REMEMBER
However, before viewing, we would like to remind you fans and gamers of a few very important facts:
01 - This game build is still pre-alpha.
02 - This game build was created in 6 weeks.
03 - It is using a TON of placeholder content from the Source Multiplayer Beta, including:
weapons, characters, arm models, and a few other things.
04 - The T-Rex is an old model using only 10 game animations mixed with motion layer blending systems. The final T-Rex in the shipped game will feature just over 200 game animations.
05 - It is already extremely fun!
ORION: PRELUDE – GAMEPLAY REVEAL (720p):
Here is a nice little two-minute montage that we threw together from a day of testing this last Sunday. Enjoy!
ORION: PRELUDE – MUTLIPLAYER BETA REGSTRATION
NOW OPEN!!
Yes that is right! We have just opened up registration for the ORION: Prelude PC Multiplayer Beta. We are going to be unleashing this beta in the earlier part of 2011 and we are currently taking applications. It is a simple 5-step process that can literally be done in 30 seconds.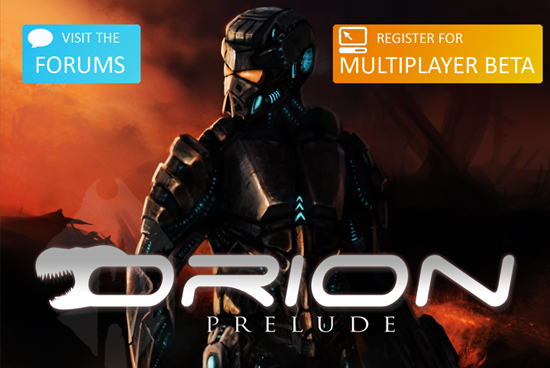 HOW TO APPLY?
Applications are handled through the brand new Spiral Community. To apply for this Multiplayer Beta, simply head over to www.orionprelude.com and click on the shiny orange button that says "Register for Multiplayer Beta". This will pop up an in-screen window using the new Spiral Community and let you register an account. After filling in the spaces provided, you will be sent an email. Simply activate your account and you are automatically registered for the ORION: Prelude Multiplayer Beta.
HOW TO GET IN?
This selection process will be a manual selection process. There are a few ways to increase your chances of getting in – and that is simply by interaction. Think of this in the same way during election season, where all those annoying Senators and Chief-of-Police wannabe's put up signs and posters all over your town at every single intersection. They do this simply to get their names burned into your brains. The more you see it, the more you'll remember it. This will work for you at the Spiral Community. The more we see you there, the more we will remember your name during that selection process. Interaction will be key.
PREVIOUS SOURCE MULTIPLAYER BETA TESTERS
If you were a beta tester previously for the ORION: Source Multiplayer Beta – you are automatically included in this when it rolls out. We appreciate your interest and support in the earlier stages when we were around – and this is our thanks to you. You guys rock.
THE GOOD NEWS
If you liked what you have seen in the first gameplay footage – then you will be even happier. You guys will be getting a much more polished and focused build including all of the new content. This includes:
-The new character models
-The new weapon models
-The new T-Rex (and probably a 2nd dinosaur as well)
-More vehicles
-More maps!
A COMPARISON - JUST FOR YOU
We threw together this comparison for you guys. On the Left is what our build looks like - using the old Altair Warrior from the Source Beta. On the Right is what you guys get in the PC Multiplayer Beta. Re-designed and all bedazzled - just for you. You can expect these levels of changes for all placeholder content.

We hope you enjoy. We look forward to seeing some of your faces in the new Community and we look even more forward to owning you guys on the ORION battlegrounds!
Have a safe and happy holiday.
But most importantly,
Love Spiral Game Studios.
Spiralgamestudios.com