ORION BETA 1.2 - PLAY IT FIRST COMPETITION - WAVE 3 (FINAL WAVE)

We have been slaving away over quite a few different pieces of development for these last couple of months - one of course is the much anticipated Beta 1.2 release of Orion Source Multiplayer Beta! That means another 100 people are eligible to get Beta 1.2 early! So start sending those emails!
We have been working endlessly on this.

WE HAVE ADDED:
-Removed all crash bugs
-Added server / linux files (located in the "bin" folder)
-over 60 gameplay fixes and tweaks
-all original maps have been updated and optimized
-4 brand new maps
-completely updated weapon mechanics / system
-updated cloak item mechanics
-new grenade model
-updated CTF flag model
-player customizable options: ability to choose between TOGGLE or HOLD for Iron Sight / Scope mechanics
-player customizable options: ability to choose between TOGGLE or HOLD for Crouching mechanics
-completely fixed the Shotgun weapon
-brand new special effects for muzzle flashes, grenade explosions and flash light effects
-cleaned up code to optimize performance
-and TONS more!
What does this mean? We are right around the corner for the Beta 1.2 release. It has been a long time coming and we are super excited to release this and play with you guys. We are so excited in fact that we are opening an additional wave for fans to play the beta early as well as to help us test the stability of the game. The code has just gone Gold as of today and we need to conduct multiple stress tests before the release.
PLEASE SEND ALL BETA TESTER APPLICATIONS TO:
David Prassel (Project Director & Game Designer)
david@prassel.com
PLEASE INCLUDE THE FOLLOWING INFORMATION:
01 - Your computer setup and specifications
02 - Other games you have beta tested
03 - Why you are interested in Orion
04 - When did you first hear about Orion / Incoming?
05 - Why we should pick you
We are also so pleased with the quality of Beta 1.2 that we are going to start scheduling regular play session dates with the community and fans! Once Beta 1.2 is released we are going to have weekly playtests where you can join games with the developers behind Orion EVERY SUNDAY at 11am US Central. We will be posting updates about this weekly on our forums (http://www.orion-project.net/forum/) and Steam group (https://steamcommunity.com/groups/orion). So get ready!
Here is some media from today's playtest! Enjoy and start sending in those applications!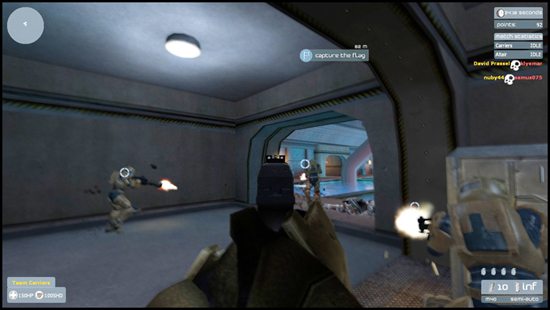 Leaving the Carrier home base area only to encounter an entire squad of aliens right out side.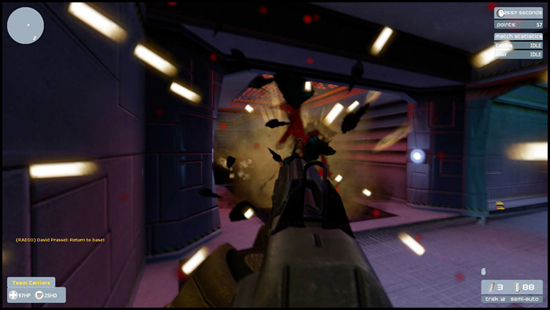 I can't even explain how much stuff actually happened in a 3 second period when this image was taken. I was encompassed in a circle of 3 grenades going off, blowing the S*#@ out of another guy and then eventually taking the fall - sweet times.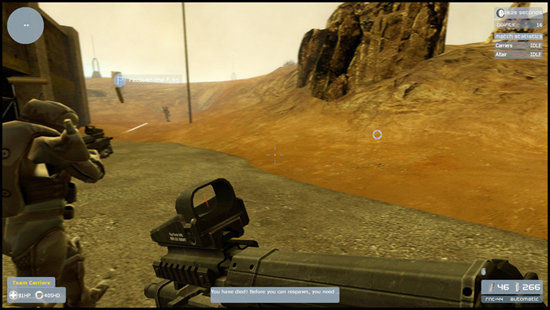 Trying to prevent the enemy from capturing the flag.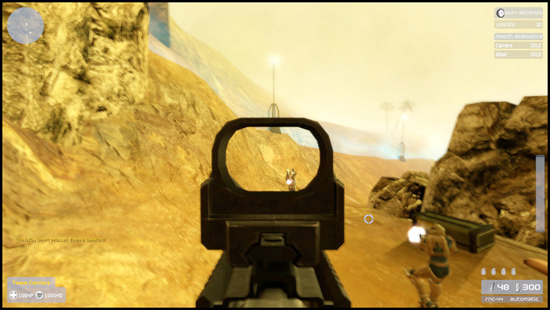 Enjoy the new force field effects for Incursion ;)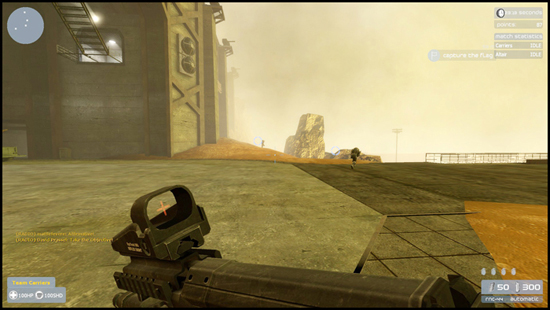 As well as the new sniper post built into the huge wall (located on Incursion).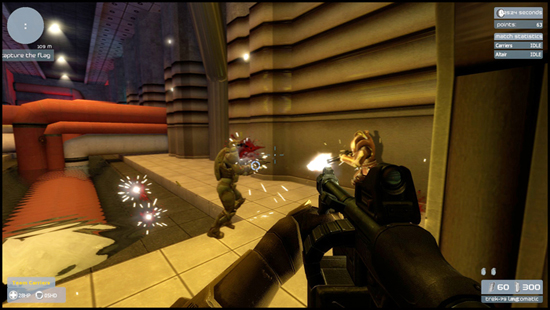 We actually didn't end up winning this battle - and it was 2 v 1.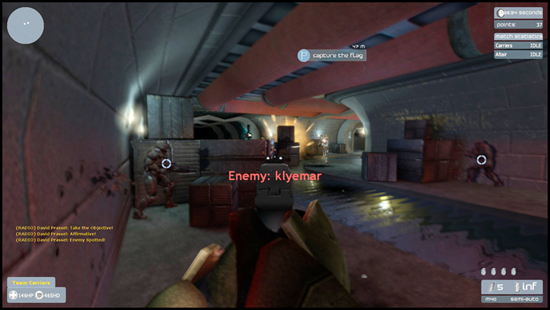 Making our way down to the new area on CTF_CATCHMENT sewer area. We were going for the flag before we ran into these two alien baboons.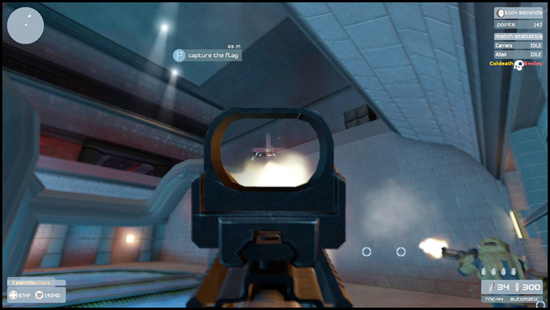 So there was this alien. He kept picking off humans and hiding as we ran across the center. He did this about 3 times until it became my primary objective to find this guy and destroy him. This picture shows that happening.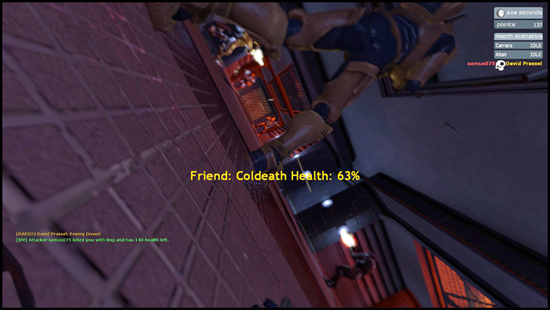 Cold death has 63% health left. I hope he does good!
Visit our site for constant updates and news about Orion and the upcoming Beta 1.2!