Six months have passed since the first release (v0.9.0) of January 16th 2021, six months in which the development team did not rest, producing a wealth of tweaks, bug fixes and exclusive, brand new additions to this comprehensive total conversion modification for Strike Fighters 2. Unwanted bugs found their way in the January release, due to time constraints and the dev team wanting to meet the deadline in time for the 30th anniversary of this historic operation. Now we offer a much more refined and expanded experience, with quality of life improvements and welcome bonuses. Be sure to read the massive (albeit summarized) change log to learn more about all of the efforts that went into this new release.
Change log:
Removed all helicopters and related files from the mod, moved them to a future add-on.
Removed unused cockpits for AI-only aircraft (B-52G, C-130s, C-160F, S-3s).
Removed shadows from pilot and seat 3d models for more performance and less rendering bugs.
Removed legs meshes/nodes from cockpit 3d models having them, for quality consistency.
Removed music track from the Award screen; it can be heard by accessing awards from the Medal List screen.
Removed Hebrew markings on the starboard nose from the F-15 RSAF skins, thanks to yakarov79 for noticing it.
Removed nose arts and relative names from the EF-111A aircraft, as they are not correct for the Gulf War.
Removed custom destroyed models for aircraft in favor of stock ones where proper, for quality consistency.
Changed some Effects textures with different ones always made by Stary.
Changed first two selectable pilot pics, to be generic ones for both sides of the conflict.
Cleaned up Weapons folder, standardized LOD and shadow distance values, overall bug fixes.
Cleaned up aircraft folders of unused textures and fixed distance LOD textures for the A-10A.
Cleaned up Pilots folder of duplicates, standardized LOD and shadow distance values for better performance.
Cleaned up cockpit folders of any unused textures, converted many cockpit textures to JPEG.
Added Arabic speech audio files and proper call signs for Iraqi AI pilots, provided by GKABS, with tweaks by guuruu.
Added a decent amount of unique prop and jet engine sounds for use by many aircraft, by guuruu.
Added SoundList properties to many aircraft audio files missing specific entries.
Added different Loading music, an ambient music track from DID's F-22 Total Air War.
Added major weapon and aircraft loadout and ECM improvements by yakarov79, dtmdragon and guuruu.
Added missing Search and Sight .tga textures referenced by aircraft data to the Flight folder.
Added Mirage 2000EAD/RAD aircraft with brand new skins, and relative UAE units added to the campaign data.
Added Mirage F1BQ aircraft as released by the Mirage F1 Team.
Added Su-7BMK aircraft with tweaks by paulopanz and cockpit 3d model by Stary.
Added C-9 aircraft by Veltro2k with USN, USMC and Kuwaiti skins by daddyairplanes.
Added VC10 K.2 aircraft by Veltro2k and yakarov79, with flight model tweaks by baffmeister.
Added P-3C Orion aircraft by Florian with data tweaks, skins and decals by Viper63a.
Added TNC-45 fast attack boat made by GKABS, with specific tweaks for ODS.
Added FPB-57 patrol boat made by GKABS, with specific tweaks for ODS.
Added Crotale, M113, M113 ACAV, M163 and M577 by GKABS, with specific tweaks for ODS.
Added Challenger 1 tank created by guuruu, removed Chieftain Mk.11 placeholder.
Added Chieftain Mk.5 tank made by GKABS, with skins by compufat.
Added P-40 Long Track radar ground object created by yakarov79.
Added FV101 Scorpion, M109 and a stand-in V-150 ground object, all with desert skins.
Added new M2/M3 Bradley APCs by guuruu, with bug fixing provided by GKABS.
Added more detailed Jaguar aircraft 3d models by yakarov79, made thanks to Sundowner's source files.
Added latest 3d model for the Il-76 by Veltro2k, compatible with previous skins by paulopanz.
Added brand new skins, decals, bump maps and damage textures to all USN Hornets, by yakarov79.
Added Bahraini skin and decals by Viper63a for the F-5E, added relative unit to the campaign data.
Added proper 5-digit serials and relative decals for the MiG-29A, by paulopanz.
Added much improved data for all MiG-25 aircraft, by Crusader.
Added accurate avionics and data update for all Mirage 2000s, by Crusader.
Added more accurate canopy glass tint for all F-16C aircraft, by dtmdragon.
Added missing seat texture for the L-39C/ZO aircraft and cockpit 3d models.
Added better stand-in cockpit for the A-4KU/TA-4KU, the Kfir one modified by Nyghtfall, further repainted.
Added Canadian pilot LOD for the CF-18A, thanks to dtmdragon for noticing it.
Added some brand new terrain TODs by baffmeister and custom SAM site tiles by yakarov79.
Added custom GreenTVFilter textures to each aircraft cockpit referencing one.
Added missing loadout.tga files for recently added heavy aircraft, by Viper63a.
Added latest version of the realSKY mod with all of its environment tweaks and textures.
Added tweaked Wind values by VonS to the environment data, as suggested by Stick.
Added StartWeather statements to campaign data, as suggested by Stick.
Added single missions about the Battle of Al-Khafji, recreated by Stick.
Added new Scramble/Instant Action mission using a different, better-looking bonus terrain (thanks to gerwin for the help).
Added single mission featuring balloons as targets, using the old, previous bonus terrain from the first release.
Added better water bump map effect using an older texture created by luk1978.
Added photorealistic Faylakah Island and Kharg Island tiles by tiopilotos to the main terrain.
Improved Mirage F1CK and F1CK-2 with the latest data, cockpit and aircraft 3d models.
Improved OV-10D textures using higher quality ones from the original FSX add-on.
Improved 1977Frenchie's skins for the USN Hornet aircraft, by Viper63a.
Improved Viper63a's skins for the F-15 aircraft, by dtmdragon.
Improved 1977Frenchie's decals for all F-14s and added grill detail to their skins, by RustyKurnass.
Improved textures of low-poly ground objects, repainted or created desert skins where needed.
Improved movement routes for Armed Recon, Anti-Ship and CAS missions.
Improved Mission Radius values for some aircraft to increase realism of campaign missions, by dtmdragon.
Improved Mission Rate values for units in campaigns; more realistic number of missions assigned, faster campaign playthrough.
Improved ground order of battle for the Invasion of Kuwait campaign, now it should work properly.
Repainted Mirage 2000C cockpit by YEYEYE so that it features more realistic colours.
Repainted Jaguar A and Jaguar GR.1 cockpits so that they look better and more detailed.
Repainted F-15E cockpit, alleviated issue due to bad mapping of front canopy glass.
Fixed missing cockpit textures in some instances, standardized "mirror off" textures for all cockpit 3d models.
Fixed crash to desktop when flying with AI-only aircraft by activating the FlyAll=TRUE cheat in Options.ini.
Fixed data files and some cockpit files (A-6s and F-111s), to remove low-poly pilots from cockpit view.
Fixed issues due to canopy glass aircraft textures not being placed inside each skin folder.
Fixed missing RWR data and radar distance values for many ground objects, by guuruu.
Fixed missing RWR sounds for the F-4G and A-7E, thanks to Viggen for reporting it.
Fixed MiG-29A mission types and fixed weapon stations so that the AA-10 is loaded correctly.
Fixed ALQ-167/Phoenix rack assemble not showing up in the F-14A/F-14A+ aircraft, by RustyKurnass.
Fixed pilot 3d model issue in the A-10A/OA-10A aircraft data.
Fixed Su-22M3 having broken avionics due to using Avionics70.dll instead of Avionics60.dll.
Fixed avionics issues reported by RustyKurnass on the F/A-18A Hornet.
Fixed wrongly referenced radar avionics textures for all Hornet aircraft.
Fixed wrong afterburner effect for the F-7M, now it's the same used on the F-7B and MiG-21s.
Fixed unusual bug discovered by RustyKurnass about weapon racks in campaigns, with help by yakarov79.
Fixed Su-20/22 flight model issues thanks to baffmeister.
Fixed OV-10A/D flight model issues and improved prop textures, by guuruu.
Fixed decal bleeding issues on the tail of all F-15s, by Viper63a.
Fixed ARM stations' coordinates for all Hornet aircraft, by yakarov79.
Fixed annoying campaign bug; missing ForceID=2 for Iraqi's 5th Squadron caused many sorting issues.
Fixed VA-115 unit being aboard the wrong carrier in the campaign and added missing VA-155 unit to it.
Fixed wrong parking spot locations for the Kuwaiti airbases, thanks to Viggen for reporting it.
Fixed numerous bugs in the terrain's target areas, removed all objects from (neutral) Iranian cities.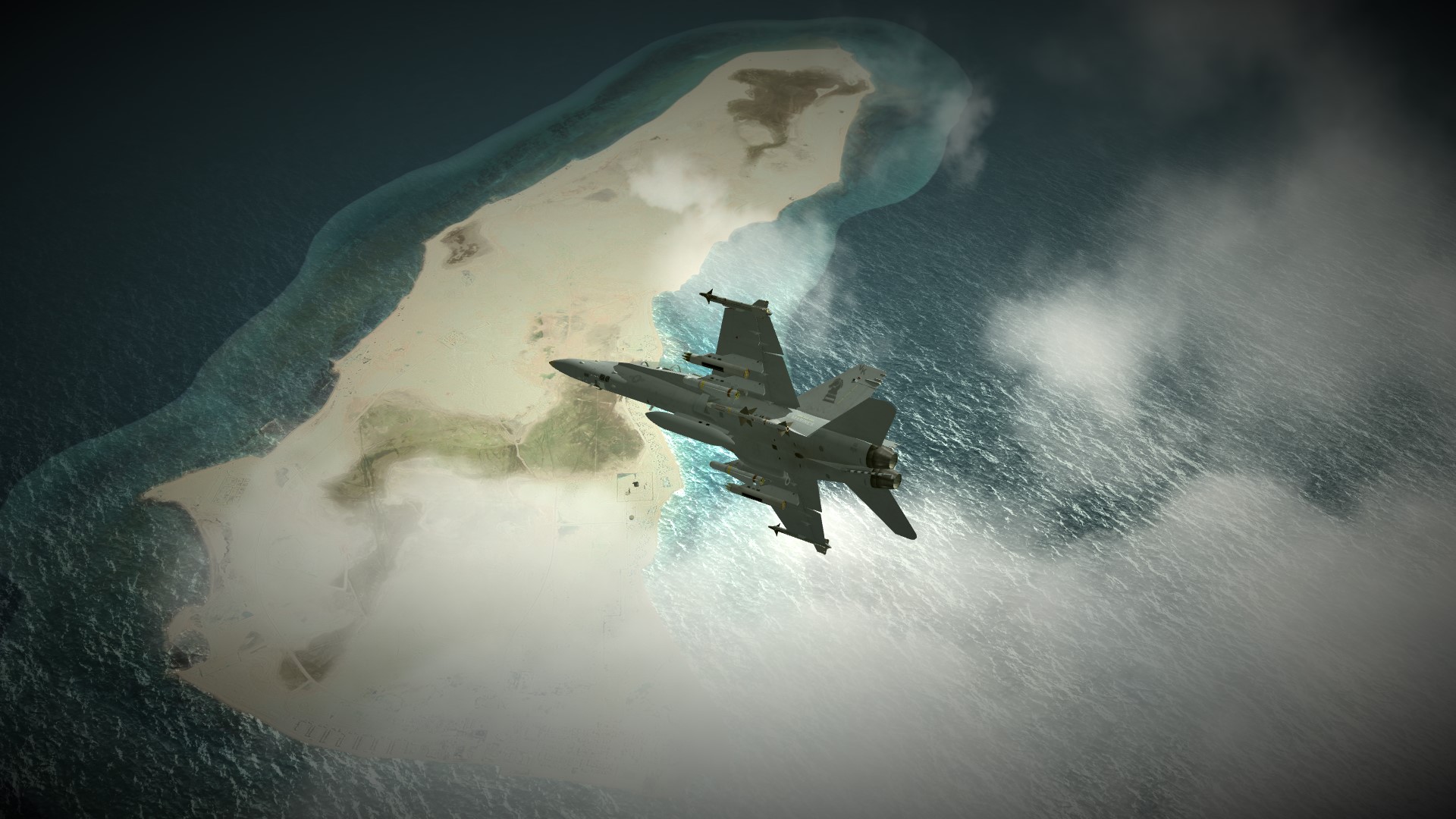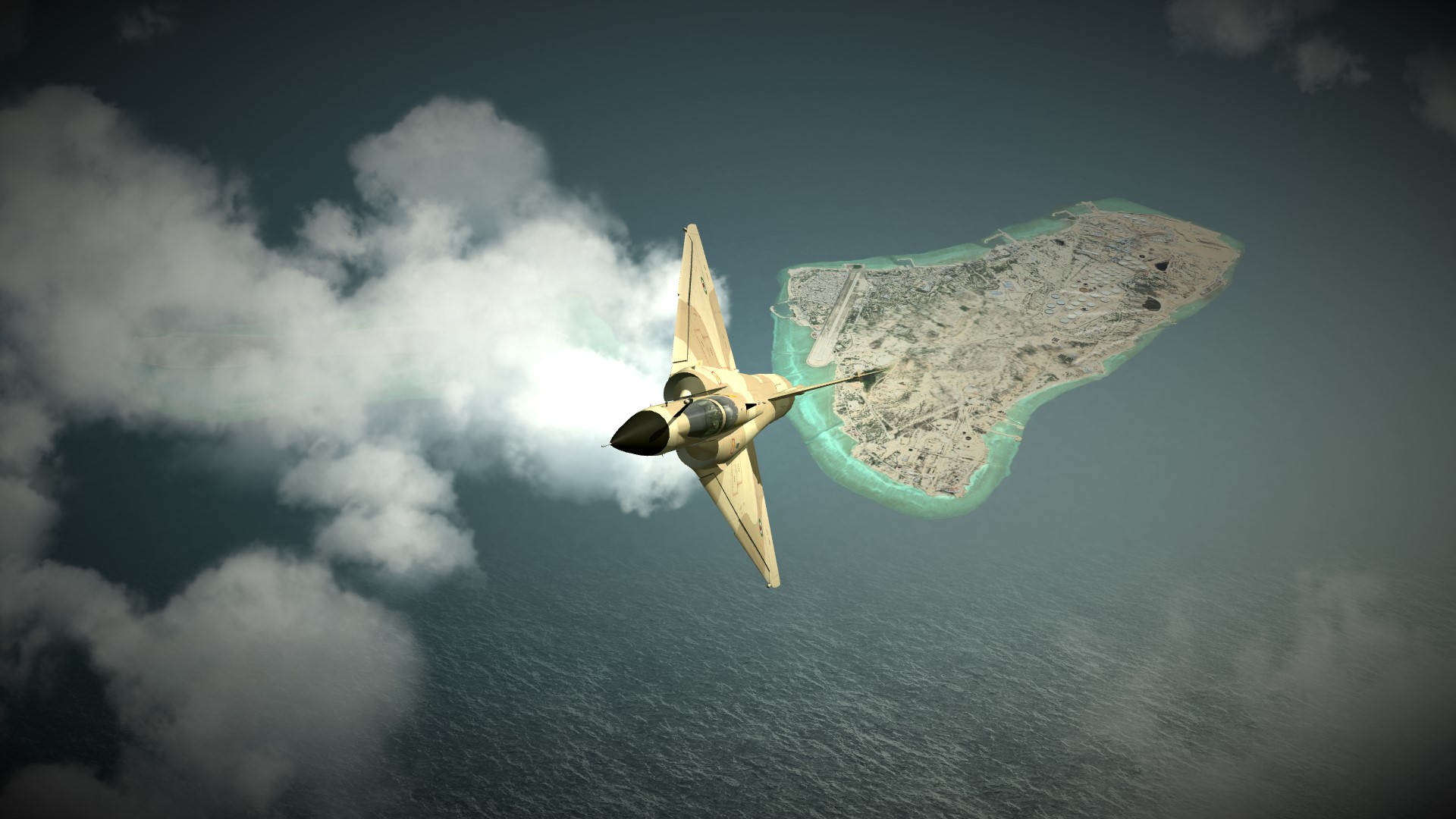 Minimum Requirements
Required products from ThirdWire:
Strike Fighters 2
Strike Fighters 2: Israel
Strike Fighters 2: North Atlantic
Full support for:
Mission Editor DLC
Campaign Customizer DLC
System specs:
OS: Windows 7 x86
Processor: Dual Core 2.7 GHz
Memory: 4.0 GB RAM
Hard Drive: 17.0 GB Free Space
Video Card: 1024 MB DirectX 10
This high quality freeware total conversion/modification is currently available for download exclusively at CombatACE.com.
For further details: Operation Desert Storm: 30th Anniversary Edition - Thirdwire: Strike Fighters Series News - CombatACE