Yes, it's true! Base Assault for Call of Duty: World at War has finally arrived! It's been 1 year in development & even longer in planning. But it's finally ready to be called Beta 1.0!
So, why has it taken so long? The Anarchic-x Base Assault mod isn't just a port of the UO BAS gametype, it's a complete rewrite of the code, including new features not included in the UO version, new methods for existing features, bug fixes and fine tuning to our liking. Not to mention the maps! The maps available as of now are:
mp_ax_ardennes - a port/update of one of the more popular UO BAS maps by Drecks from After Hourz (by Rollin Hard)
mp_ax_farm - a brand new map built for WaW BAS (by Cornrow Wallace)
mp_ax_ponyri - a complete rebuild/update of the UO BAS map by GMI (by Cornrow Wallace)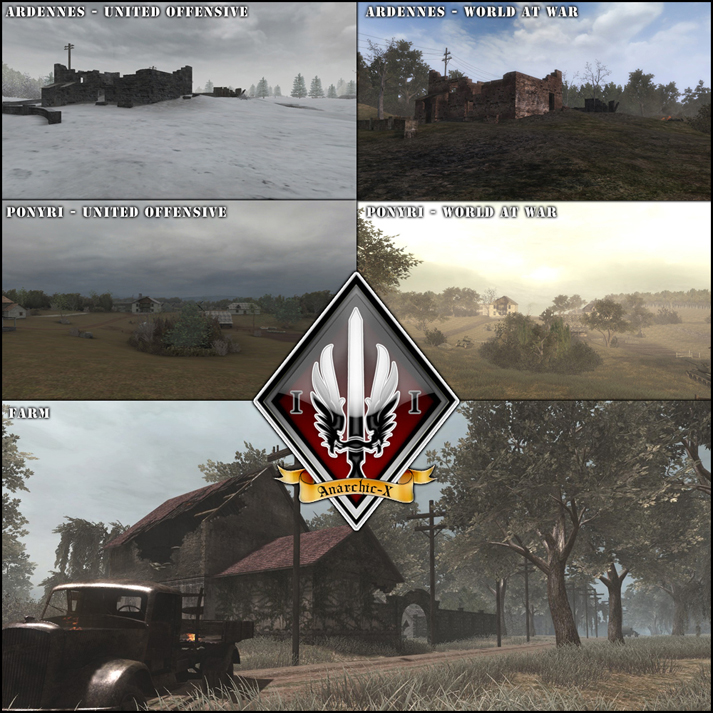 Included in the mod are unarmored vehicles by Zeroy, including Panzer IV (including a Flame variant), T34 (also including a Flame variant) and Sherman tanks. These vehicles are modified to run much smoother than the stock WaW vehicles. They don't have all the extra armor that makes then nearly impossible to destroy, they are fast moving and most importantly, they are finally fun to use!
A large part of this mod is the Demonmod, by Demonseed. He has been extremely kind in allowing us to use & completely customize his mod to suit the Anarchic-x BAS mod. The Demonseed mod allows us to assign weapons to the appropriate teams instead of giving everyone the same weapon pool. It also allows players to utilize perks & weapon attachments on the fly by using a hotkey to bring up a special menu (game developers, take note!) instead of having to do it between spawns & saving special classes. Overall, the Demonmod is exactly the kind of player customization mod we've been waiting for for a long time, and is a perfect fit with Base Assault!
In addition to all the bells & whistles, many "behind the scenes" fixes have been made to stock game files. Most of which the casual player will never notice, but provided great problems during development of this mod. While these aren't obvious to most players, it's definitely a noteworthy task, as some of these fixes were contributing factors to the seemingly never ending delays. Also worthy of stating is that this beta 1.0 release is the bare bones of what the Anarchic-x BAS mod will be. We've gotten the mod to a playable state and will continue to update it for a long time, including many features from the very popular anarchicBas mod for UO.
_____________________________________________
The team:
Rollin Hard: coding, mapping
Cornrow Wallace: mapping, advice, promotion, organization
Krautnapped: 2d art
Gitman & Logik: server hosting, bills, Punkbuster setup
_____________________________________________
Download the maps (mod will be downloaded from redirect)
Halo.anarchic-x.net
XP installation:
DRIVE_LETTER:/Documents and Settings/YOUR_USERNAME/Local Settings/Application Data/Activision/CoDWaW/usermaps
Vista installation:
DRIVE_LETTER:/Users/YOUR_USERNAME/AppData/Local Data/Activision/CoDWaW/usermaps
Windows 7 installation:
DRIVE_LETTER:/Users/YOUR_USERNAME/AppData/Local/Activision/CoDWaW/usermaps
_____________________________________________
Join the Anarchic-x BAS server at: 208.167.243.30:28960
We'll see you in-game!
- Cornrow Wallace & Rollin Hard