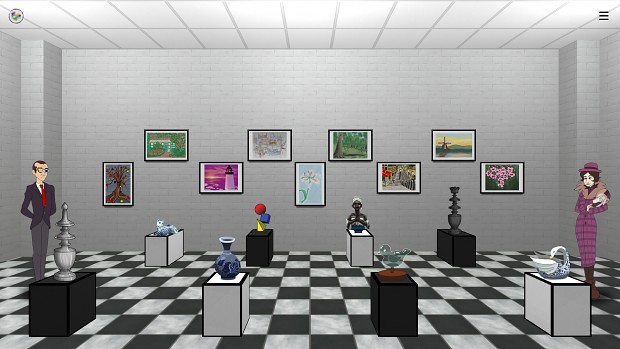 It's our Biggest Update since Launch!
Happy anniversary, beautiful artists! One year ago today, Mondrian - Plastic Reality launched on Steam. It's been a slow buildup, but in that time we've introduced a lot of amazing features, like turning the Museum into a live events space and adding in the Mondrian Studio design suite. There's been no shortage of big updates over the last year, but this one takes the birthday cake! So let's explore just a little bit of what this update has to offer.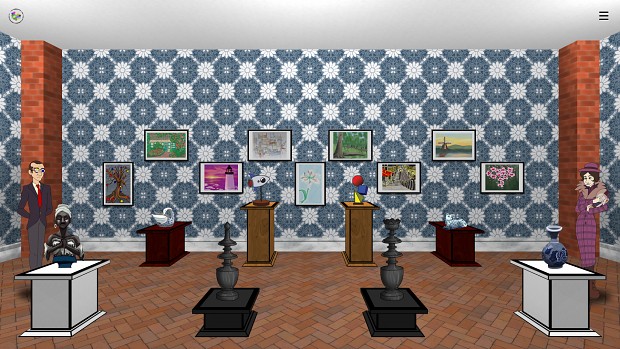 Massive Museum Additions
We had previously calculated a total of two million or so possible gallery spaces you could build in your Museum. However, that number has now skyrocketed to an ASTRONOMICAL SIX BILLION possible spaces. How? Ceilings, columns, and baseboards. Thanks to these brand new cosmetic additions, you'll be able to vary up the look of your space like never before. Personalize your gallery the way YOU want with 12 column styles, 10 ceilings, and 17 baseboards. As always, more cosmetics will be on the way in the future, especially with the holidays coming up.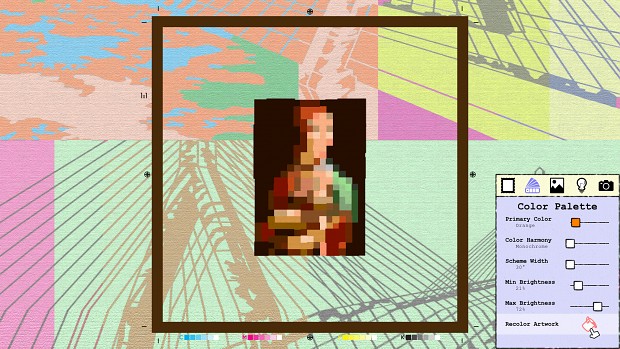 Support for Full HD Background Images
Want to really show off your skills in your Steam Workshop thumbnails? Now you may use Full HD background images (1920x1080) instead of the traditional chunked backgrounds the game has always used! All you need is a subfolder in the game's Backgrounds folder, and two images. Here's what to do:
In the Main Menu, select Options and then "Open Local Content"
Browse to the game's Backgrounds folder
Create a new folder here named after your background image (for example, My Photo)
Paste in two 1920x1080 JPG images. They must share a name with the folder. One should be full color (ie My Photo.jpg) and one should be an Inverted Black & White image with the word Gray attached as a suffix (My PhotoGray.jpg).
Backgrounds you import can display in the Main Menu, the Local Leaderboard, and in the Game itself. You can also select your background in the "Background Canvas" tab of Mondrian Studio to be used in Full Color, One-Color, or Black & White mode.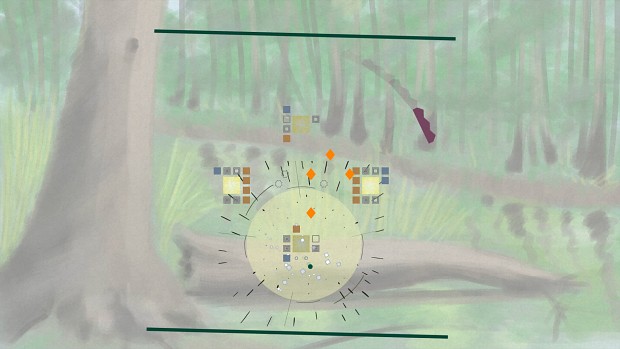 A Massive Number of Fixes
There are too many changes and fixes to list them all here, but needless to say, it's been a busy few months! Everything from experience-killers to the most obscure, once-in-a-lifetime occurrences has been squashed, with the intention of giving you one of the smoothest arcade experiences you could ever imagine. No matter the level, game speed, or difficulty, we think you'll be very happy with what's been brought to the table. Read the nearly 2 pages (!!!) of Patch Notes below for the full details.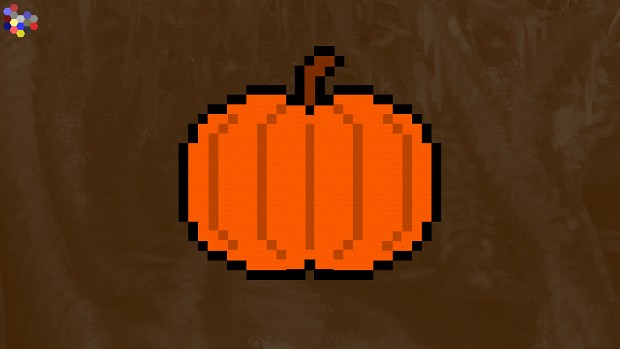 All the other Happenings
Things don't stop with the Anniversary Update! In just over a week, we'll be running our first ever Pumpkin Carving Competition as part of ArtChops' Halloween Event. The pumpkin you see above will be uploaded to Steam Workshop late next week as a template, and you'll be free to modify it as you see fit to make your own Jack O'Lantern level! However, you're free to get a head-start if you wish, but levels without the incoming Halloween Steam Workshop tag won't be accepted, so hold off on submitting until that's live!

And yes, this contest will include prizes. We're still budgeting this out so expect some updates on this on or before October 1.

What else is new? Oh yeah, we made Twitch Affiliate! Streams go up basically every weekday at 3:30pm Eastern time, mostly Mondrian and development streams, but also other indie games, replays of old talks/panels, and Sea of Thieves. Follow and subscribe, and make sure to say hi in chat!

Oh yeah, all 200 Punka Lisas are now available for you NFT collectors out there, so check out our profile on OpenSea to grab yours!

We've also started a Mondrian Makers Clubhouse if you're into that kind of thing. If you feel like chatting about making Mondrian levels or want to give us some feedback on what you'd like to see in the game, join the Club and come chat!
Full Patch Notes
Features
All: Added support for full background art images (1920x1080). Use of background chunks is also still supported. To add your own backgrounds, go to Options > Browse Local Content. Go to the game's Backgrounds folder and create a folder named for your background (ex: photograph). Paste two versions of your background image in this folder: a full color one (photograph.jpg) and an inverted grayscale one (photographGray.jpg). We recommended inverting the image so it remains properly shaded in-game.
Game: Added different prompts to the Pause menu depending on game mode
Game: Added some functionality to veer the ball in toward blocks when there are fewer than 10 Regular blocks left in a level. The maximum distance at which the ball can veer toward a block is determined by difficulty. This also only applies to Regular blocks. Splitters, Teleporters, and Grays are not affected by this system.
Museum: Added Column, Baseboard, and Ceiling decorations. With nearly 40 new decorations in total, there are now over 6 billion (with a B!!!) possible Museum spaces you can build. Mix and match to build your space!
Maker: Added the music tracks from the Museum, which all play on Shuffle
Changes
Main Menu: The "Exit Game" button now starts highlighted when quitting
Main Menu: Added an in-game adjustment for changing Game Speed, rather than just saving the value to the settings file
Game: Added overrides to keep Adventure Mode levels in Analogous Color Schemes (meaning anything but De Stijl and Grayscale, at least for Episode 1)
Game: Tied Wildcard swirl and fade to Gamespeed value
Game: Doubled the number of animation frames and added a slight fade-out to block pops
Game: If Block Groove is on, levels will still switch off Block Groove automatically if there are more than 200 blocks present (previously 150). However, when there are fewer than 200 blocks, Block Groove will switch back on. Control over this will be even more granular in an upcoming update.
Museum: Increased inventory size from 3x6 to 4x6
Museum: Updated rendering for Heavy Boards and Diamond Metal floor
Gem Chest: Reworked interstitial messages
Maker: The "Import" button no longer appears in the Inactive Levels tab of the Open menu
Maker: Increased the time it takes for the next drop to block when holding down left click in Stamp Mode
Maker: The time between stamping blocks also now resets when left click is released
Bug Fixes
All: Fixed the cursor in the Pause Menu ending up behind Studio objects, particularly the Gallery Frame & negative space
All: Fixed and eliminated all the quick flashes of white in Night Mode when changing scenes
Splash Screen: Fixed Splash Screen not appearing in Night Mode
Main Menu: Fixed rough-ish fade in
Main Menu: Fixed Splash Idling not counting time when Controllers are not attached
Game: Fixed the ball, wall, and paddle being low-contrast grays in Grayscale color harmonies
Game: Fixed being able to Pause the game before the "Ready" animation has finished
Game: Fixed Bomb sound effects sometimes not playing
Game: Reset Ball Speed to Default when a Wildcard is hit when the Ball is caught in the Scoop Paddle
Game: Fixed balls other than the Speedball gaining speed when Bombs were hit
Game: Fixed Speedballs gaining speed from too few block hits
Game: Attempted a fix for the paddle getting stuck on the ball when the ball was paused and hitting the paddle side detectors at the same time
Game: Fixed a bug where the blocks created from Splitters would move at a constant speed, rather than being tied to Gamespeed. This caused blocks to split too far away on Slow, and not far enough away on Fast.
Game: Fixed ball trails not being destroyed when faded out
Game: Fixed the Scoop Paddle being able to catch the ball when teleporting
Studio: Fixed Save/Copy prompts being black when starting Mondrian Studio in Night Mode
Gem Chest: Fixed characters sliding in-front of options prompts
Museum: Fixed background colors in Inventory window getting stuck between pages. We have instead opted for all Gray backgrounds in the cells instead. The header and footer still randomize between red, yellow, and blue!
Museum: Fixed Inventory Window sound effects
Museum: Fixed a bug where the "character" value would not reset when entering the Museum after playing as a character other than Piet in any Quick Play mode
Maker: Fixed Thumbnails not displaying in the proper location in the Save/Play menu
Maker: Fixed the wrong Thumbnail appearing when opening the Save/Play menu
Maker: Fixed levels saving as backups instead of to the active Levels folder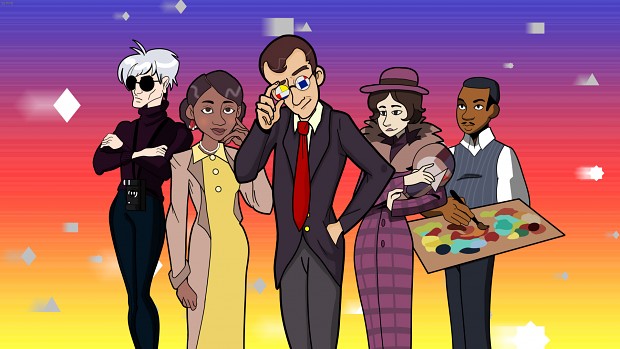 Closing out the Year
Time for the bit of bad news. The Anniversary Update will be the last major update to Mondrian - Plastic Reality in 2021. That being said, we have the Pumpkin Carving Contest next month, and of course Makersmas in December! There are huge plans for updates in 2022, particularly in regards to Mondrian Maker, DLC, new Quick Play modes, and... Episode 2??? It could happen.

We're also working on some new videos, planning out new workshops and learning opportunities, growing our Discord, Twitch, Clubhouse, and NFT collections. Things never stop over here and we'd love to have you come along for the adventures!

As always, thank you for playing. Here's to the next Anniversary Update in 2022!
- Danny