The release of One Vision 0.75 is another great step forwards and finally brings all factions to an equal level of power and diversity. As announced, the highlight in this version is the Tiberium addicted cult of Reaper-17 and their full-fledged mutation mechanic.
To have a better understand of the new Reaper-17, I'm going to give you a short overview of the most important aspects of the faction.

The key feature of Reaper-17 are mutation of own units. Mutations allow you to change or add certain characteristics of a unit for additional resource cost.
For example, the two mutations of the Corrupter:
The Corroder Mutation of Corrupters makes the unit similar to Nod flame tanks (200$).
The Splicer Mutation of Corrupters increases the unit's health by 30% and makes healed units deal 25% more damage (300$). This is an advanced mutation
Advanced Mutation: Every unit which can mutate has at least one advanced mutation. These mutations need to be unlocked by purchasing the "Enriched Ichor" upgrade first (Tech Assembler).Also, the Eradicator Hexapod is the only unit which has only one mutation... for now.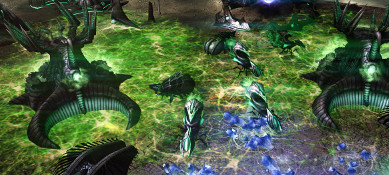 Mutation is a process which takes several seconds to finish cannot be initiated everywhere. Mutating units resolves around a new thing introduced in v0.75 called "Corruptions".
Corruptions are casted by key structures of Reaper-17 like Extractors, Droneships or the new Terraforming Plant. Corruptions are harmful to enemy forces and as such provide basic protection against infantry.
In total, Reaper-17 has access to 13 different mutations, increasing the amount of unique units from 18 to 31!
As seen in the picture above, mutations are easily distinguished by their color. The picture shows the already mentioned Corroder mutation and the Carnifex mutation for Reaper-Tripods.
Carnifex-Tripods have increased speed, EMP immunity and receive only minimum damage from gun type damage (400$). This is an advanced mutation.
And similar to mutations, the Reaper-17 have got reworked defensive structures as well.
While they have the worst base defenses in the game, the performance of structures increases greatly when placed inside corruptions, as they give better armor and self-repair.
Most work went into the recreation of Reaper-17, however no faction was left untouched and many units received reworks such as Mechapedes, Slingshots, Cyborgs or Raider Buggies.
Especially the factions ZOCOM, Marked of Kane and Messenger-8 have received a considerable amount of new content and tweaking as well.
Also, much effort went into fixing all known bugs and if you want to know what you can expect precisely, you can have a look at the changelog for the new version: Pastebin.com
This Changelog, as well as the changelogs of previous versions are included in the download package as well.
I am sorry that Santa couldn't make a release on Christmas, he must have had too much fun playing around with Reaper-17 ;)