Hey guys!
I hope everyone has had a nice long, relaxing six months break since the last time we posted a news update! I know that it's been awhile since there's been any official mention of how our SWTOR/KOTOR mod is progressing, so I figured that it's time for us to give our first news release!
I'm sure the question on everyone's mind is "when is this expansion going to come out?" The truth is, honestly I have no idea on a timeframe. Personally, I would like to say "as soon as possible" but the fact remains that we only have a very small number of people working on our team to get this project done. And while I'm eternally grateful to the members of our team who have dedicated such an amazing amount of time and effort to this expansion already, I have to say that it's only a small handful of us who are working on this project and we can only work so hard, and so fast to produce a quality expansion to Sins of a Galactic Empire.
We need help in all the forms we can get. From people who can model, rig, and texture to people who just want to playtest and throw around some ideas for tech and ship balance: we need your help. Right now we have a very dedicated small group of people who have an overwhelming amount on their plates, but if you guys could lend us a hand or two in any way that you can, you would help us move forward much faster. Even if you think you can't do something, but just want to help, we will find you a place. If you think you can donate any time or talent please shoot me a message, or leave a comment and I will respond to you ASAP. We welcome any individuals who would like to be part of our team.
So, if there's any other way I could possibly convince you guys for help by begging, let me know! Haha. We are all excited for this expansion, and we want to deliver a quality expansion to Sins of a Galactic Empire and not a half-baked, half-assed product.
With that business out of the way I'll share with you where we are currently at: our foundation point. I'd say that, overall, we've finished with our foundation for the expansion. We've decided on what ships we want to use, and have 95% of them currently implemented and working. We have a rough fleshed out idea of what we would like each faction's tech focuses to be, along with the role their ships will play. We are cutting music from KOTOR 1 and 2 and SWTOR to be used, as well as trying to find relevant voices from the games to be used as the interaction and confirmation voices on our ships. We are working on making sure the textures/skins, models, and scales of ships are as vibrant and referentially correct as they can possible be (an example of what I mean is take the picture of our Thranta model, we are trying to ensure that it will look closer to its SWTOR reference point than what it is now.)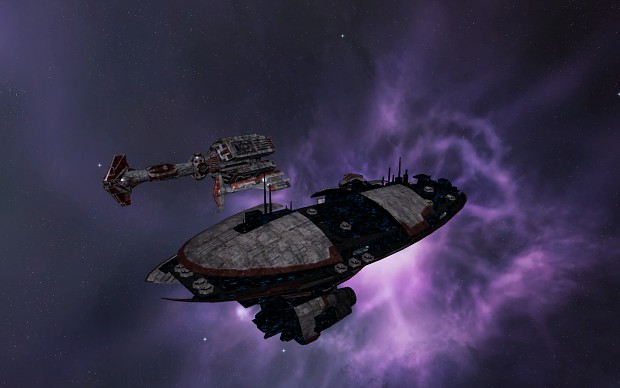 I'm sure one question you have is about titans: will they be available? Possibly. The reality is that it is hard for us to find a comparative titan for the Sith Empire and Old Republic. There are a number of ways we could go with this: using existing ship models and giving them command Heroes (ie. Using our Interdictor model but calling it the Leviathan, using the Centurion and calling it the Ravager, etc.). We are open to any ideas. If you have some ships you think would make good titans, let me know. Send me a message, or post a comment and I'll get back to you.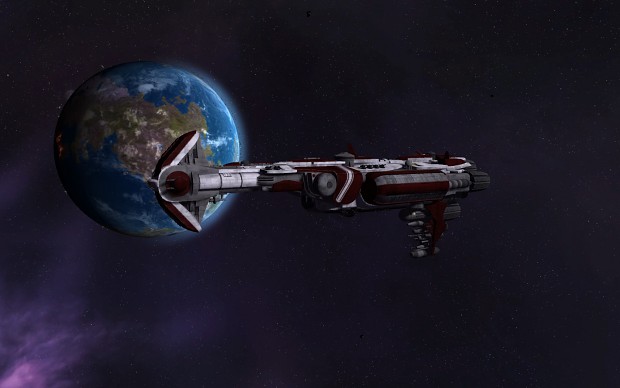 Now, with all of that wall of text being said and now out of the way, I'm sorry to say that I only have one little bite-sized new picture to give to you guys of one of the Empire's new capital ships: the BSX-5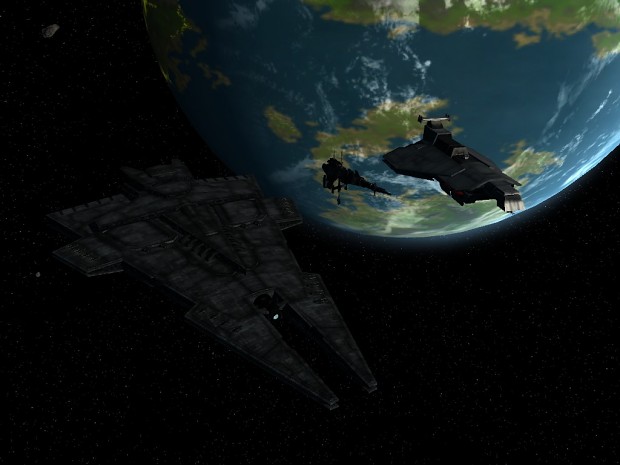 Remember, we need your help. If you want your thoughts and ideas heard on what direction you'd like to see this mod go we are giving you a seat at the table, you just have to participate.