Hello and welcome back to another Forgotten Hope 2 update.
Today we have a render of one of the many rifles used by the Finnish soldier throughout the Second World War: the M/39 "Ukko-Pekka"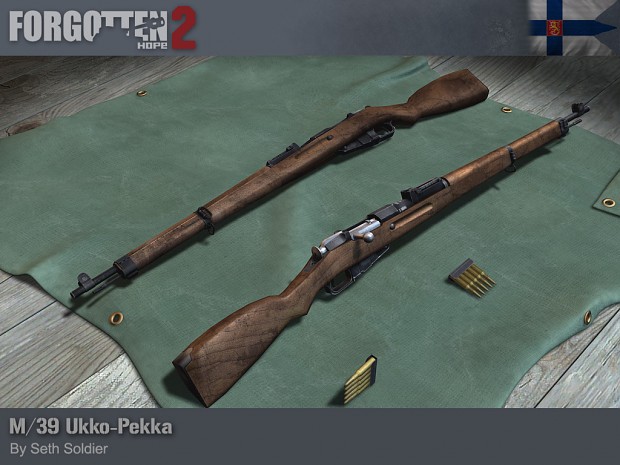 Following independence from Russia, Finland had been left with many thousands of M1891 Mosin Nagants, and rather than develop entirely new weapons, simply adapted these weapons for their own use. The desire to develop improvements on the original design, and differing ideas on what should be included, led to the Army's M/27 and the Civil Guard's M/28-30 rifles.
By the mid 30's, the Army had realised that many of its M/27 were poorly made, and that a newer rifle was needed. They were, however, unwilling to adopt the M/28-30, and called for the development of a newer weapon. An attempt was made with the M/91-35, but this proved to be too inaccurate. Eventually, it was decide to base the new rifle on the M/28-30. The final design of the new M/39 was completed by February 1939, but the outbreak of the Winter War delayed production such that the Army only started to receive them in 1941.
The nickname "Ukko-Pekka" was derived from former president Pehr Evind Svinhufvud, and means "Old Man Pete." The M/39 rifle was made by Seth Soldier.
---
Our winners for this week's screenshot competition is Matthew_Baker. You can view the winning submission here.
We are now accepting entries for the week of April 8th. If you think you have the best FH2 screenshot, post them href="http://fhpubforum.warumdarum.de/index.php?topic=16835.0">here.
---
That's all for this week, but be sure to come back next time for another update. Until then, feel free to visit our IRC channel, our public forums, and/or our Twitter and Facebook pages to discuss this update and other news.