Hey guys, been a while since I updated this page.
So, after 2 entire months relaxation from modding (I needed some rest after developing this for 2 years), I started to work in the final version of NW3 in the past weeks, and many things are effectively done:
- Most of the bugs have been fixed
- Weapons have been further balanced and improved (specially the cybots)
- More options were added (like turning off the "shakes")
- Some extras were added:
* Cybot Arena (surprisingly fun I must say, hats off to the community for requesting this)
* Mutator to modify weapon properties: firerate, damage, respawn time, and many others from the server
* Added command for players to change the detail level on the fly, with "nwdetail " which goes from 0 (absolute crap) to 6 (absolute lag), the default is 3 (best balance between quality and performance)
* Exploding headshots mutator, which I present right now:
The default number of head parts is 35: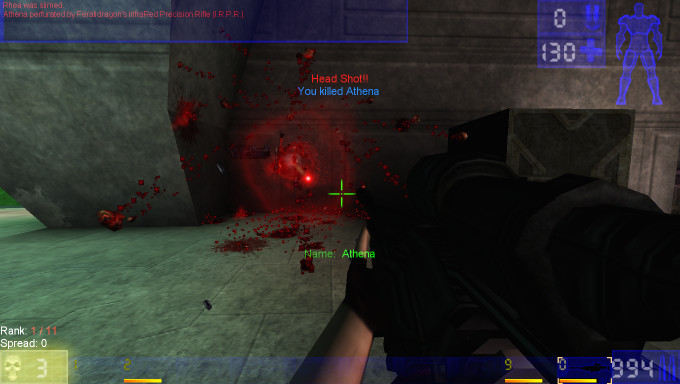 But you can go wild with the mutator settings, with 200 or more parts: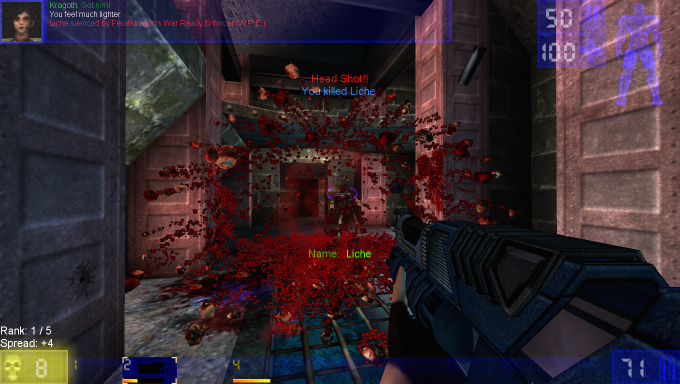 Disclaimer: by the end of it, I won't clean up the mess...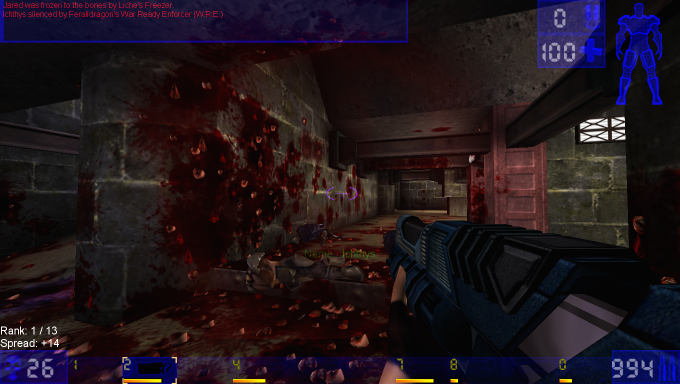 Right now the only things left to do are:
- Skill points mutator (a mutator to award you with messages and points for skilled or simply funny kills)
- Combogib
- Finish menus for the new settings (and old ones too which hadn't menus on release)
- Finish help docs
I am also thinking (not guaranteed!) in adding a new super weapon, which name I am still deciding, but I think it may be called "The Overloader" or "Atomultplier".
This new super weapon isn't going to necessarily blow stuff up, instead is going to be a very special weapon which works by sacrificing one of your weapons, and in turn all of its characteristics will be absorbed and merged to be able to make a single devastating shot with said characteristics.
For example: if you sacrifice the Freezer, the shot will cause the creation of piercing ice shards coming out from the frozen floor and thus freezing and perforating enemies in a large radius, while the Flame Tracker may actually cause an volcanic eruption or something similar.
Every NW3 weapon would have a distinct "overloaded" shot from this weapon, including the nukes themselves (although for the nukes they wouldn't get bigger of course, it's mostly the effects and how long they last that are going to be changed).
I already have in mind its design and it may involve chains lol
In short, if I end up building this new weapon, it will take some weeks to get finished, but since this is my last mod, I want to end it with some of the concepts I wanted to toy with in the mods that would come from it.
And I guess that is all for now. :)