It's been a wild ride so far, and we can't thank you guys enough for your support! We've been enjoying a warm reception since our release back in July, and the game has received some awesome feedback from all over the interwebs:
"Freedom Planet is an emotional, comedic and fun fast-paced platformer that will keep you on your toes and wary of incoming dangers."
5/5 – Gamerscape
"Freedom Planet is well-written love letter to the sixteen-bit era, reminding players of the power of the action-platformer. Expect to be serenaded by the splendid soundtrack."
81/100 – Tech-Gaming
"Freedom Planet is like a missing jewel from the Sega Saturn catalog, an amazing action game that can be described a (good) Sonic 2D game developed by Treasure. Don't miss it-- along with Shovel Knight, it's the retro-indie game of the year."
8.5/10 – Meristation
Of course, the adventure won't stop here! We are continuing to work on our promised stretch goals from our Kickstarter campaign. Eventually, we will be releasing an expansion that adds Spade and Torque as playable characters, adding a whole new experience to your favorite levels!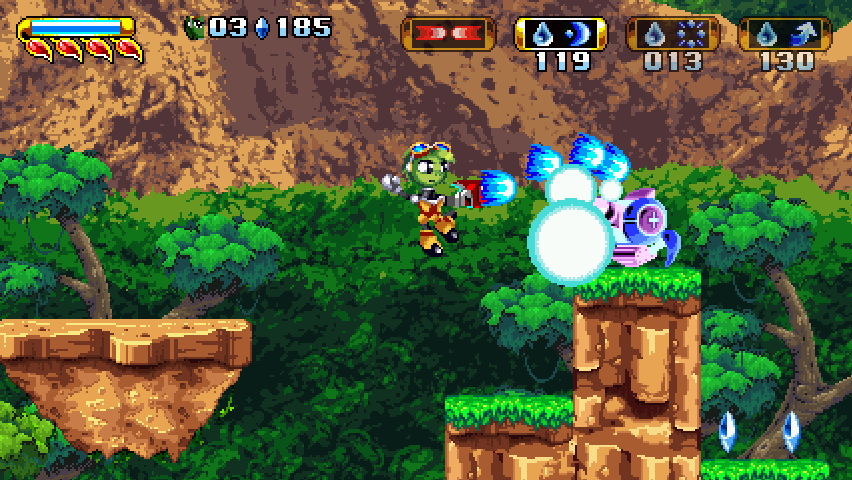 Commander Torque is first on our to-do list. His gameplay revolves around the use of different long-ranged weapons, which you can mix and match between each stage. Each weapon comes in 3 types - Buster, Bomb and Flyer - as well as 5 elements - Wood, Earth, Water, Fire and Metal. This gives Torque up to 15 different weapon combinations to choose from, each of which is effective in certain situations or against specific enemies and bosses. Fans of Contra or Gunstar Heroes should feel right at home playing as Torque!
We're not quite sure yet when the new characters will be ready for testing, but we'll keep everyone posted!