S.T.A.L.K.E.R. Call of Pripyat: Redux v2.0
'Nothing in the Zone is black and white'

---
Merry Christmas Stalkers! The Redux Team would like to give you all a little gift!
---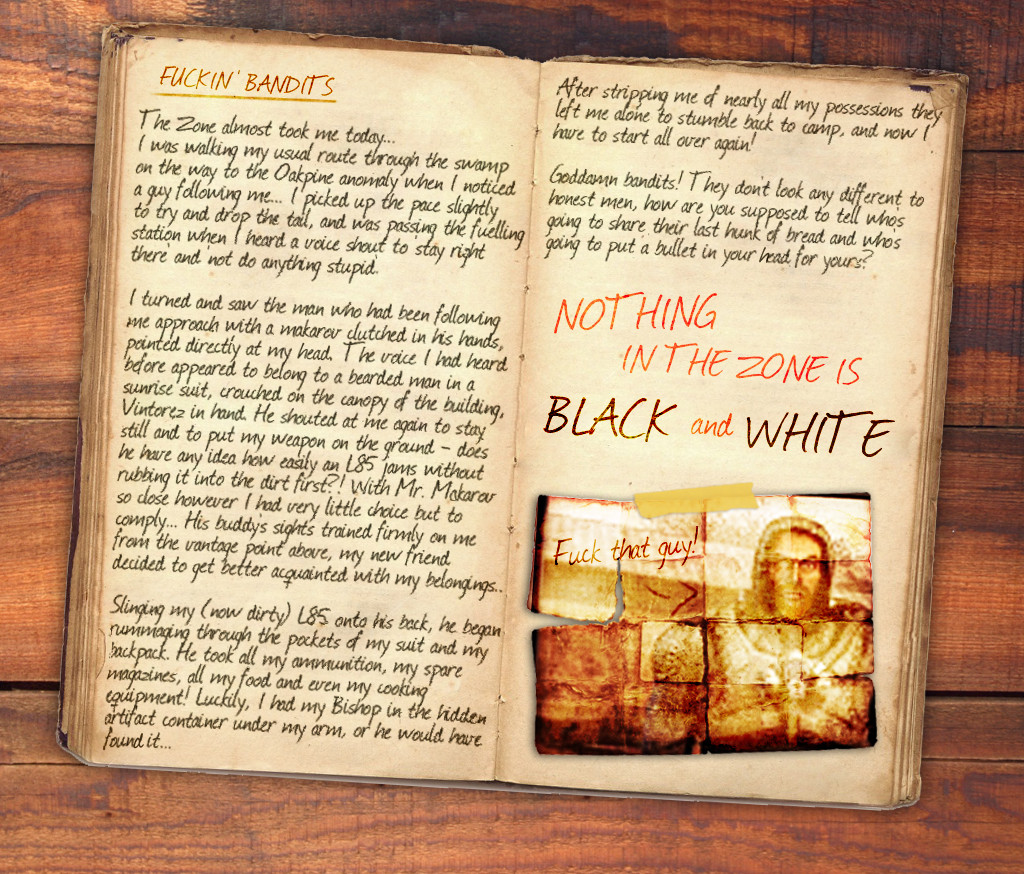 ---
If you followed Way of the Wolf you may remember a piece I wrote entitled 'The Bandit Controversy'.
The main idea behind it is a reworking of the bandit/loner system to make gameplay more intense, random and exciting.
I'm excited to announce that this system will be implemented into Redux v2.0.
Apart from mission-related groups such as Sultan's Skadovsk gang, Jack's checkpoint crew and Shishak's warehouse gang, there will no longer be 'bandits' in Redux. Loners and Bandits as we know them now will be amalgamated into a general faction known as 'Free Stalkers'.
This represents any Stalker in the Zone that is not affiliated with a particular faction or group.
In Redux, anyone you encounter while out in the Zone is an enigma. They may be perfectly friendly and willing to trade with you, or they may simply notice the artifacts on your belt and decide to kill you for them.
No longer will an NPC's outfit give away their intentions, as a Free Stalker will wear whatever is available to him.
Free Stalkers will be randomly hostile depending on a number of factors including the player's health level, outfit worn, weapon wielded, artifacts used, etc.
If you look like an easy target (low health, artifacts equipped) then opportunistic stalkers may attempt to take advantage of your situation and rob you at gunpoint for all you have.
This is a complicated reworking of a system that everyone is used to, and will take some time to understand fully, but once you experience it in v2.0 you'll see just how much more immersive and intimidating the Zone becomes when anyone could plunge a knife into your back for your last diet sausage.
---
Finally, let me wish you a Merry Christmas and a Happy New Year, and I hope that 2013 will be a happy and productive year for you and yours!
- Beacon
Redux Development Team Lead
P.S. I'd like to congratulate the Dez0wave and Misery teams for their placements in the 2012 Mod of the Year awards. Anything we can do to boost the public image of S.T.A.L.K.E.R. and modding in general is praiseworthy, and these guys have done well this year.
Watch out, next year is the year of Redux ;)
---