Hello survivors! A new year, new good resolutions that we take, but never fulfill… A bit like personal… "quests" *hint* *hint* So today we'll talk a bit about the new quest system!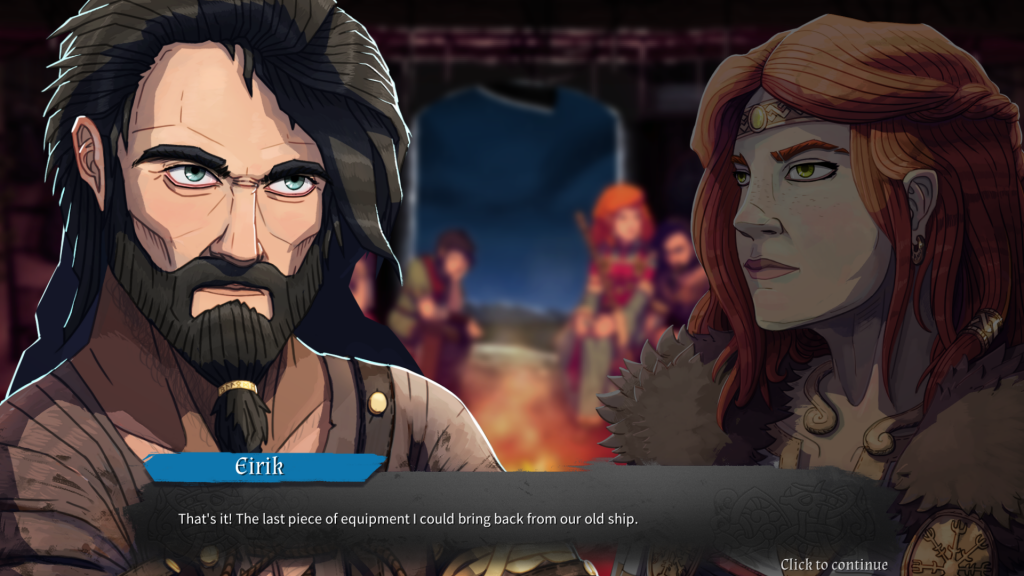 Good job Eirik, you can scratch that from your todo-list!

In Dead In Bermuda, we didn't want to have a full-featured, complex, quest system. We didn't know exactly where we were going, gameplay-wise. For a long time we thought the game would be more sandboxy than it actually is… We still wanted from the beginning to have a little story to follow that would conclude the player's playthrough, giving players some actual "real" objectives they would want to follow. We love sandbox games, but we noticed that often players would drop the game because of a sense of lack of purpose. In general, these kind of gameplays require a strong "meta game", a way to interect with other players, so that players will give self-objectives on their own. (For example, in Minecraft, build a Disney princess castle from scratch. Things like that…)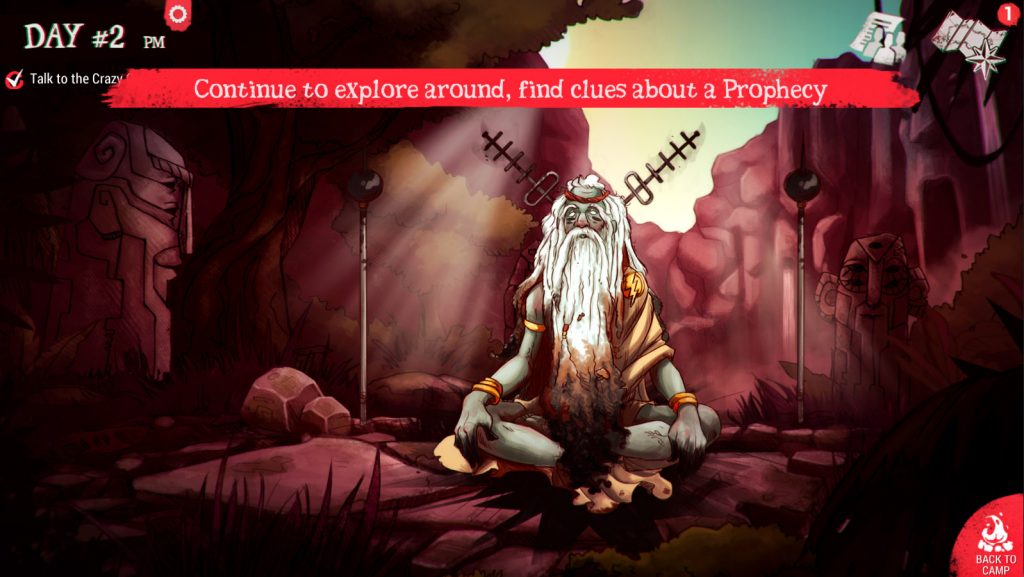 The Crazy Old Geezer… The beginning of your Quest In Bermuda
We didn't have that, so we needed this small storyline quest that would lead the player to a conclusion of the game. At first, we thought that just giving hints to the player by dialogs would be enough, but… It clearly needed some feedbacks, early testers were totally lost in this "quest", that didin't look like one.
One of the many things that game designers fantasize about, are hidden objectives and features, not giving the player too much clues about what he must do… But you almost everytime realize that it's a bad idea.
So well, we soon realized that we needed some way to show the player that he was indeed following a "quest", and recalling him what his current task was. We quickly implemented a little HUD feedback for that, which did his job, but was really "simple" (a linear sequence of steps, the last one being shown in the HUD)

For Dead In Vinland, one thing we all agreed upon starting this new development is that we didn't want to have this linear quest anymore. We wanted the player to be able to follow several paths at the same time, without too much constraints, to reach the "end" of the game.
So that's what we have now! Questlines are triggered by several encounters throughout the game, which stack on a todo-list. You can handle them in any order you want, until you reach a choke point which will lead you toward the end of the game.
In terms of system, they still basically consist as steps that you reach, that are necessary to unlock new dialogs. It's all rendered possible by our new "condition system" that enables us game designer to trigger different dialogs and lines with conditions. It's quite similar to the conditions during the exploration that we talked in a previous blog post.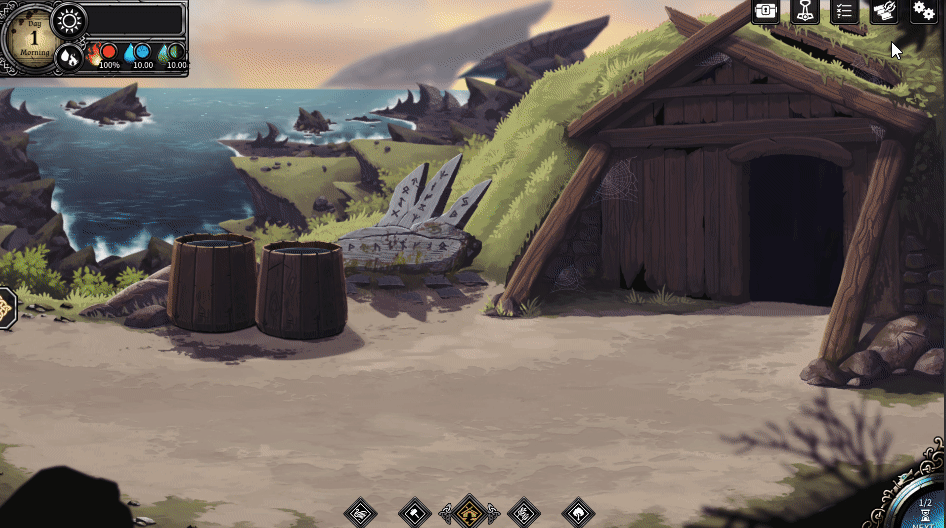 Quest log, at the start of the game
But like in Dead In Bermuda, this little quest system needed to be shown to the player, so we expanded our HUD to show a rather simple task-list, organized in several categories. It's simple and it works well. Since the system and the display are totally independant, we also had the possibility to add a million tasks to show to the player, very step by step, something that you would have in many games. We didn't want that either, we wanted to keep a certain sandboxy feeling, so we only track important steps in the quests.
Well… For now we have 67 quest steps… Better than the dozen we had in Dead In Bermuda, isn't it? ;)

Right now we are playtesting a bit the game, since all is slowly coming together (at last!), and we noticed something that we find interesting in terms of design: players have these rather "big picture" quests to fulfill, but the early game is filled with micro quests that the player gives to himself, generated by the context of the game. For example, after days of heavy rain, the player would think "okay, I have plenty of water, but my characters are totally worned out everyday… I should build another bed to make them rest! But for that, I need those resources…" and a few days later "it's been a while since it rained, I'm really struggling with my water supplies. It would be cool to stock more water when it's raining…"

I think (I hope) that these contextual quests will be very important for the player in the beginning of the game, until reaching some stabilization point, and you'll only have to deal with the "crisis". That's when the real quests should step in, and give you a new challenge, to keep you entertained until the end of the game.
That was something a bit disappointing in Dead In Bermuda: you could reach a point where the survival challenge was beaten, and you didn't have contextual quests to handle anymore, and just wanted to reach the end of the game, without much challenge (to reach this point, you need a bit of retries still… So it was not completely a failure).
We think this time the challenge should last longer, in a longer overall game. Yay!

There is still one thing to talk about to be complete on the storyline quest, it's the ending… But that will be the topic of another blog post! =)