Todays update brought to you by Dman757 & Coleman
---
Progressing Smoothly
This past week we had two new members join our team. As a prop modeler, Meotwister has joined us from the Interlopers community, he has already created a nice newspaper stand which you can see a screen shot of below. Second, the one man mod team Dec1234 who created/is creating "The Mortewood Plaza" HL:2 Zombie mod has joined our team to help with programming.
Prop, Texture, and Character artists wanted
I would also like to mention that we are still on the look out for prop and texture artists as well as another character artist or animator. Details on the job listed here.
Finally we have a screenshot of Northway a map by Nathan "nay0r" Goulden: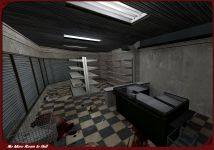 Here is a debut prop by our new prop artist Elliot "Meotwister" Boyette.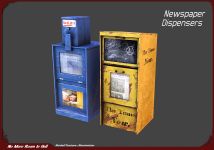 Here's some stuff you might be interested in!
IRC #nmrih on irc.gamesurge.net
Ventrillo Server: Chicago7.NationVoice.com Port: 3935
P.S. I would like to give a shout out to the NEOTOKYO team for completing their mod and setting a release date! Congrats guys and good luck on release day!