News Update #17
Verse of the Frontline
Hello and welcome to another update of Traction Wars. In the last few months since our last update we've made immense progress behind the scenes but we thought it time to give you another peek into what is to come so here's a teaser screenshot for your enjoyment. The scene was made by [TWDEV] maniche with the zelt field tent by [TWDEV] Sir Apple. We also would like to share a short but poignant poem found by [TWDEV] Mudra which was written by an unknown German soldier at the front and has now been translated into English.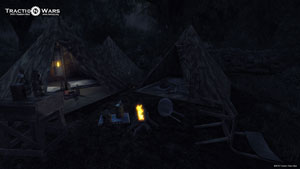 Anon wrote:
The men under the sign of the hawk,
They recognize each other by their faces.
They shake each other's hands.
They don't talk.

When others talk and brag
They grow hard and silent,
In their hearts turned to steel
The horror lives on.

The horror of uncounted deaths
When they screamed,
Their comrades in need,
When they put their hands up begging,
Reddened by their shed blood

The horror in the roaring of grenades,
In the crashing salvoes,
When the earth convulses and groans,

Burning like judgment day.
They were lying in the throat of Hell.
They were soldiers,
Doing their duty.
The team is looking for new developers to join, so if you think you would like to contribute to the mod, please visit our newly recruitment page.
Until next time be sure to check out our community forums