News Update #14
A Tommy for Christmas...
Hello and welcome to another update of Traction Wars. This month we have the Thompson SMG by [TWDEV] Edad Tace & [TWDEV] Sir Apple as well as the MP40 & British Binoculars by [TWDEV] Brrr.
The Thompson sub machine gun, nicknamed the Tommy Gun by the British, was initially viewed with some scepticism by the High Command. Thought of as a weapon fitted only for the police, it took the German MP40 and the Finnish Suomi to prove the effectiveness of sub machine guns on the battlefield. However, it quickly found its niche role, its heavy .45cal slug proving extremely capable of killing the enemy, and its high rate of fire making up for its extreme inaccuracy, as it could barely hit a target beyond 50 yards. The Thompson was issued to NCOs and assault troops in Africa and Italy, however grew exceedingly rare as home-grown sub machine guns began to take its place.
The MP40 was a derivative of the original MP38, the first mass production sub machine gun of the German army. Employing more stamped parts and slight cosmetic changes to speed production, the MP40 maintained the MP38s reputation of ease of use, portability, and reliability. It had a 32 round stick magazine, and fired 9mm, its one major weakness. Despite battlefield reports asking for heavier ammunition, the army chiefs kept it at the smaller cartridge, due to its high velocity, and thus high accuracy. The MP40 was accurate to around 100 yards, double that of its American counterparts, and included a folding stock, allowing it to be made compact and easy to use in confined street fighting. In the end over 1,000,000 MP40s would be produced during the war and would see action in every front. After the war it continued to be used in the Norweigen, Israeli and other armies and was even used by the Los Angeles Police Department's SWAT team.
During the war, all nations used binoculars in order to spot targets, scan the horizons, and scout enemy positions. This pair, made by the Kershaw Company in Leeds, had a 6x magnification, and was commonly issued to tank crews, NCOs, Officers, heavy machine gun teams and frontline scouts to better their recon capability. They were rugged, stood up to the trials of combat and were an all round excellent pair of binoculars.
Time goes around quickly and once again it is that time of year where the folks over at Moddb are running their annual Mod of the Year competition. Last year we just missed out on getting into the Top 100 and this year we would like to do better. So we need your help - if you like our work, looking forward to the mod release or just think we deserve more publicity then please click the image below to be taken to our Moddb profile where you can vote now! Every vote really does matter.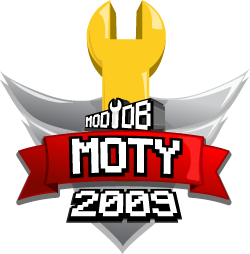 The team is looking for new developers to join, so if you think you have a skill we could use, please fill out a recruitment form here. We are especially looking for Mappers, Animators, Riggers & Coders although we are recruiting in all areas.
Finally for this update on behalf the whole team we hope everyone had an enjoyable Christmas, we would also like to wish everyone a Happy New Year & say "Thank You" for the support you have shown us in 2009. It been a great year for the mod and there is lot more excitement to come in 2010!
Until next time be sure to check out our community forums and comment on news (registration not required!), post suggestions and become part of our rapidly growing community.