Good day, soldiers!
Today, I have something for you guys.
---
New Weapon: FAMAS-G2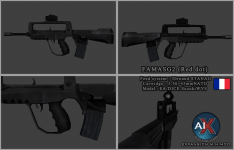 FAMAS G-2 Model by DICE, Modding by SuzukiWYS
The main changes are:
- Grip guard (G-2 type)
- Magazine and ejection port
- Transparent RDS lens
- lod1 sight reticle removed
- High polygon count on 3D model
Server File
A server file for AIX2 Expansion MiniMOD v0.31.
Suited for Windows, not Linux.
Download
NO Singleplayer Settings
The team had an argument and reached to the decision that the team is NOT going to add the weapon settings which suit to singleplayer(SP) upon considering the reasons of limited resource and the team's development policy.
One thing I would like to remind you is that the team is NOT making mods toward the goal of enjoyable SP gameplay but MP/Coop gameplay. The main goal is to achieve and establish more enjoyable MP/Coop environment with the flavor of AIX.
The team intends to make both infantry fighting AND ground/air weapons well balanced.
I'm not forcing you; however, it's the team's pleasure if you understood upon playing and enjoying this MiniMOD.
Upcoming Update with Something Big?
- No description available
---
It's sad that the team decided not to release the SP settings, but I hope everyone enjoys and love this MiniMOD much more with upcoming updates later.
See you on the battlefield!
tekktekk