We have a lot of new items to show off to you, as promised (though our big item is still just a bit off). First up is an interview I did with Lion, a veteran webmaster at CNCDen. Here's a snippet:
Lion: I understand this mod will include a single player campaign in order to tell the story of The Forgotten, and I'm looking forward to the campaign. I have no doubt it's quite a difficult undertaking involving much intense work. How far along are you in the development of the single player campaign, and how many missions do you have planned?

Blbpaws: It's absolutely a tremendous challenge, but it's one we wanted to undertake and one we're meeting. We have five very long missions planned, each with three difficulty levels. We have maps pretty nearly done for two of them, and a draft started for two more. Scripting is about 75% done for one mission, 60% for another, and maybe 10% for a third. The missions were the last thing to be developed, so they lag behind the rest of the mod, but we're doing well. CaptNeo and Pheonix are doing a good job in crafting the missions, and Nick, Rick, Alex, Steve, and Matt are almost done with their work in making the story truly come to life within them.
You can read the full piece here. Next up are four new promo images showcasing a newly-revealed unit, the Impact Drone. You can see two here, and two more in our media section. The Impact Drone is a remote-controlled kamikaze vehicle that smashes into enemy positions the most deadly way: head-on, and at full speed.
Then there is a mystery image from our story. As we've said before, we're telling a story in a very unique way. We can't tell you what this image is, how we use it, or why it matters, but it's central to the campaign, and the world that you, as the player, will help bring about.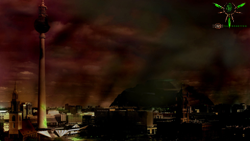 There are five other new images--four mission scenes and one new unit--on our official site, our moddb gallery.