Progress is coming along great, we have been reading your guys comments and they are really keeping everyone on the team pumped up and excited to keep showing new stuff - so here goes.
Today I wanted to feature another new environment we are working on; our desert environments. I don`t want to give away any secrets from our singleplayer storyline just yet, but a decent portion of our game will take place in these types of areas. I asked Mike to throw us together a couple buildings and sidewalks, and this is the result of his work. We are not done yet - we just brought Rory on board as an environmental artist to help speed things up, we have a ton more environment art in the pipeline. We will definitely be showing that to you guys in the near future!
In the meantime, take a look and let us know what you think.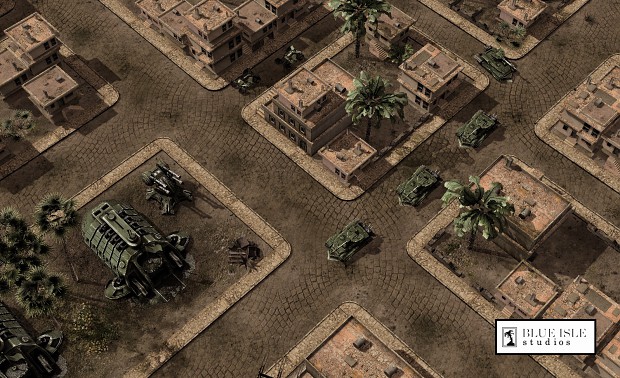 Those of you keeping close tabs on this project might notice two new units in this picture. The large structure is your standard infantry Barracks, ready to equip your soldiers with the latest and greatest equipment.
The second new unit is the Light Recon Buggy. This is a pretty cool unit because it is cheap, fast, but very versatile. This thing can come outfitted with a standard machinegun, an anti-aircraft rocket launcher, or even a small flamethrower perfect for incinerating small buildings and enemy soldiers. Here is a concept piece of this unit below. Artwork, as always, by the talented Michal Kus.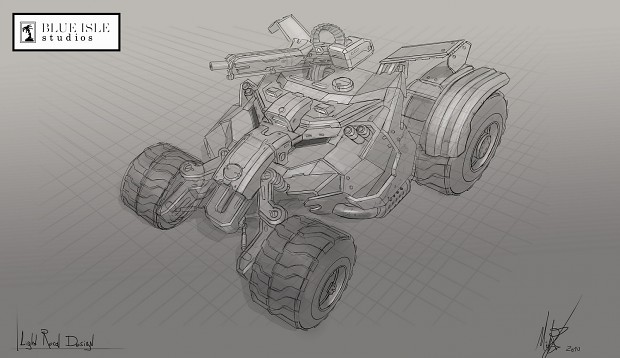 Thats all for now, hope you all like the latest stuff. Comments and thoughts (good or bad) appreciated!
- Your Devs