Anti-tank weapons with longer range can avoid accompaniment infantry. Panzerschreck was one of these weapons. But it was too heavy to carry with rifles. So it was equipped only to Anti-tank team.
Improvement of regular infantry's anti-tank capability was realized with Panzerfaust 60 and 100. These weapons extends its range by increasing propellant charge. But this method had reached limit at Panzerfaust 100. Panzerfaust 100 ejects ember after firing. So increasing propellant more was impossible.
For answer, they planned a new warhead. Current Panzerfaust warhead has large diameter. While it was served for penetration capability, it also generated large air resistance. So, new small diameter warhead was made. It has less air resistance, and also same penetration by improved shaped charge.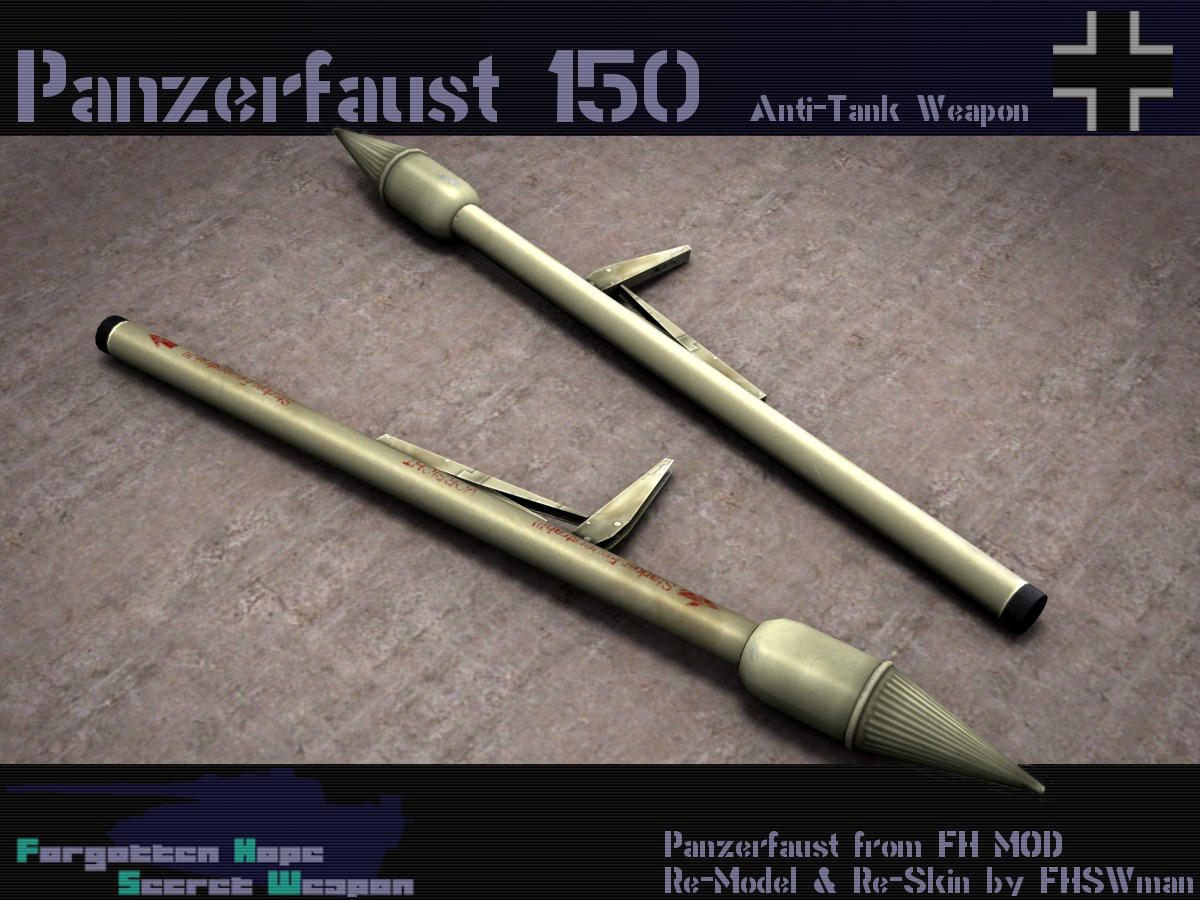 The new weapon with the new warhead has been named "Panzerfaust 150". It had 150m range at maximum. This weapon was expected as new generation anti-tank weapon, and 100,000 units were produced before the end of the war.
Another weak point of Panzerfaust was its disposable. It was waste of materials. When the soldier carries two ammunitions, he was forced to carry two launchers weight. It was not a big problem with early small Faustpatrone, but it was serious for new heavy Panzerfausts.
So a reloadable Panzerfaust was planned. The base of development was the Panzerfaust 150,
but to make it able to re-firing, its firing mechanism was totally remodelled.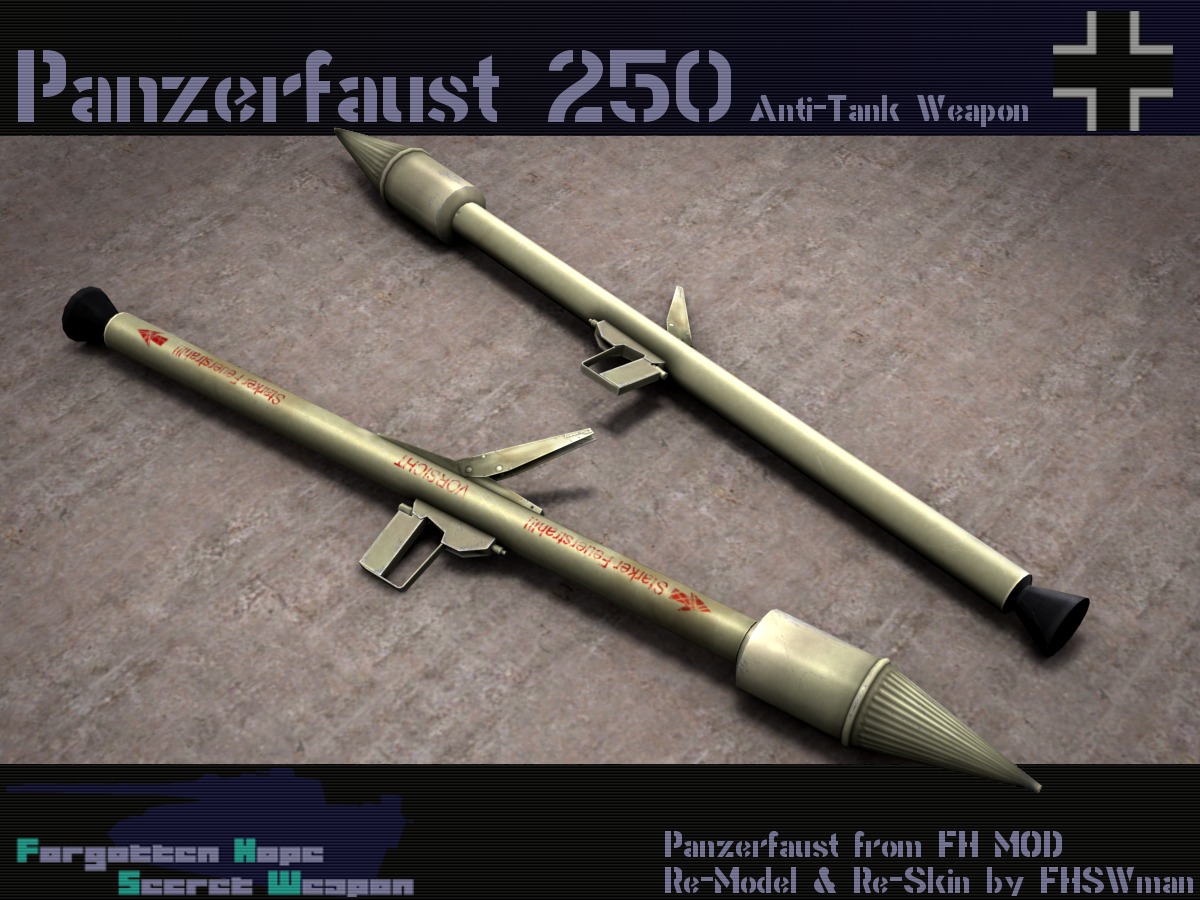 The result was named "Panzerfaust 250". To use propellant energy fully, a venturi tube was attached to its back-end. Also a pistol grip was adopted. Production starting was planned in September 1945. Also a anti soft target fragment warhead for Panzerfaust 250 was planned: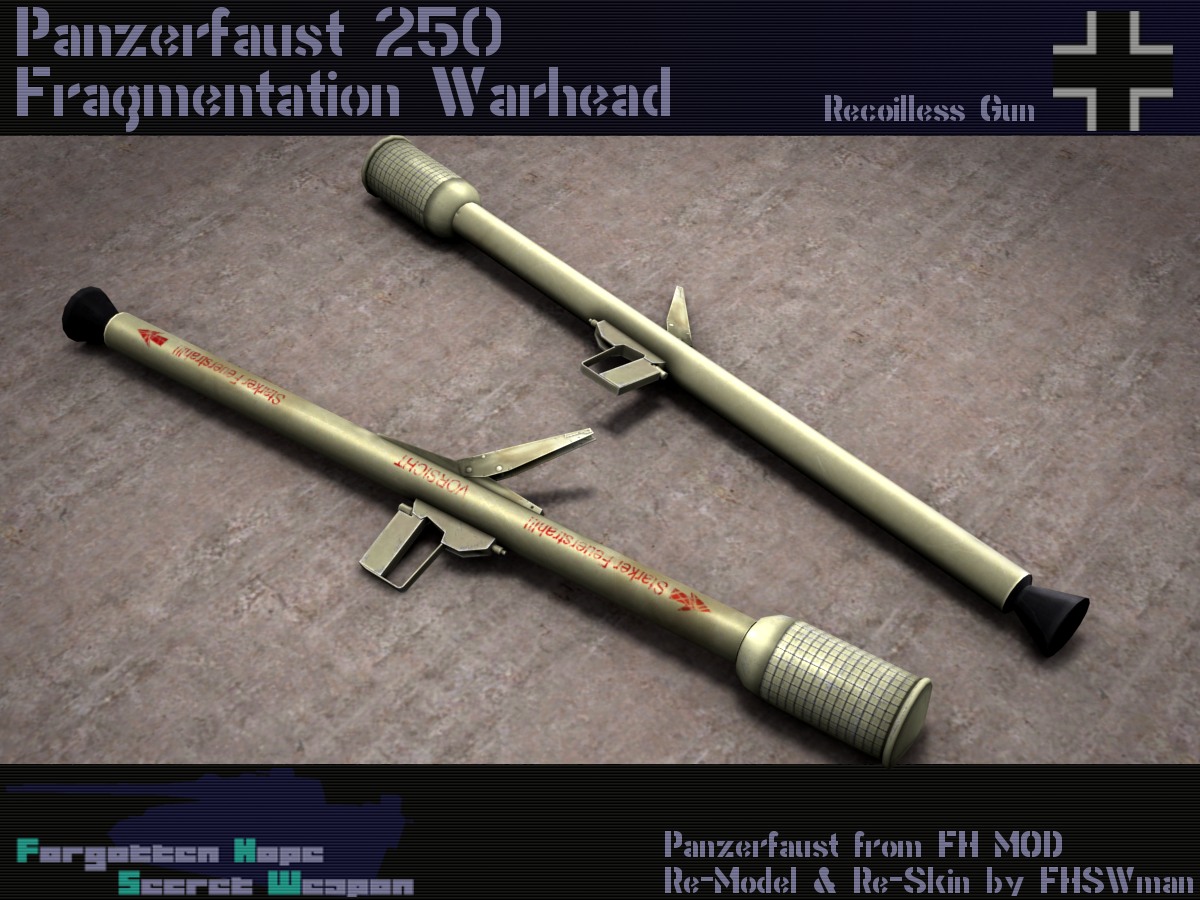 It was an alternative weapon of infantry gun for infantry, which couldn't receive artillery support any more.
Another new warhead was planned for several purpose. One of the problem of Panzerfaust was its demolition capability against tanks. When the warhead penetrates tank's armor, its crews was injured. But a tank damaged little, without blowing ammo rack.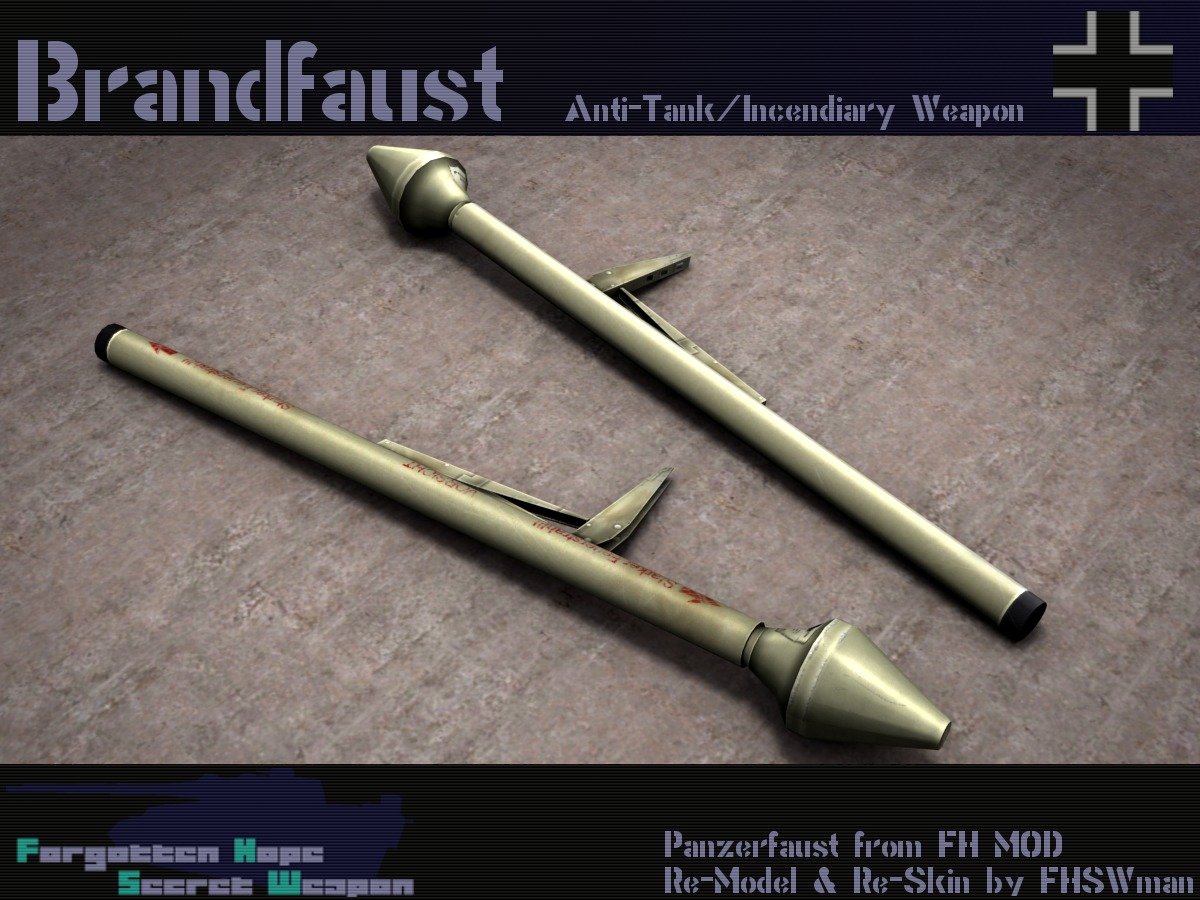 To make it blow off, Panzerbrandgranate was made. This new warhead contains shaped charge and incendiary shell. The incendiary shell was intended to go through the armor which punched with shaped charge and ignite ammo rack. In game, this warhead was adopted as "Brandfaust", improvement version of the Panzerfaust 100.
Another new warhead was planned for the "Gasfaust" and "Flammfaust":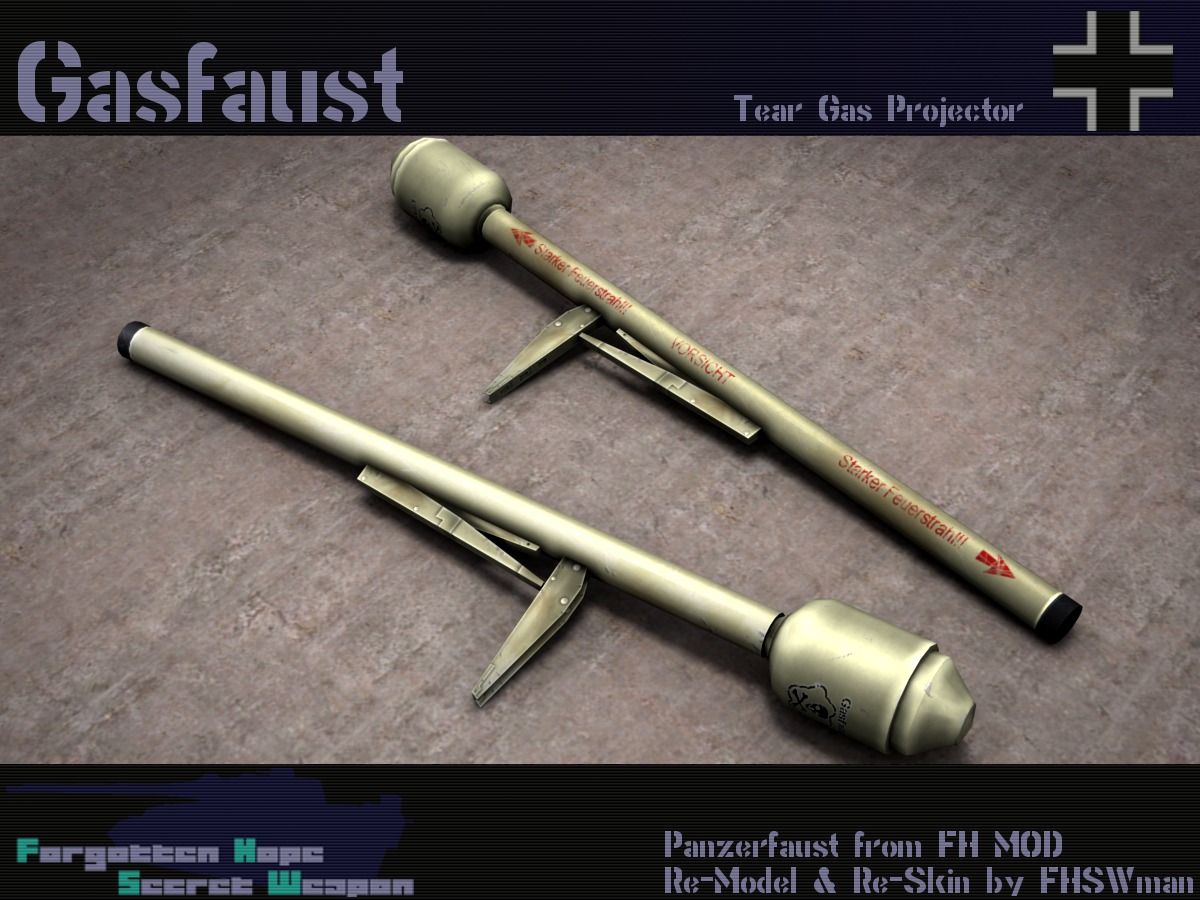 Gasfaust includes nonlethal gases like tear gas.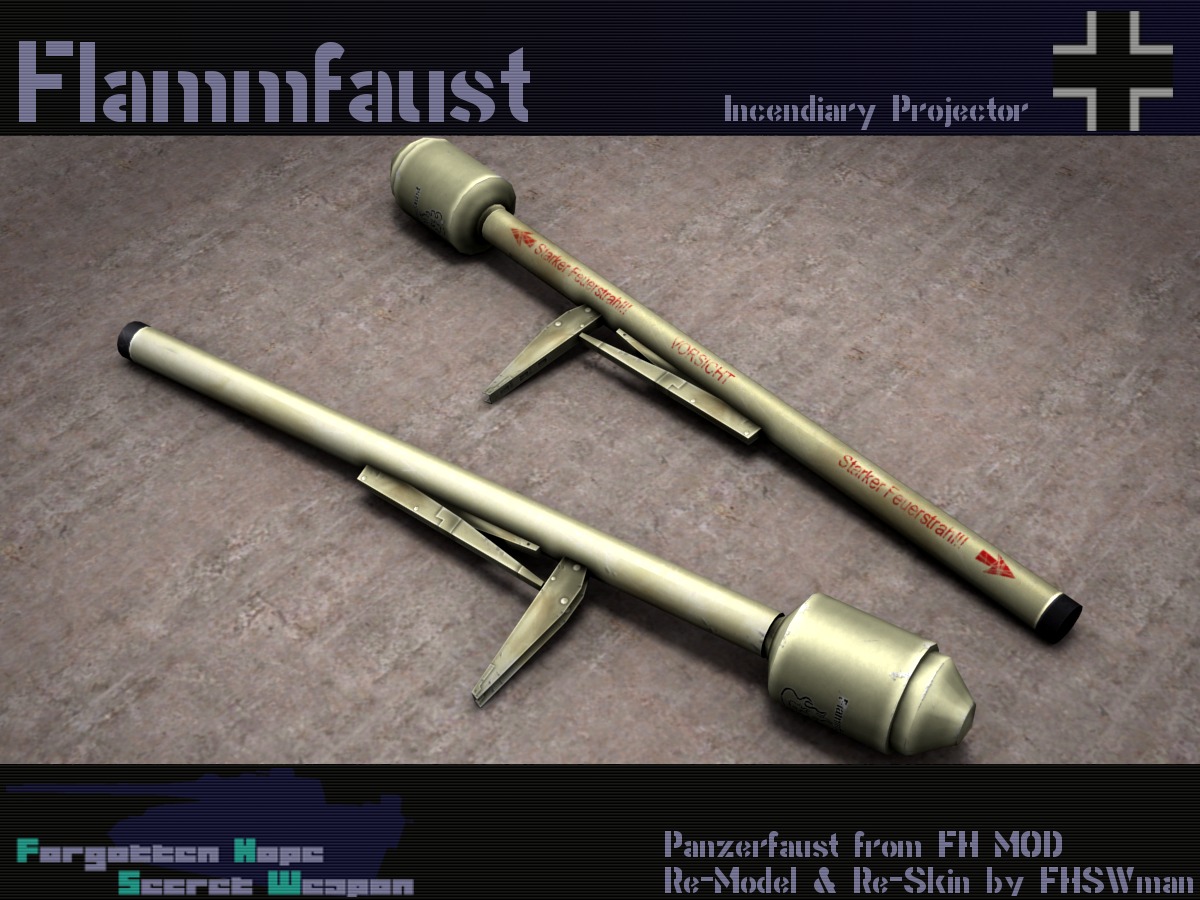 Flammfaust is one sort of flamethrower. It includes flammable liquid.