I've searched the web and saw the Sci-Fi 3d website, that had a collection of Star Wars models made by various modelers. I managed to find a Yoda model from the Empire Strikes Back, and thought it would look great for some of my Episode 5 missions.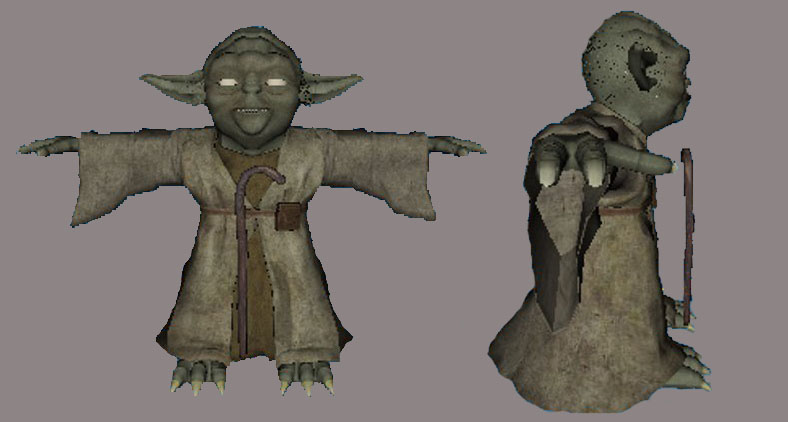 This model was made by Kecskemeti B. Zoltan (Ste-One), a member of the Si-fi 3d team.
If there are any modelers out there, this Yoda model has to be weighed. Otherwise, I can't use him for the mod. Yoda is already saved in 3ds format. If anybody out there knows how to weigh models, that would be great, and would be a great help for me as well.
Keep me posted if there's any modelers out there that can weigh models.

Jediwill//
PS: If some of you think that I stole this model, and that I am plagiarizing. There was a web page that had information about giving credit to the authors.
Here's the link to where you accept the terms and agreements.Scifi3d.com
So if you scroll down, and read the section about giving credit. You'll see that I am not plagiarizing.
Also here's the link to where I got the Yoda model. Scifi3d.com
You'll find more star wars models there too if you want to explore the site.
Please understand that plagiarizing is not one of my main priorities. I have no desire to make this mod a failure and end up like the creator of Kotf, who stole everything. If you still think I'm plagiarizing, then please let me know how, and then I'll try a different way of getting a new Yoda model.