Ceske Knizectvi
(Duchy of Bohemia, later to become Kingdom of Bohemia/Czech Kingdom)
After the Great Moravia fell to the raids of the Avars in the seventh century, Bohemia's Slavic inhabitants came (in the ninth century) under the rule of the Přemyslid dynasty. With Bohemia's conversion to Christianity in the ninth century, close relations were forged with the East Frankish kingdom, then part of the so-called Carolingian empire, later the nucleus of the Holy Roman Empire of which Bohemia was an autonomous part from the tenth century, encompassing the duchy of Moravia as well. Vratislav Premyslovec, he current ruler of Bohemia is making a bold move; he is planning on becoming a king, through the support of emperor Henry Salian during the Investiture Controversy war against papal supporters. If he succeeds, Bohemia may dominate the Holy Roman Empire. However, the path to success in the empire will be tough, as the enemies of Henry Salian crowned their own counter-king, Rudolf of Rheinfelden, Duke of Swabia, and he has indeed many supporters. Several of those supporters border the lands of Bohemia, including the powerful dukedom of Saxony, Bavaria and margraviate of Austria. One of the main competitors to Vratislav is its southern neighbor, Austria. If it defeats Austria, then Bohemia could become the dominant state in the eastern part of the empire. Should the civil war be lost, duke Vratislav would pay a great price...

Duke Vratislav however also has to deal with internal dangers, as there is lot of enmity between him and his three brothers. As per tradition, in this time Premyslovec dynasty uses seniority, and other heirs receive junior duke titles in Moravia, namely duchy of Olomouc, Brno and Znojmo. Two of his brothers, Konrad and Ota, are dukes in Moravia, while the third brother, Jaromír, is bishop of Prague. To counter the influence of Jaromír, Vratislav created new moravian diocese in Olomouc, although that resulted into a further conflict that had to be resolved by a papacy. Another danger to Vratislav might also be his ambitious son Bretislav, who is unhappy about the power of his uncles and that he is not an heir...

Map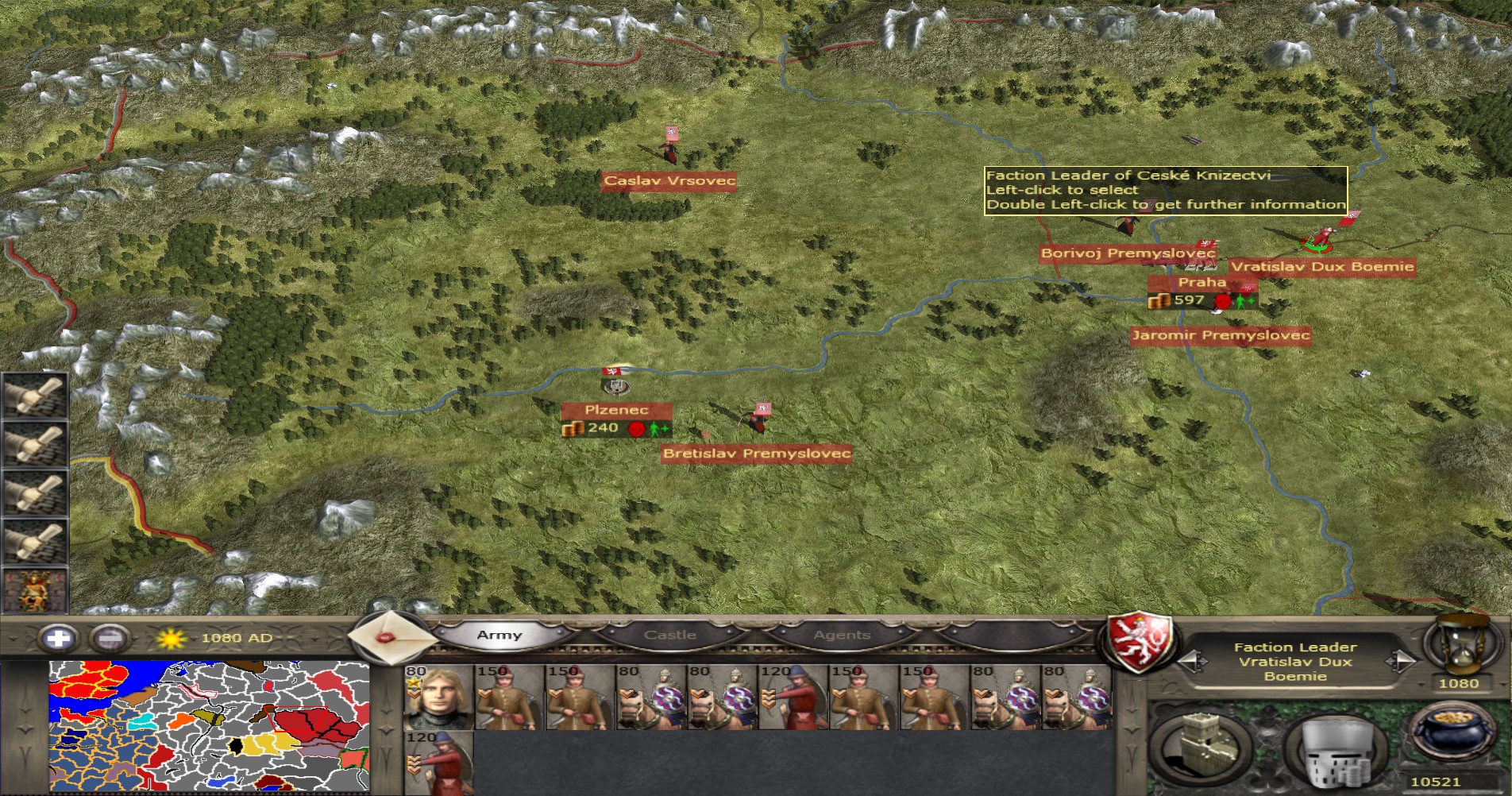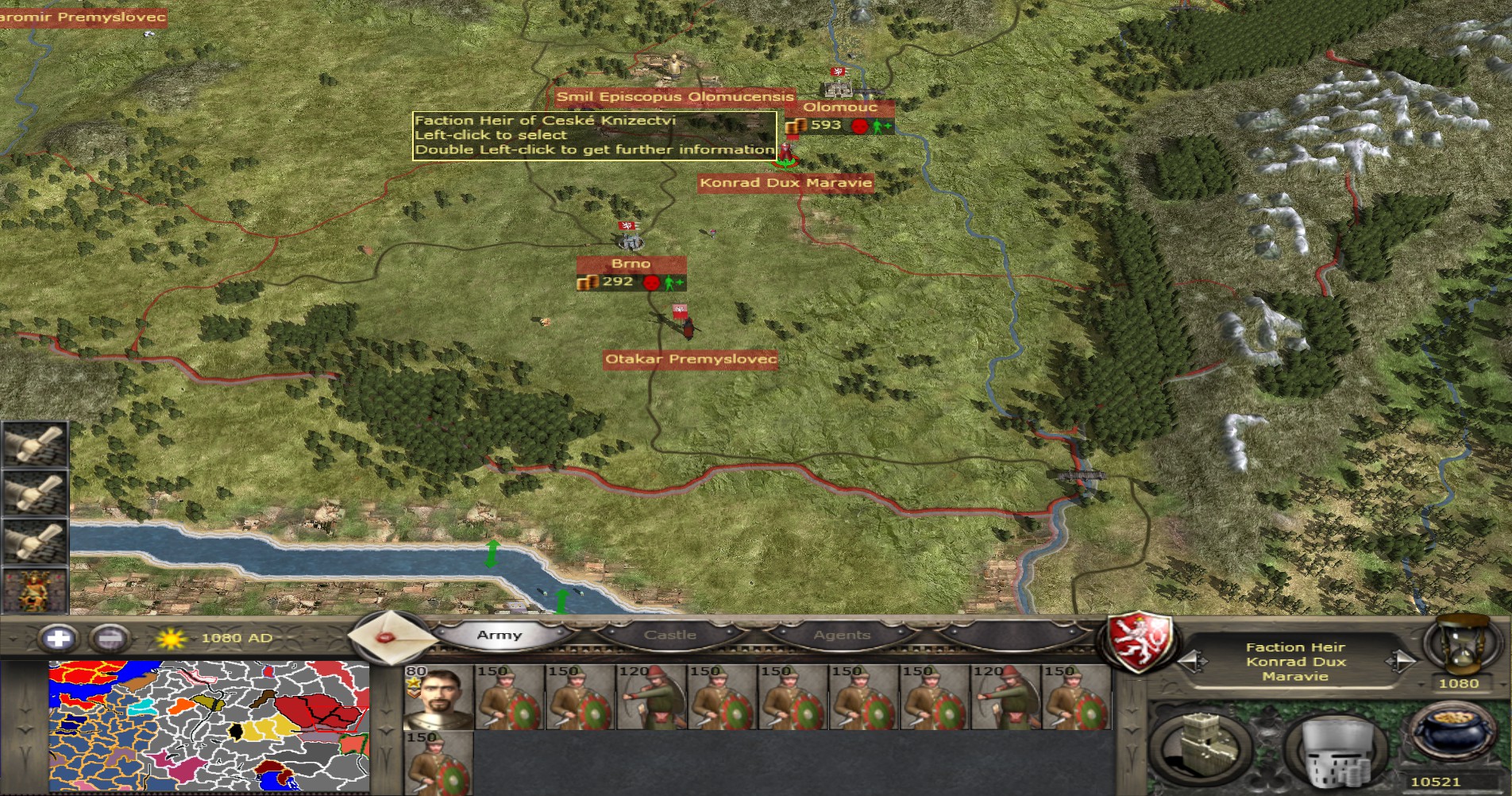 (For comparison, there is the old Bohemia from 0.8, so that you can see the increased scale of the new map)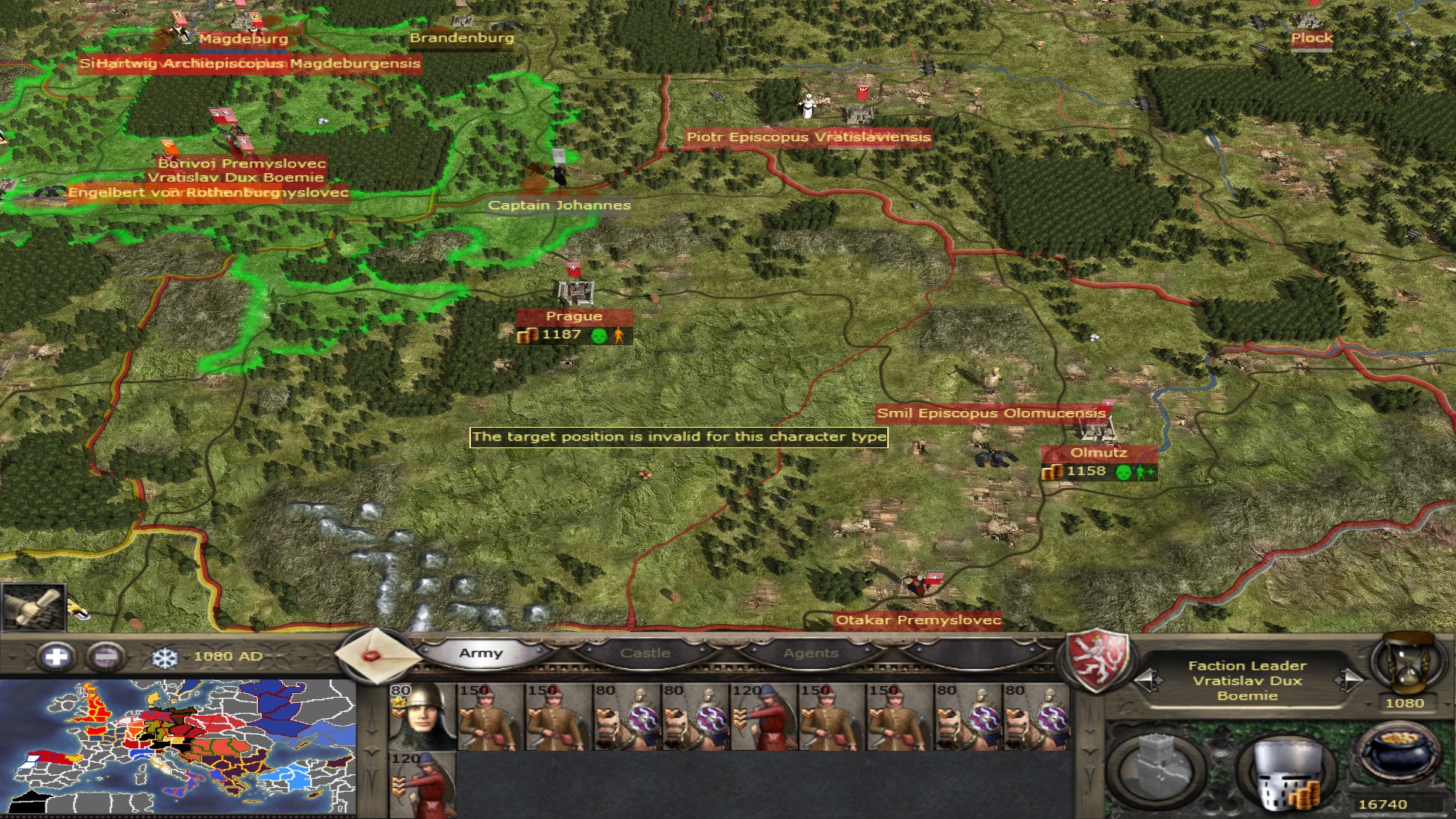 Family: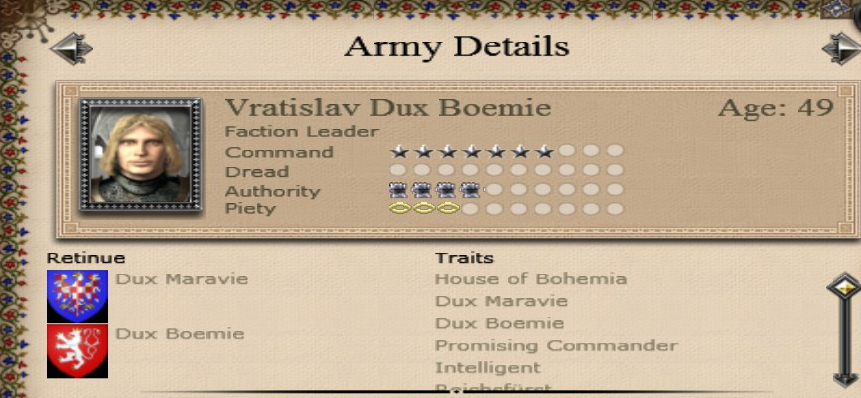 Units: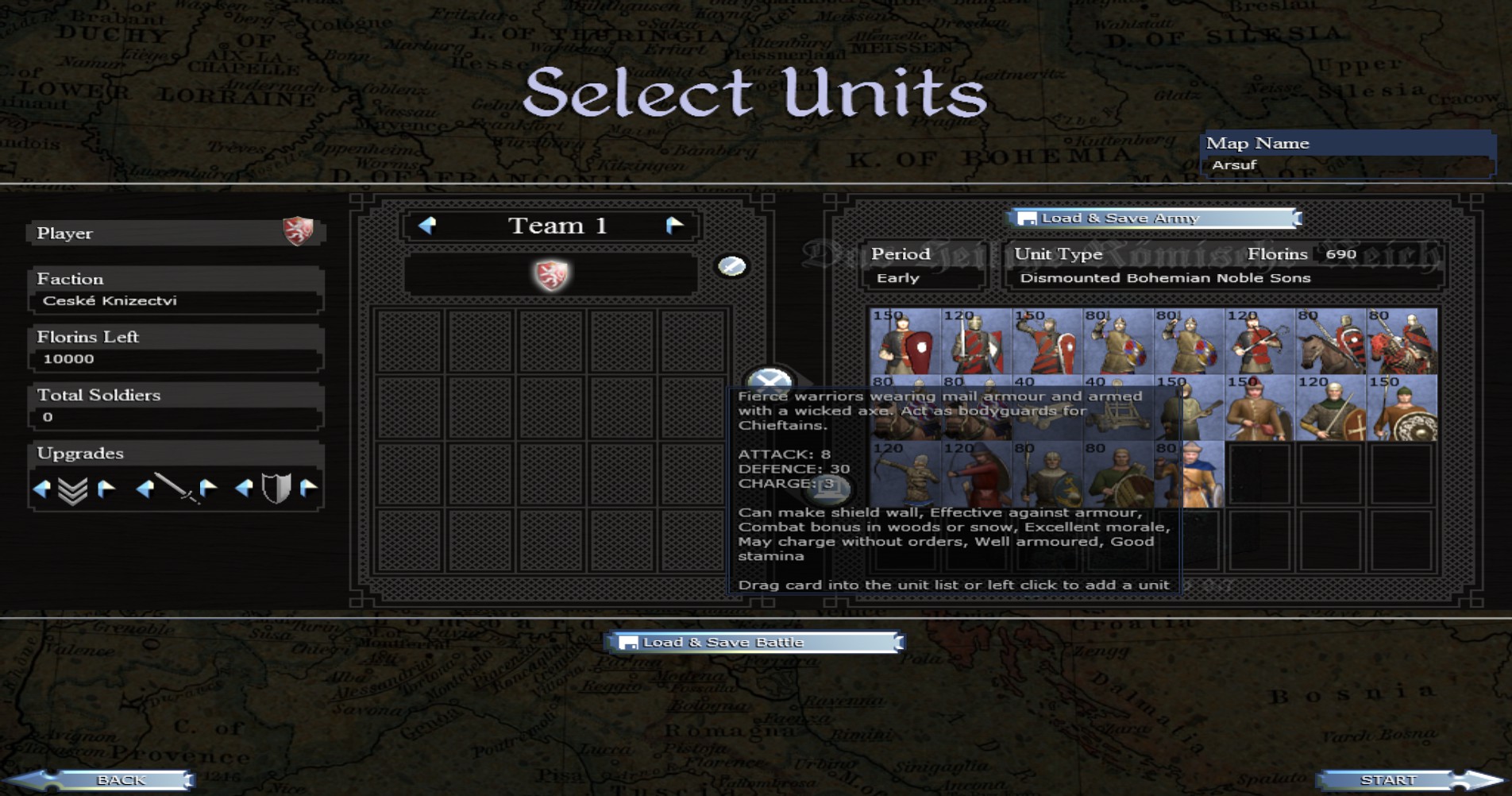 Bohemian Nobles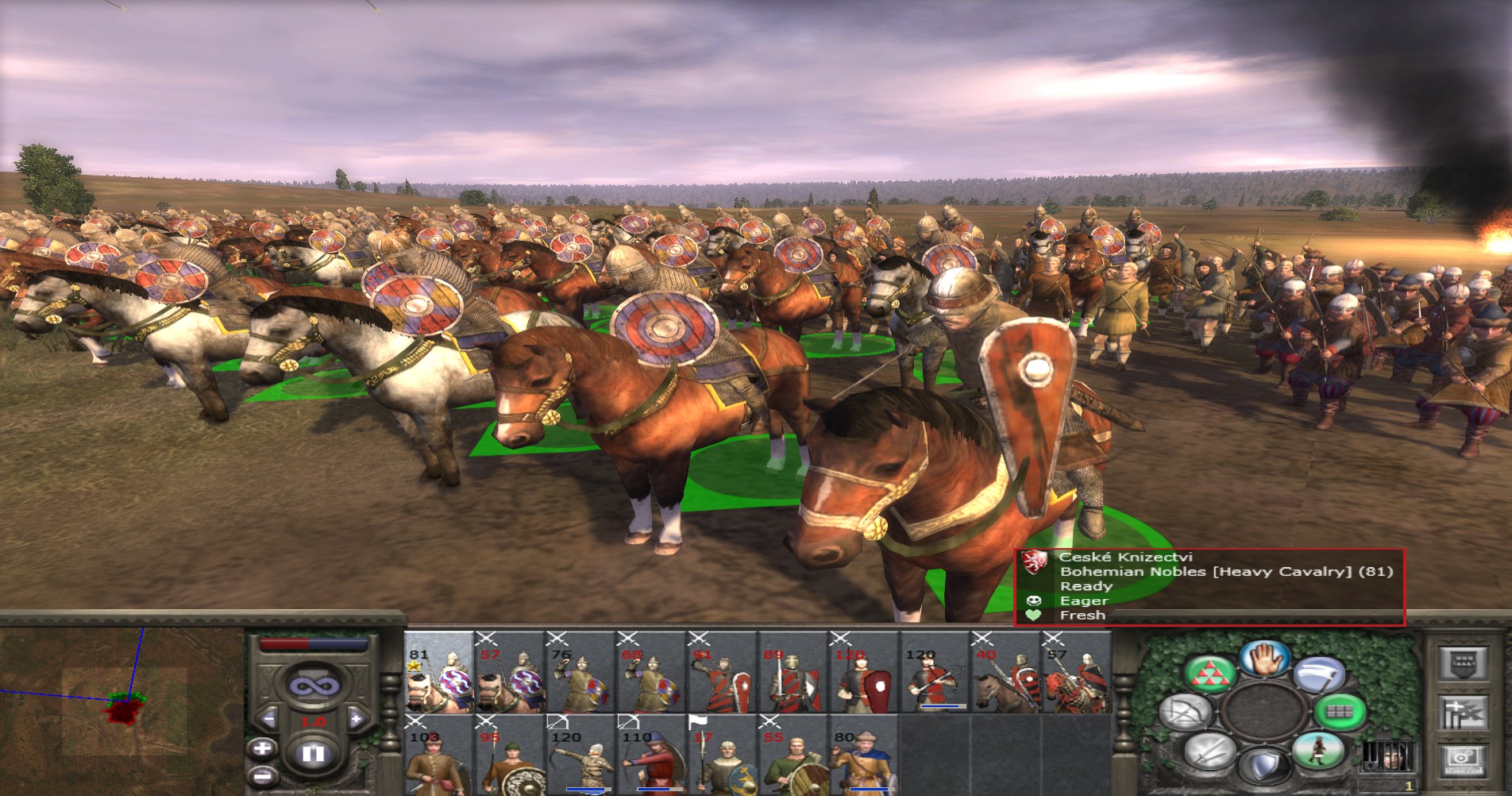 Dismounted Bohemian Nobles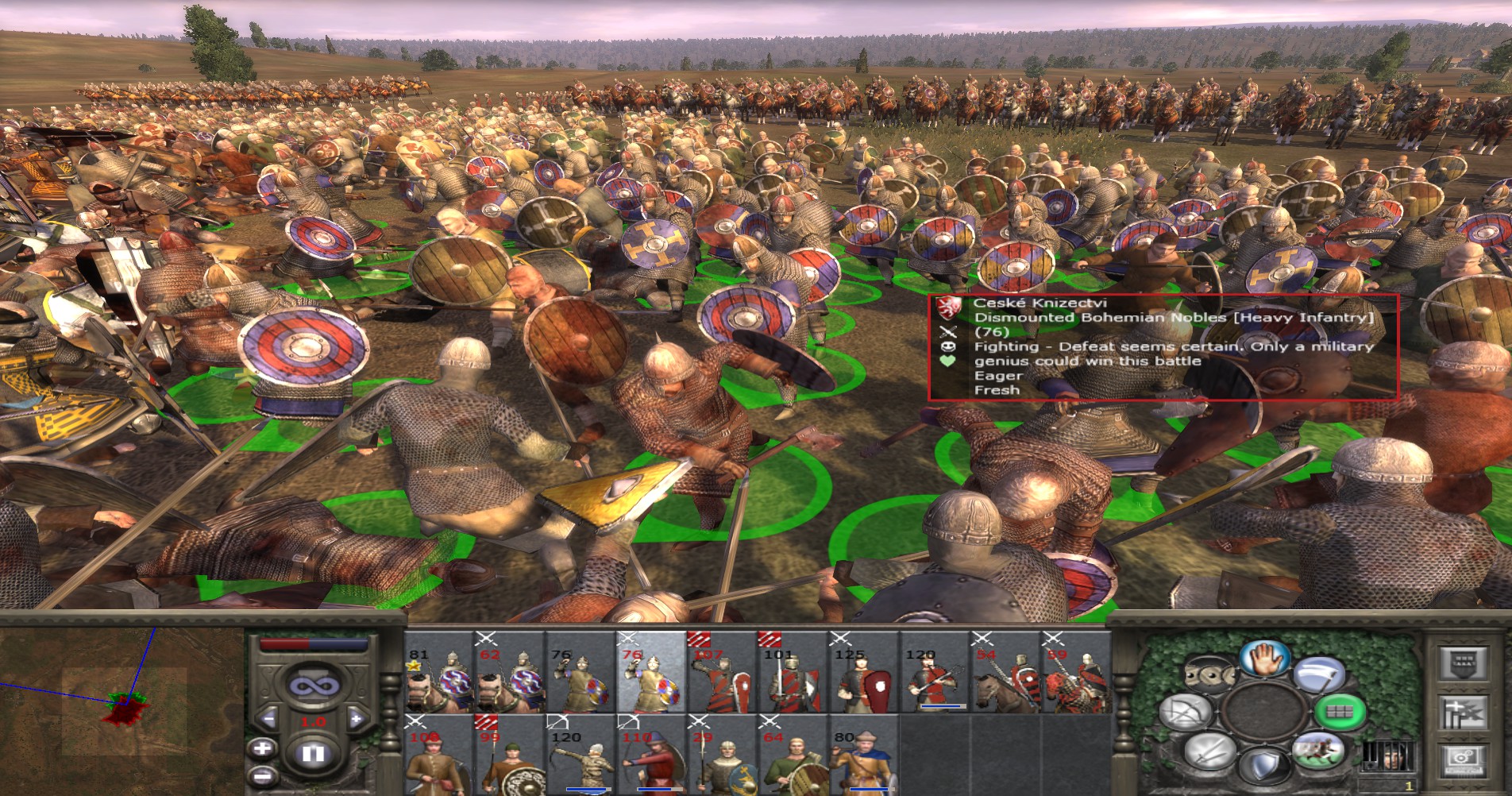 Feaudal Knights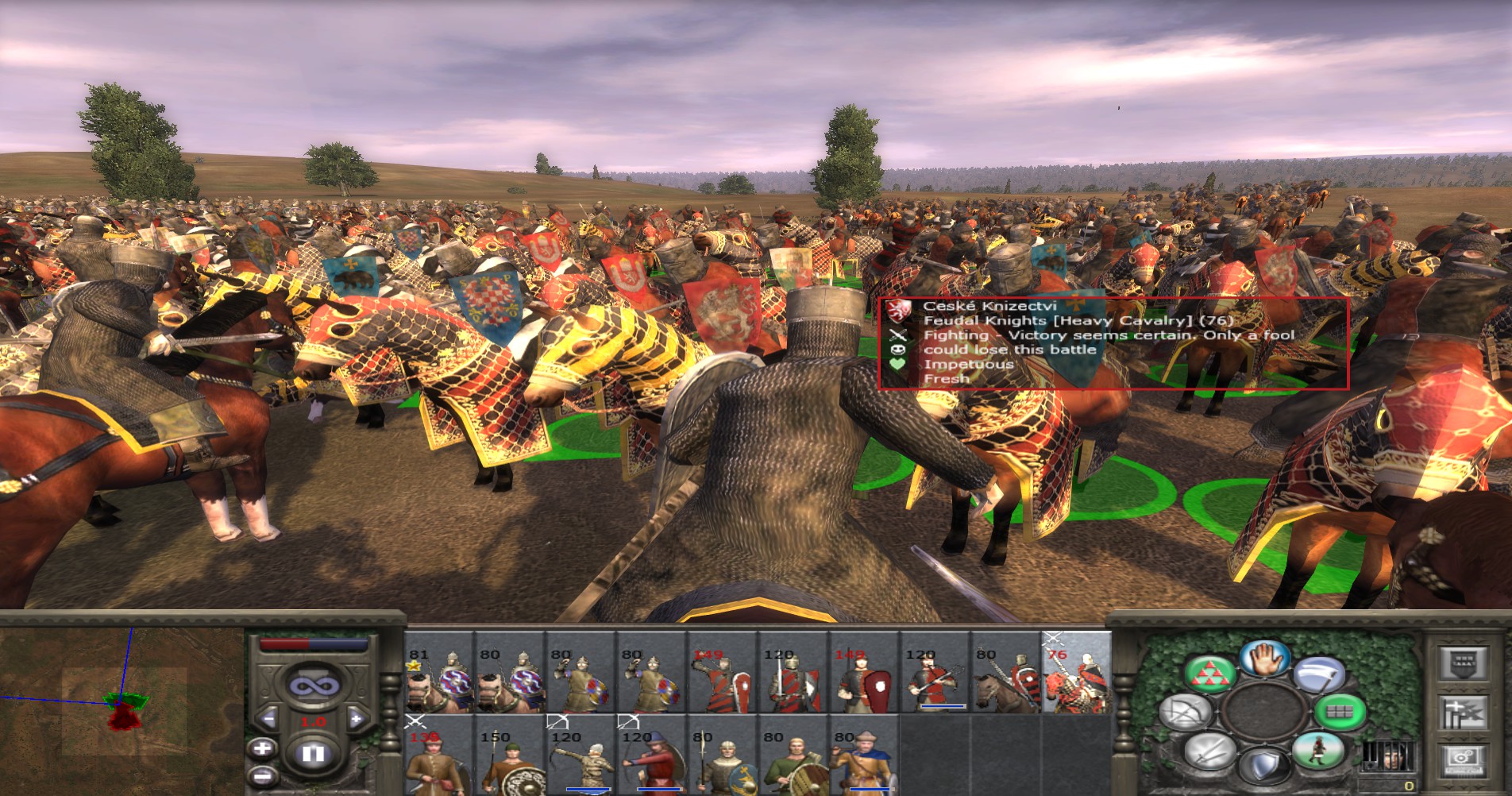 Bohemian Wars Serveants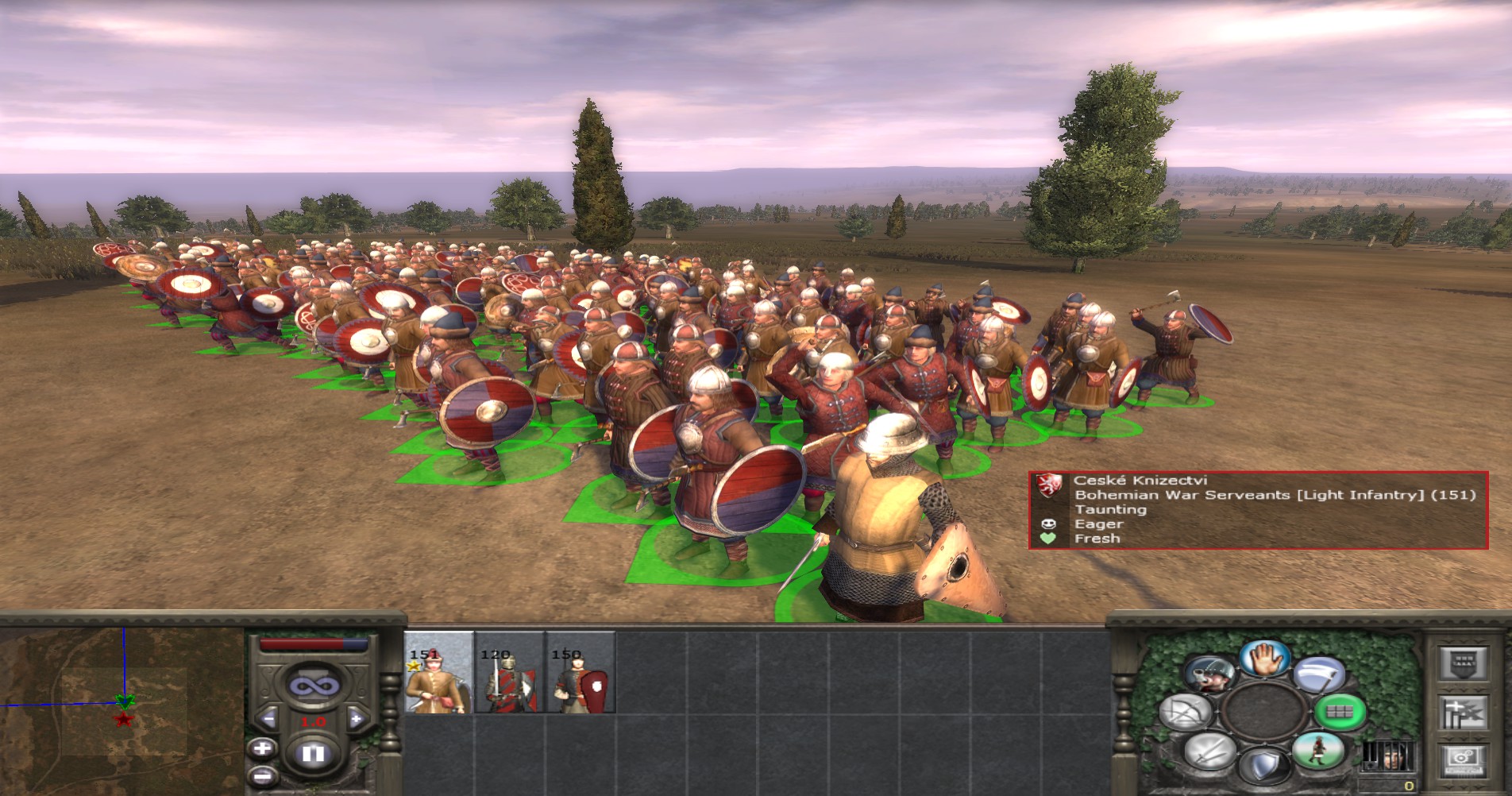 Bohemian Archers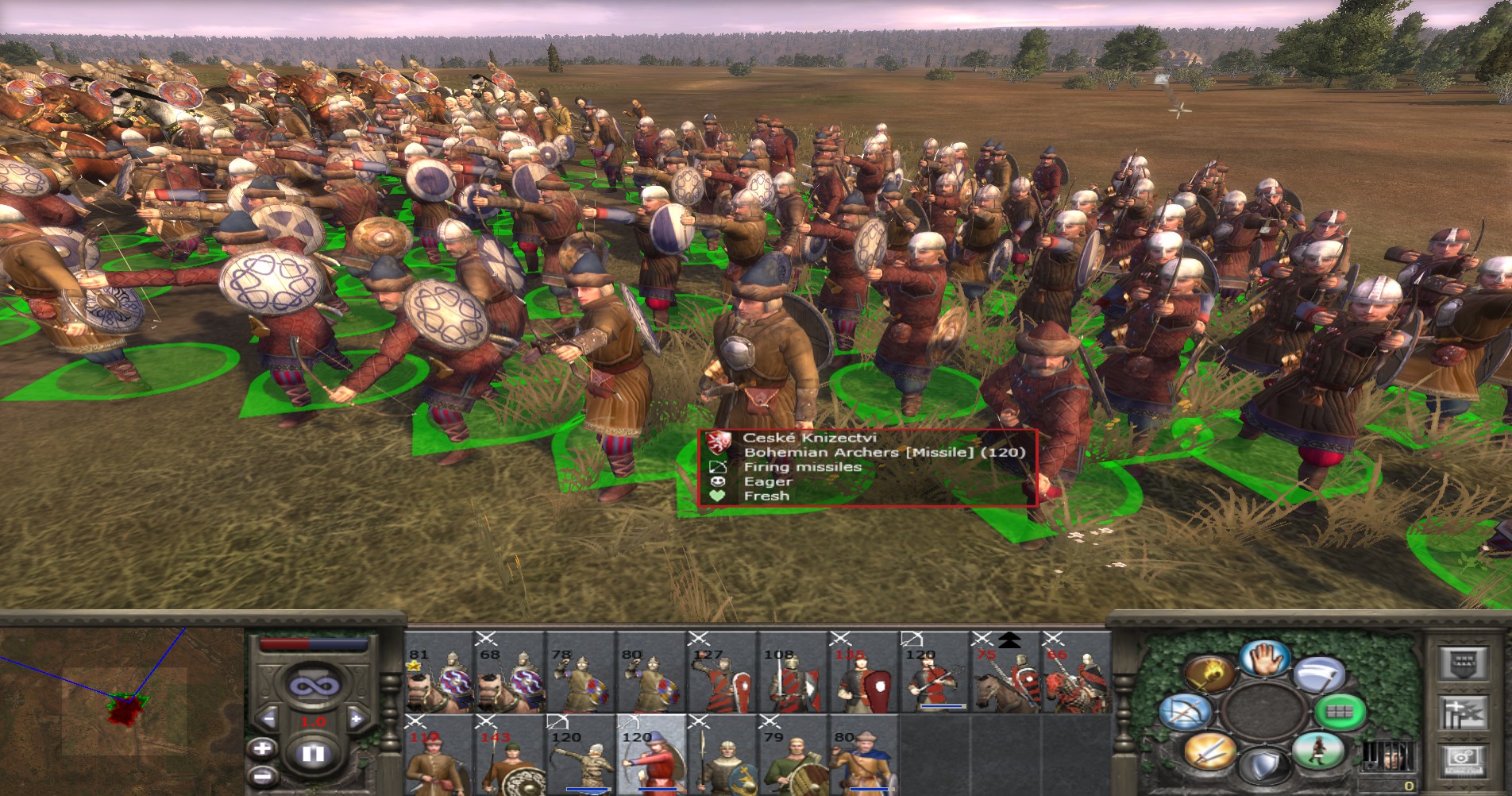 Slavic Cavalry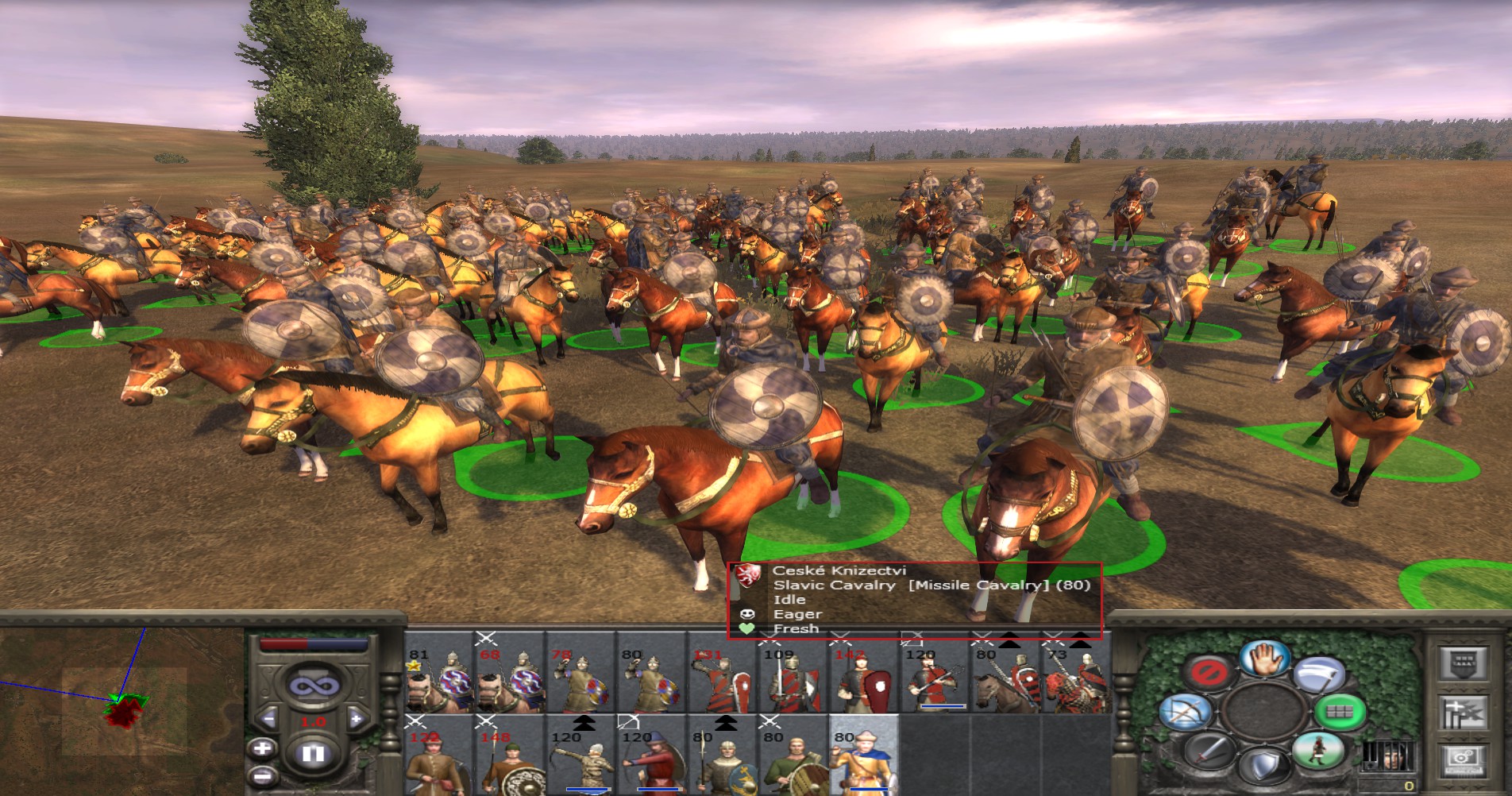 Armoured Sergeants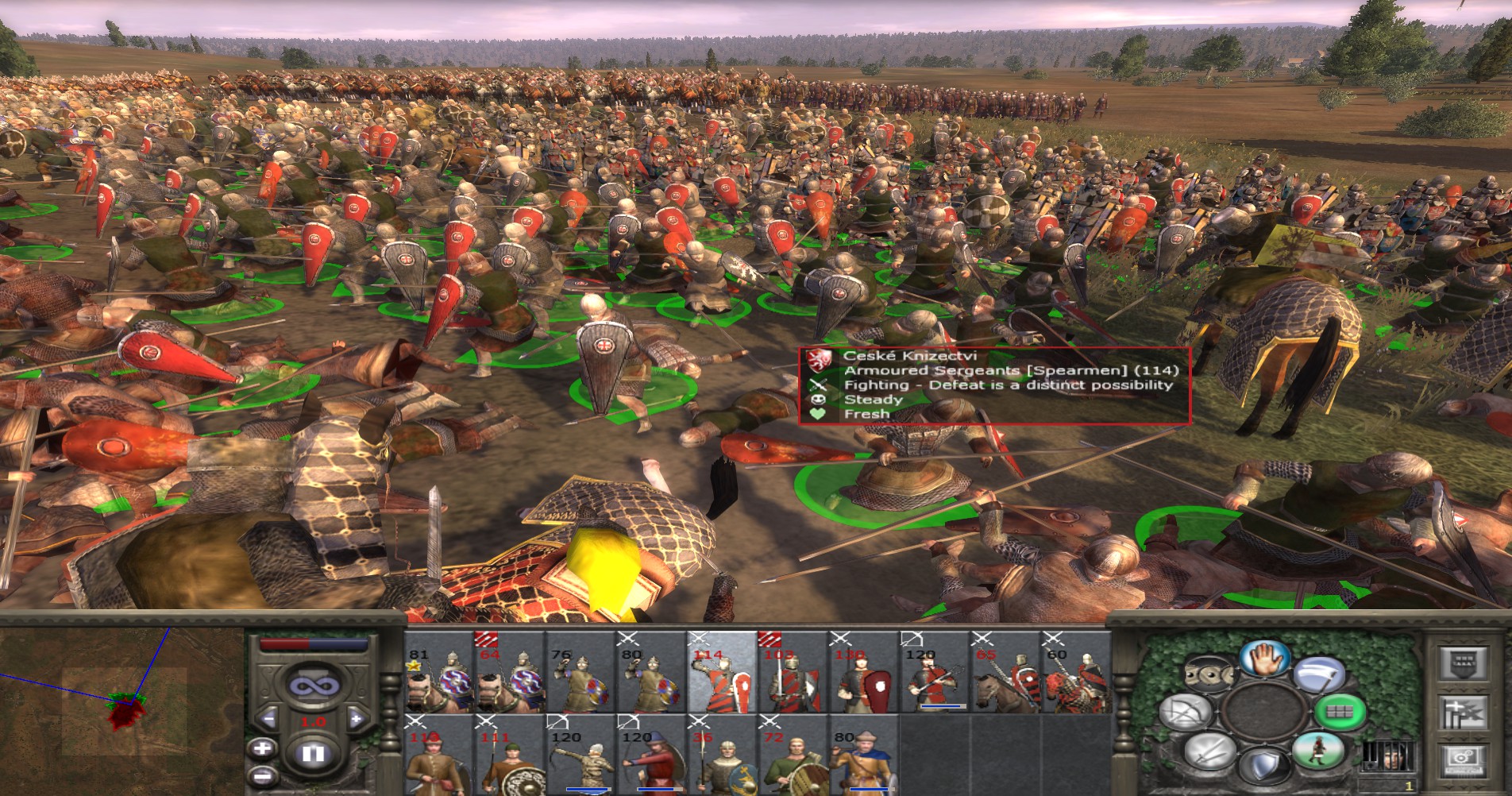 And in regards to the campaign and map as a whole, there is a small preview...
The list of factions:
Duchy of Francony - Herzogtum Franken (Holy Roman King/Emperor)
Duchy of Swabia - Herzogtum Schwaben (Counter-king)
Duchy of Saxony - Herzogtum Sachsen
Duchy of Lower Lorraine - Herzogtum Oberlothringen
Duchy of Upper Lorraine - Herzogtum Unterlothringen
Kingdom of Burgundy - Königreich Burgund
Duchy of Bavaria - Herzogtum Bayern
Duchy of Bohemia - České knížectví
Duchy of Carinthia - Herzogtum Kärnten
Margraviate of Austria - Markgrafschaft Österreich
County of Savoy - Comté de Savoie
Margraviate of Lombardy - Marca de Lombarda
Margraviate of Tuscany - Marca de Toscana
Republic of Venice - Serenissima Repubblica di San Marco
Kingdom of Denmark - Kongeriget Danmar
Kingdom of Poland - Krolestwo Polskie
Kingdom of Hungary - Magyar Királyság
Duchy of Apulia and Calabria - Ducato di Puglia e Calabria
Kingdom of Aragon - Reino de Aragón
Duchy of Aquitaine - Duché d'Aquitaine
County of Tolouse - Comté de Toulouse
Duchy of Brittany - Duché de Bretagne
County of Anjou - Comté d'Anjou
County of Flanders - Comté de Flandres
County of Blois - Comté de Blois
Kingdom of France - Royaume de France
Kingdom of England
Kingdom of Scotland - Rìoghachd na Alba
Papal States - Patrimonium Sancti Petri
The Obotrites
Rebels
New Map
On the following map, you can see map of regional loyalties (to which faction is the population loyal to... Its not possible to assign it to rebels, therefore some "no one's lands had to be assigned to neighboring factions), this does not necessarily show starting positions as well, as that may differ a bit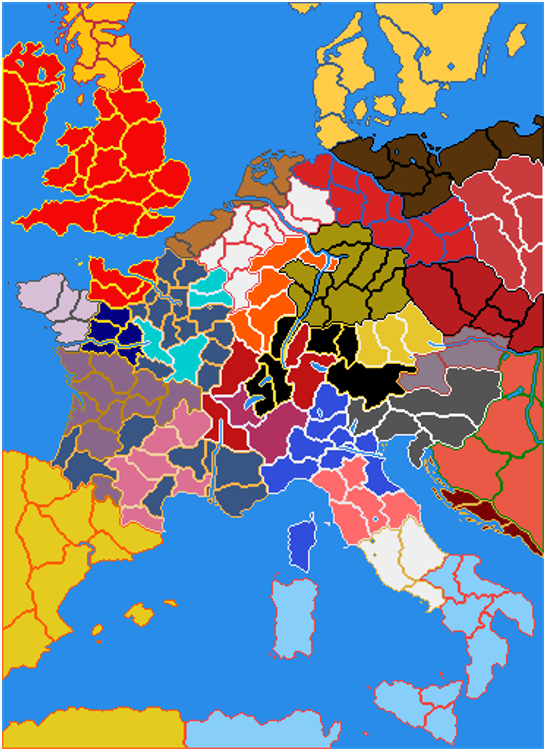 (The colours of factions and the regions may still slightly change)

And in the following map, you can see settlements, regions and a bit of heights map.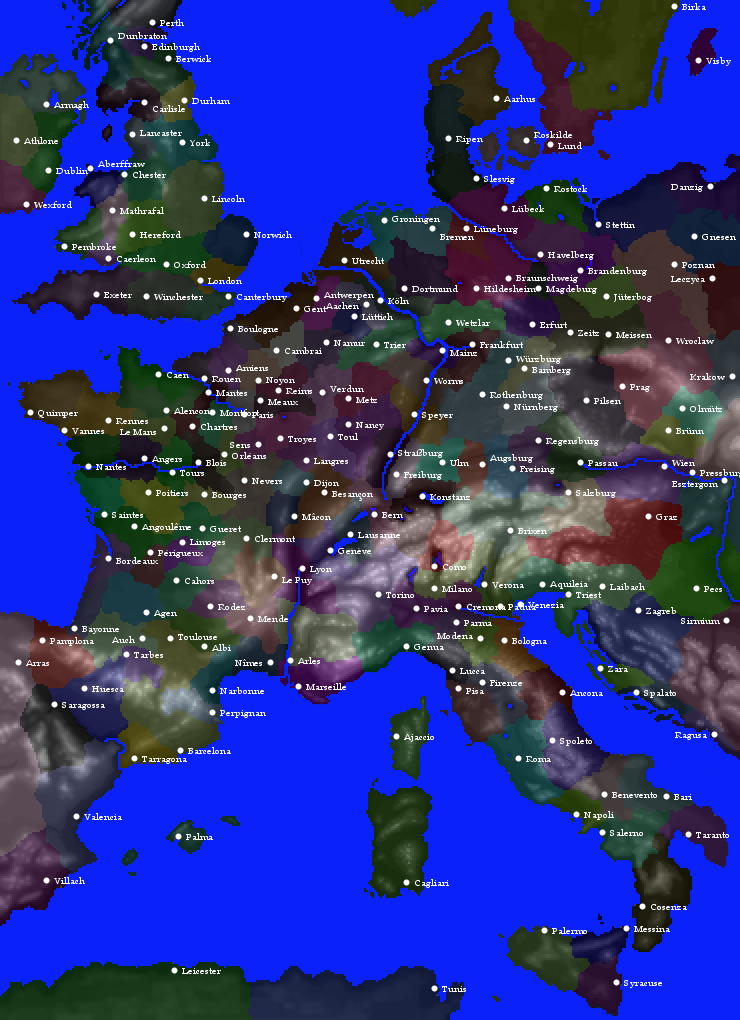 (and yes, those rivers are "sea rivers", so they can be made sailable....
there are plenty other normal rivers of course)
If there is anyone who can help please let me know, that would be greatly appreciated, as otherwise it will be really difficult to flesh the alpha out. Also, if you perhaps know some mods from a similar time period with a similar faction focus, let me know, as perhaps we would be able to use such features (with a permission of course).