FAQ- Frequently Asked Questions
I will be listing here some of the possible questions that may be asked here.
*Please do note that this article may be updated from time to time.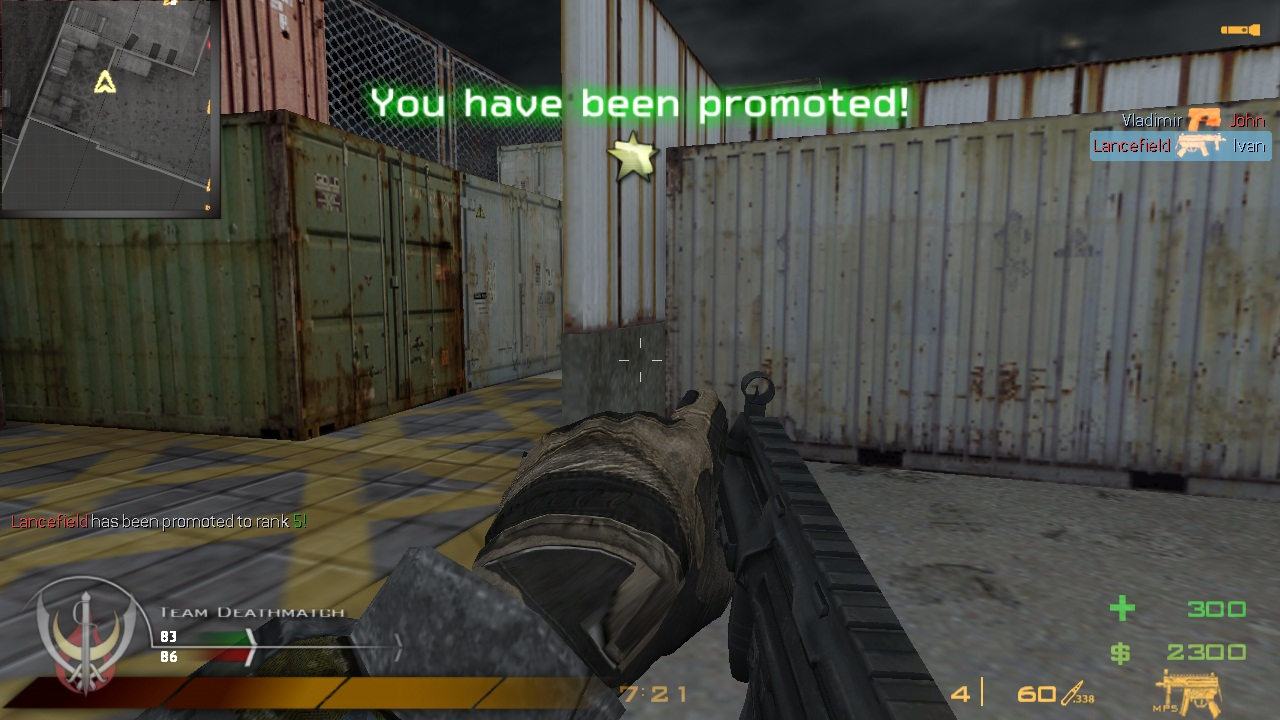 Q: CRASHES. CRASHES. CRASHES.
A: I am very sorry for this but it's either the engine's nature(most likely) or some of the plugins themselves are conflicting on each other(although amxx logs doesn't display any errors
about it, except for the sprint plugin which is I admit, has some errors and I personally think, is poorly optimized)
Although the mod is playable, it may crash from time to time and please do remember that if the crash happens, your achievement
and XP progress will be lost. You can set the match/round limit to one though to compensate this.
Q:Why is the "Headshot", "Double Kill", "Triple Kill" is not placed the same way as the first blood, and kill streaks visuals?
A: Now first of all, it is POSSIBLE to do that, but not at the current state as because of the following reasons:
The display script works a bit different and doesnt support "queuing" of displays, and therefore, overwriting the previous displays.
Let's say Kill Streak 3 uses the channel 452 of displaying images. If another image is displayed in the same channel, that display will be immediately overwritten by the new image.
Therefore, if we put the killstreak and headshot/double kill/triple kill displays at the same channel, chances are either the killstreak display will be displayed OR the double kill/triple kill only.
Q: No XP gain for Payback, First blood and Headshot?
A: I am still finding a way implement this. Highly possible, but not at the moment.
EDIT: Implemented as of Patch 1.3.0
Q: Why does the sprint looks primitive?
A: Again, as I had said from previous posts, sprint plugin is an unapproved plugin snippet from the amxx forums, which I also quite optimized to fit my needs in this mod. It is possible to
use another plugin but it would have need a lot of tweaking as well as it is better if we can add sprinting animations in all models.
Q: EMP doesn't remove red dots!
A: Red dots are associated to the models themselves, and the only thing that can affect them is the shadows of the player/maps. In other words, I do not know how the hell am I implement this.
Q: EMP is too crippling and removing ALL hud elements. Why is it so?
A: The previous version, although disables crosshair and weapon box, will also disable the player from changing weapons as well(primary to secondary, and vice versa). To fix this, I used a lesser version of removing hud elements by using hud_draw 0 and looping the command for about 13 times every 5 seconds.
If the player decides to manually set the hud to 1, the plugin will immediately return it back until the duration ends.
Q: Some weapons stay on the ground for way too long, and some of these weapons has messed up ammo counts/weapon boxes.
A: This may be caused by difference on the weapon box, drop limiter plugin or the gunxpmod. I currently do not know how I would fix this.
Q: I can't use Predator Missile/Care Package/Airstrike for some time.
A: It's either because you are affected by EMP, which disables killstreak use for some time or another player uses an "aerial" type of kill streak.
I used an "Aerial" identification and limitation for these three kill streak rewards. It may last ranging for 5-8 seconds depending on which reward is currently in use.
This is to prevent kill streak abuse for both teams as well as to lessen the chance of crashes.
You may also observe that for UAV, CUAV, EMP and Nuke has their own limitation on spam, although milder and only lasts about 1 second.
Q: Can you reset player levels and achievement/challenge?
A: Player levels can be reset by changing name or deleting a certain file in the game. For challenges, as this is client based and not name based, may only be reset by deleting another file in the game.
EDIT: Implemented via the Launcher release.
Q: Changing resolutions causes crash. Why?
A: This is a known issue since the first CW2 was released back in 2012. I personally do not know what causes this but I guess this can be fixed if I used a fresh copy of CS 1.6 in modding.
EDIT: Gave a hotfix of this using the launcher release.
Q: No other resolution supported other than 1280x720?
A: Unfortunately, no. Although 1440x900 may work, I observed that the ticket counter gets misaligned, which I can make a patch if most people will demand.
For the rest, if the images appear quite blurry, I apologize but I do not have enough time to do a major patch for smaller/bigger resolution images.
Q: Still no support for Windows 10?
A: Unfortunately, no. Keep your hopes up, I'm currently waiting for a reply from the ACG/xPhere developer.
Q: Why are you doing this?
A: Originally experimental and for personal use only, you guys are lucky that I will be releasing this.
Here's the new gameplay footage which features most of the features which were not shown from the PART 1 video. Enjoy your weekend guys.