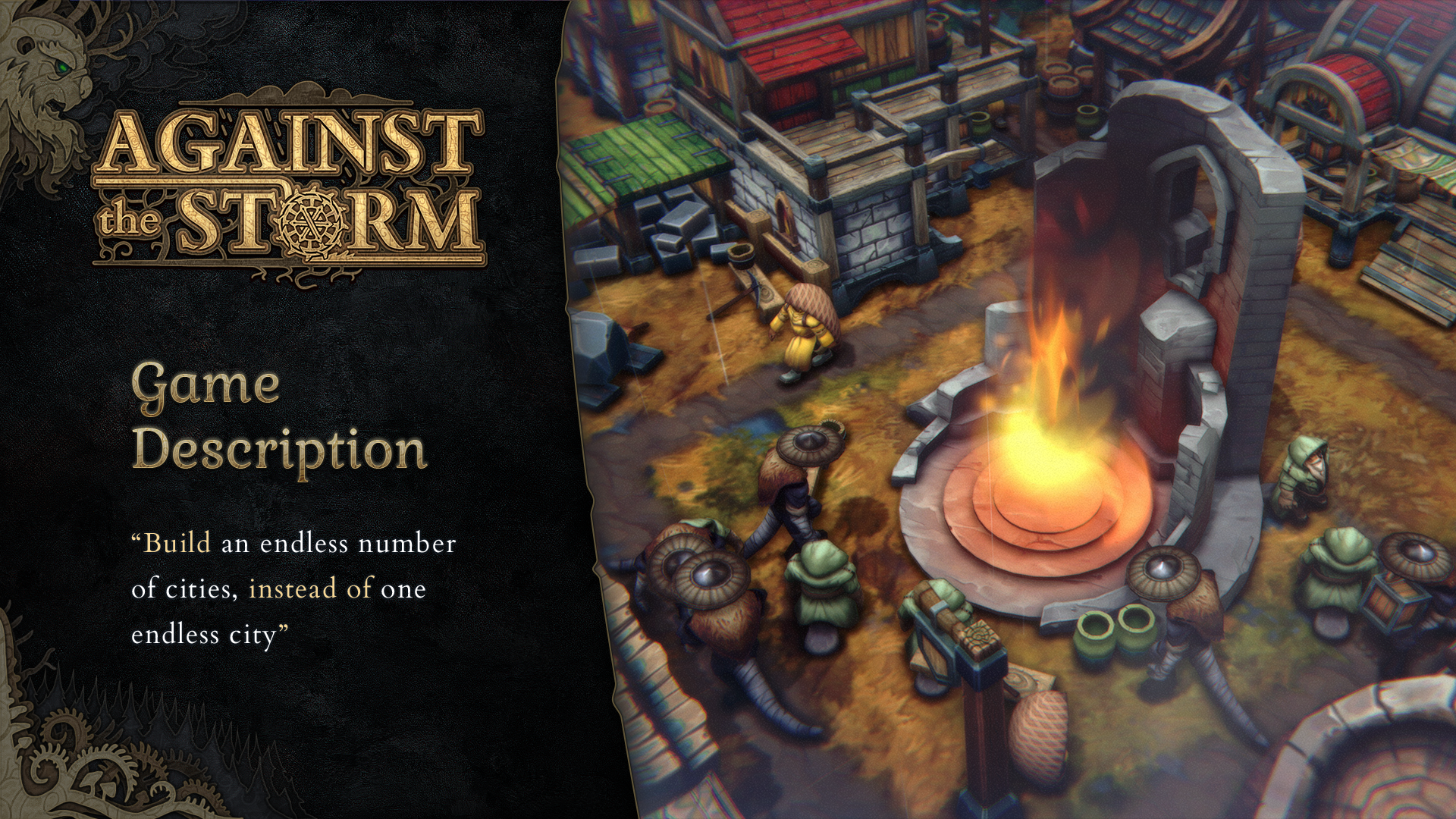 Banished meets Slay the Spire
Against the Storm is a roguelite city builder set in a fantasy world where it never stops raining. You are the Queen's viceroy — a pioneer sent into the wilds to establish and manage new settlements inhabited by beavers, lizards, and humans.
Your goal is to survive long enough and gather the valuable resources necessary to rebuild and upgrade the Smouldering City. It's the only safe haven against the Blightstorm — a vile cycle of destruction ravaging everything in its path. Do you have what it takes to weather the storm?
FEATURES
Construct an endless number of cities in a colony-building game amped up with roguelite replayability

Meet the needs of the growing population of beavers, humans, and lizardfolk

Tame the three rain seasons which dictate the life of your settlements

Permanently upgrade your Citadel while the recurring Blightstorm reshapes the World Map

Adapt to the constantly changing conditions influenced by random perks, blueprint drafting, and combos

Thrive or suffer from procedurally-generated content on glades you explore in

Dungeon Keeper

-style
DISCOVER ROGUELITE CITY BUILDER
Experience city builder gameplay enhanced by roguelite replayability. Build new settlements and collect valuable meta-progression resources to upgrade the Smouldering City. Recurring Blightstorms pose an inevitable threat to regular settlements and reshape the World Map to open new opportunities for growth.
MANAGE BEAVERS, HUMANS, AND LIZARDS
You are a viceroy — the Queen's official sent on her behalf into the uncharted wilds to lead and manage a growing population of beavers, humans, and lizardfolk. Balance their varying needs, ranging from housing and culinary preferences to luxuries and fun. The harsh weather conditions pose different challenges on each biome you colonize. Manufacturing raincoats turns out to be insufficient when the oppressive hostility of the forest can only be soothed by boosting morale in the tavern.
PLAY EACH GAME DIFFERENTLY
With dozens of gameplay-modifying perks and choices you make, you will never play the same game twice. Adjust your strategy to changing weather conditions and experiment with the settlement "builds" — rosters of building blueprints and perks that can make your society thrive or bring it to ruins. But viceroys never surrender. You never know what wares the Trader will bring next year. Discovering a new building on a glade may tip the scales of your city's survival.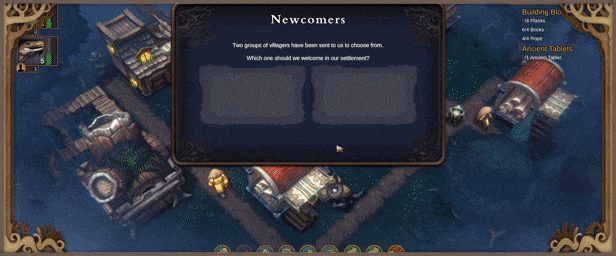 CONVERT PRODUCTION CHAINS TO PRODUCTION NETWORKS
Notably, you are never able to construct all the buildings you need or want. The architecture of your settlement is influenced by your choices and what you find on procedurally generated glades that you uncover by exploring the woods. Gathering Camps collect different overlapping resources and each workshop produces goods from a wide array of changeable ingredients. Replace ordinary production chains with a large network of dependencies and substitutes.
BUILD AN ENDLESS NUMBER OF CITIES
Laying the foundations for a new city is one of the most exciting feelings you can experience in city builder games. In Against the Storm, you're tasked with continuously setting up new settlements which provide the Scorched Queen with valuable resources necessary to rebuild the Smouldering City. A single game takes around two hours, but rebuilding your Citadel requires multiple successful settlement runs.
Build an endless number of cities instead of one endless city. They are never abandoned. They become self-reliant.