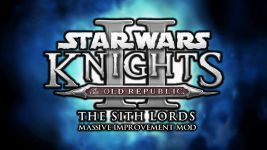 Over the past few days, a few new images have been added to the gallery, including computer displays in the Peragus Mining Facility, a WIP shot of Onderon with Force lightning, fighting the HK-50s on the Telos Polar Plateau, and an updating look at the logo, which is just one from one frame of a video version.
Progress has been good, although I think now that a July 18 release is unrealistic - but I still hope to finish this summer. I'm now working on giving more characters unique appearances and seeing what can be done with the HUD.
I'll be uploading the first YouTube TSLMIM video this week in HD, which will feature the Peragus Minging Facility communications center. Hopefully an actual trailer will follow shortly after.
I previously said that there might be new dynamic camera angles, but now I've decided there probably won't be. The process look hard, I've realized that there will be a number of complications not only TSLRP, but any other mods that edit dialogue. It would take a while patching the dialogue files to be compatible with TSLRP; I want it to be compatible right when TSLRP is released.
Everything else is still going as planned.
-Drewton