Greetings!
There has been a lot of improvements to the game recently and I thought it was about time I gave everyone a taste of those changes. I have released a new demo which now features two levels and a second head that can be unlocked. There are some improvements to some of the art and music that will feature in the final release.
I've made some minor changes to the character controller which I think gives a mush smoother feel to jumping. This was suggested as feedback and I'm very happy that it was suggested. The problem was that releasing the jump button resulted in Headless instantly stopping mid air and it was noticeable and a little jerky, so I've smoothed it out so the character slows down rather than stop and it makes a great difference.
Another addition to the game is the difficulty levels, I started to realise that the game was simply too hard with just one life but I didn't want to simplify any of the levels so that lead me to creating a life system. there are four difficulty levels in the game now so you can choose how many lives you want to play through with. I feel this will make the later levels a bit more accessible.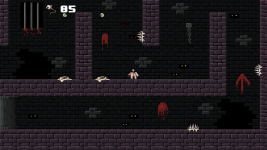 What's left? The biggest task ahead is the final level. after that I will be polishing up some of the art and we will be ready for a release. The final stretch is here and I can see the end of the tunnel but there is still some very important work to do so I'm going to keep at it.