PS4 and Xbox 360 Controller Support
Hello! Today I have decided to release controller profiles I have created for Battlefront II, which support PS4 and Xbox 360 controllers. The setup is quick and easy, and once installed, can be used indefinitely with the game.
Assuming you install correctly, you should be able to simply drop the profile file in your SaveGames folder, plug in your controller, start the game, adjust resolution settings to fit your screen, and play!
In this pack, you will find:
Two brand new profiles for Battlefront II, and each profile has been configured to support a wired Xbox 360/PS4 controller for gameplay.
Controller scheme pictures for guides to button controls.
A detailed Read Me guide.
To download the Playstation 4 controller support profile, click here.
To download the Xbox 360 controller support profile, click here.
I recommend everyone interested in using these to please read the included Read Me guide, as it includes many important details and steps on how to install correctly. For those experienced with BFII, perhaps the most important aspect to mention from that guide is to adjust your screen resolution to the resolution of your monitor after you install the profile. Additionally, if you want to adjust the joystick sensitivity, just head on over to the control settings within the profile, in the menu of the game, to adjust that accordingly.
Having said that, I'm excited to share this with you all, as I know it has been often requested over at the Steam forums, and hopefully for many players this will bring back some of the fun we have had playing this game on the console. I myself have played many mods over the years using a controller on PC and it's great fun.
Here is a sample of each controller scheme. There are more images provided in each respective console controller page. It should be noted that this is based on an amalgamation of the PS2 and Xbox schemes.
---
PS4



(more images and PS4 controller files here)


---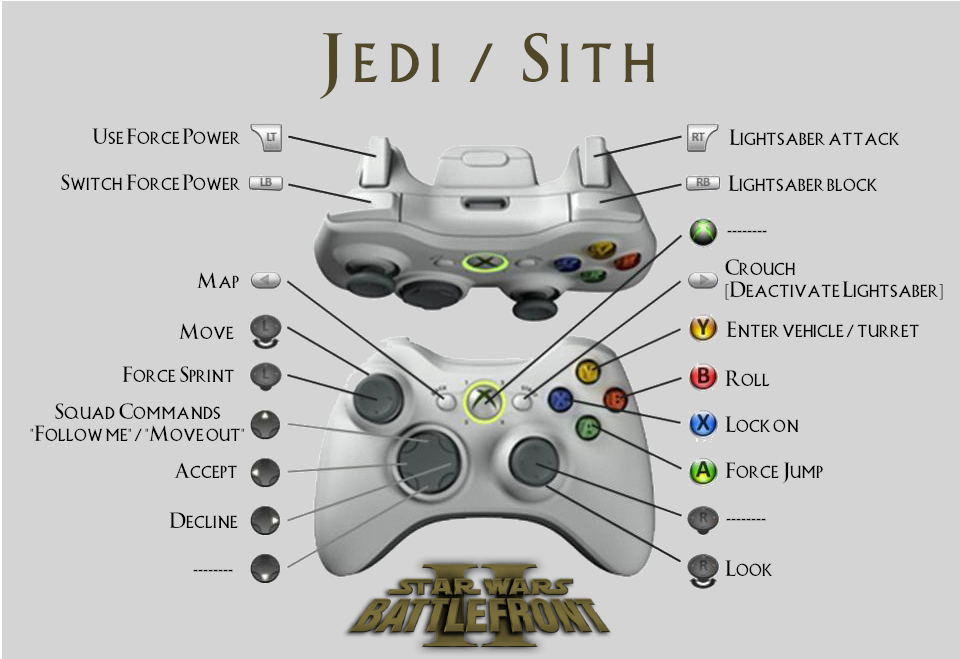 (more images and Xbox 360 controller files here)


---
Simply install the profile, and have fun!