Hello tycoon lovers,
We're very proud to showcase our latest commented gameplay trailer for Blooming Business: Casino!🍀
Watch the new trailer!
Meet charming animal characters in Blooming Business: Casino, our tycoon casino game with a drama twist: Build and run your own fabulous retro casino. A snazzy, bustling, and exciting joint full of drama and cute animals who are anything but cuddly. Manage your staff, attract new guests, and take care of the charming and dangerous VIPs. How will you make sure the house always wins?

What's in here?
In this new trailer, we're showcasing several of the progress made in our latest development milestones:
Client types: Three types of customers will now visit your casino, Tourists, Mobsters, and Miners, each of them with its very distinct look. Make them happy and you will attract more clients of the same type, grow your reputation and your income.
Collapses & balance: As a reminder, if a client's need falls to 0, you will notice them behaving strangely on your casino floor: drinking in fountains, starting fights with other clients, etc.
New themes and decorations: Many decorations were added since the previous demo. They are now grouped in four themes (Tiki, Space, Greek, and Business) with multiple new wall decorations including a rocket(!). These items will be a great help to cater to the needs of your clients.
Bar management: We noted that despite Blooming Business being a casino game, most players were really into bars! The bar management was barebone, so we reworked it to offer more options & challenges. You'll have to manage what drinks you offer, and how much you stock.

2021 accomplishments, a big THANK YOU
We appreciate the support our community have given us so far, and are proud of what we've accomplished this past year collectively:
We now have 3 awesome trailers, our first ones! It was not always easy, but seeing the progress we made is heartwarming!
We organized 6 internal playtests to gather feedback from our amazing community members and prioritize our next features.
We had 2 early open demos for Steam Next Fest and Games Made in France and will continue to offer more experiences to our community!
We reached nearly 1000 followers on Twitter in 10 months! And our account is continuously growing. A lot of followers means more credibility, so don't hesitate to like and retweet the posts you like.
We have 2 gameplay modes! Alongside our normal mode with missions, we added a new Sandbox mode. We regularly share our development updates on Steam if you want to have a look at our latest additions!
& Since the beginning of the year, we added 22 animal species for our characters, 4 decoration themes, 110 cute animations, and more than 130 items & 39 casino attractions & variations!
Coming soon on Steam!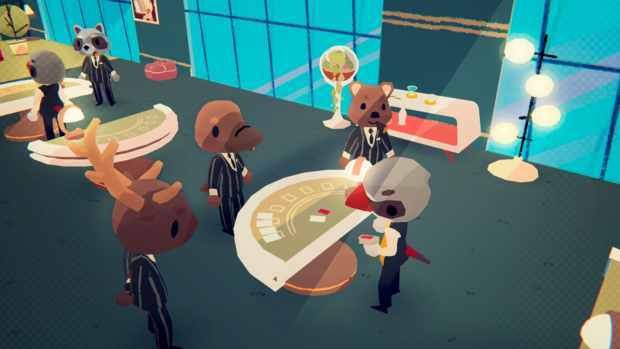 Client type: The mobsters at the blackjack table
Let us know your thoughts!
The dev team