Welcome, This is Kyle Gordon, Co-Creator and lead asset designer of Loot Nubs, here to showcase some of the progress I've made this past week. This week I've constructed both the Wizard's Spire and the Watch Tower models that will be seen in the game. The Wizard's spire will be where you train your wizard nubs, these nubs can equipt a Wand, a Wizard's hat and a Magical Orb.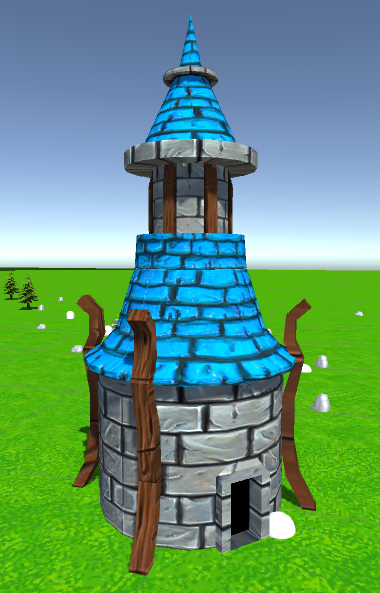 Wizard's Spire
The Watch Tower is your standard defense structure, It shoots arrows to fend off attacking Nubs. In addition, I have updated the grass texture to blend in better and to make it more vibrant. We have plans to update the tree's and the other environmental pieces in the future.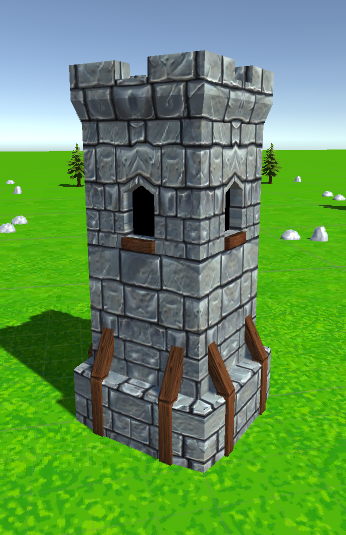 Watch Tower
Along with these few buildings, I've been tasked with managing the player controls and combat systems. So far I've got the basic framework done and I plan to get it somewhat functioning in the next few days. Hostile Nub Mobs will be implemented into the Prefab generator that is being developed by the very talented Shane Lambert. Essentially what happens is a larger, 'elite' Nub is spawned, then smaller minions can be spawned around them. The minions follow the elite nub, the same way the player's nubs move, up until they initiate combat. How the combat works is when you approach a group of Hostile Nubs they will immediately start attacking you. At this point you may choose to attack or flee, but as soon as you make contact the turn-based combat will begin.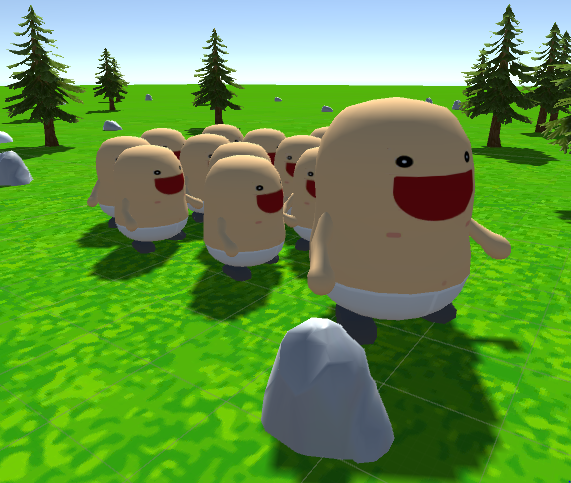 Hostile Nub Mob
My initial hopes had been for the combat to be completely open with each nub attacking and moving individually. Unfortunately, creating something that complex which looks good, works well and runs efficiently on a mobile is not something I have the time for. It is something I'd obviously like to do, but we need to have an Alpha build ready for testing in a week. Perhaps in the future, if we decide to develop this concept further, we could expand upon it.
Thanks for reading, each week I'll be posting any progress I make, so if you'd like to keep up with our progress or perhaps offer some feedback or suggestions for what you'd like to see, please give us a follow or leave a comment on any of the posts.