XOOM DEVELOPMENT NOTES 01 OCTOBER 2021
New 251/10B Halftrack - Coming Soon!

Achtung Soldaten!
Your improved 251 Halftrack is coming to WWII Online soon and it will include a Pak36 mounted towards the front with an MG34 covering the rear. This will be part of our Armored Personnel Carrier deployment set and will compliment the existing 251 with efficient support. We've updated the MG34 artwork to use the typical infantryman MG34 and the three top crew members have been improved upon. Please continue into the article to see the work in progress photos! WWII Online subscriptions make developments like these possible, please consider subscribing to support CRS develop the game: Account.wwiionline.com.
NEW 251 HALFTRACK - WITH A PUNCH!
The new 251 Halftrack coming to the German forces is going to be awesome! It contains a Pak36 on the front, has a little extra ammo (since you know it has space for that) and also has a pretty slick MG34 covering your six. This might actually be one of those vehicles you want to multi-crew for maximum coverage and support.
In case you were wondering - YES - all three crew members (excluding the driver) can press the O (open) key and take cover when they're not actively engaged or need to get down to avoid getting shot.
Here's a quick look at the 251 ambushing an Allied armor column from each perspective.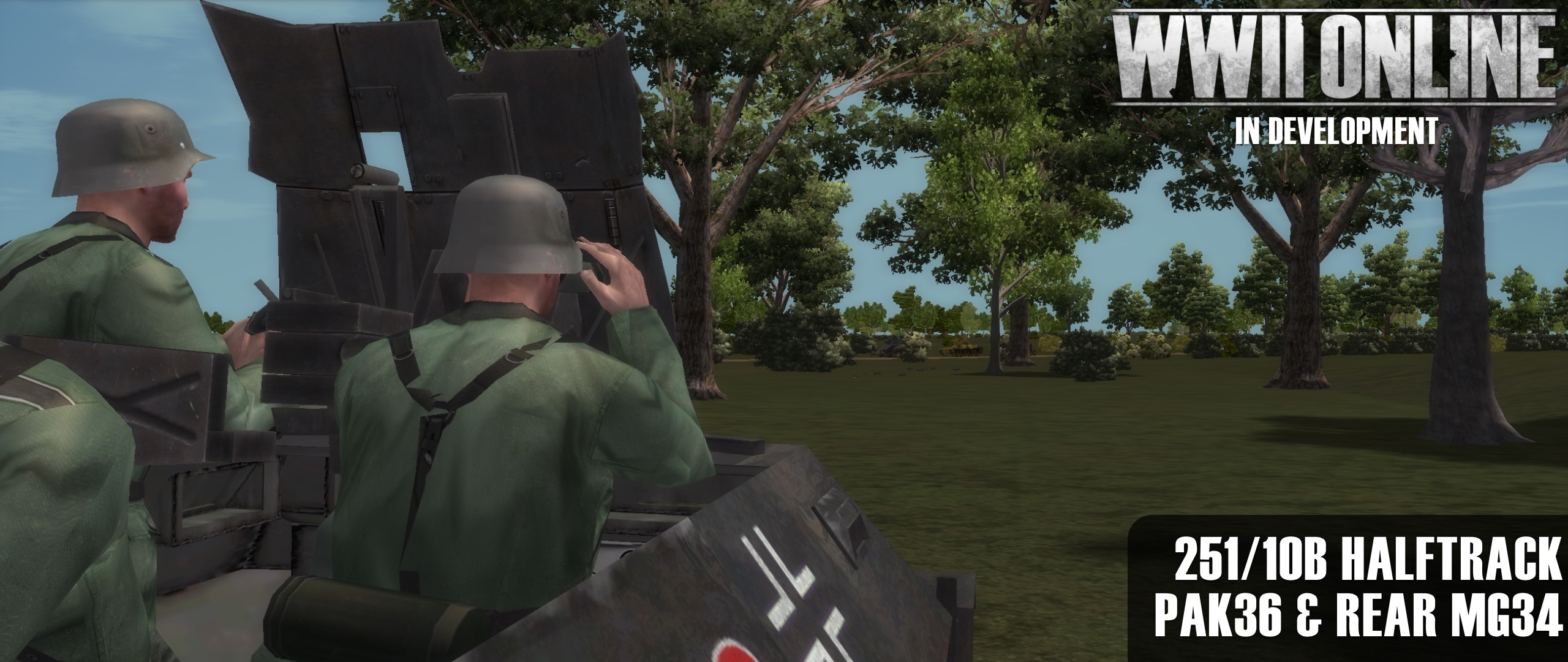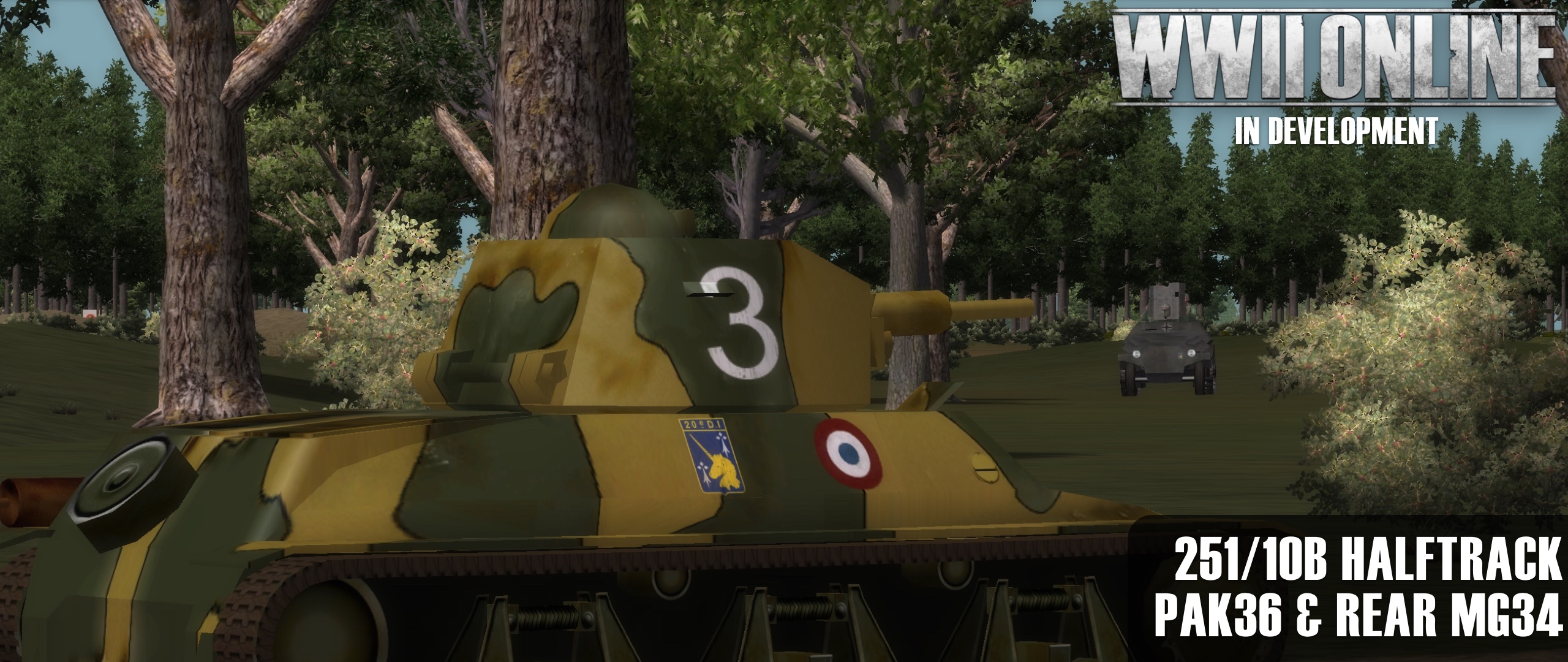 Here's a quick look at the crew onboard (though you can't see the driver tucked away towards the front).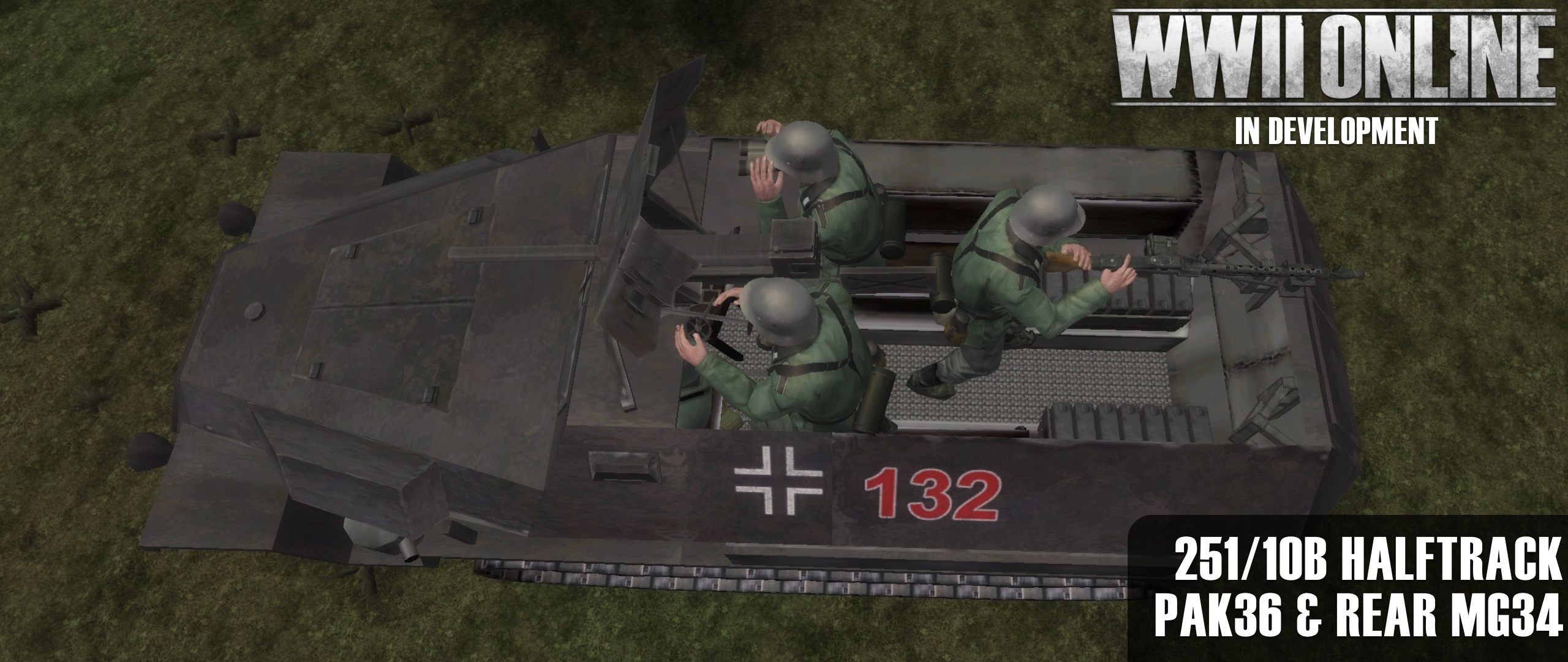 CAN SOLDIERS RIDE IN THIS VEHICLE?
It is an Armored Personnel Carrier - so yes, you bet ya! And it will be able to tow light guns behind it.
CAN IT DEPLOY MOBILE SPAWNS?
Yes the plan is to allow for these APC's to continue to be able to deploy mobile spawns, which will automatically give them extra coverage against opposing forces.
___________________________________________________________________________________________
SUBSCRIBE TO SUPPORT THE MISSION
WWII Online's premium subscription price was reduced from $17.99/mo to $9.99/mo this summer with the intention of bringing back as many players as possible and removing any barrier for new players to join our subscriber ranks as possible. This is the lifeblood that enables the development team at Cornered Rat Software to do more. We're calling on our community to spread the word, get this message out and get players subscribed over this season. We hope building up your squads will be more possible.
Remember, CRS followed through on their part in good faith to remove all barriers. It's time to do yours and act as the recruiting force needed to make clear that CRS is delivering content and results for the game. Your (and their) support will help us do even more, like fulfilling our mission statement for "The Future of WWII Online."
Thank you - we appreciate your subscriber support everyone!
Subscribe now at Account.wwiionline.com
TAGS: wwiionline,, ww2 games,, 251 halftrack, german army