It has been a busy start to the year for everyone and team Radi-8 is no exception. We've been going over our final to-do list and are getting pumped for the upcoming release of NeoTokyo. As we continue development we'd like to provide you all with more media to prepare you for what to expect-
With the release coming up and our soundtrack complete and being printed as we speak. We will be hosting an Official NeoTokyo competition with the winner recieving the NeoTokyo Soundtrack on CD in our custom designed CD case. We will be announcing the competition soon as well as details and rules so keep an eye on our profile. You can check out some of our music -here-, or download them from -here-. You can also visit our site and listen to tracks off our NT Music Player by clicking on the image below.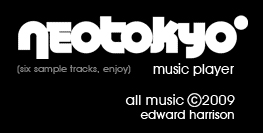 Finally, since this is our last year as an Upcoming Mod and will soon be a Released Mod. For those of you who would like to support our work on NeoTokyo please vote for us as this years "Best Upcoming Mod" by clicking on the image below.
-S.Radi-8