Neofeud development continues to continue. At the moment we have about 25 backgrounds completed, 40 or so character animations, and at least a thousand lines of dialog.
First the super cool, morale-boosting news. A Neofeud short story has recently been published in the most awesome sci-fi/fantasy magazine, Mythaxis!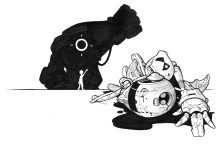 A cyberpunk short story set in the world of Neofeud.
(caution: extreme language)
We've also got some new, ultra-spiffy flying car concept art from Kiel Bryant
And here's a brief intro/trailer for Neofeud, complete with anti-smoking cigarettes:
I have been approached by a few social media marketing companies offering to handle hyping / buzzing Neofeud up, guarantying a thousand new followers per month and such. Here's an open question to any fans listening: do any of you have experience with such campaigns? Would you recommend a company such as Silver Spook games and specifically our Neofeud project bring such a marketing company into the relatively shoe-string-budgety fold at this point?
One other thing: I am considering starting a Kickstarter, or another method of creating sustainable funding for the project, so that I can continue to live inside of the $1400 studio w/ no utilities that gentrifying megatropolises like Honolulu, SF, and New York continue to prove. (We're based in the former.) So please, Kickstarter, Patreon, funding advice is super welcome! I really want to take this project to completion, if at all possible.
ALSO! I've just recently started my own Youtube Channel with "Let's Play!" vids, so please like, comment, subscribe, etc.!
I'll be considering doing some fan-response videos, or something of the sort. Maybe some "making of Neofeud" videos? Let me know! I'm trying to figure out this 20-teens, internet-community thing and want to give fans what they want! (EXCEPT a completed Neofeud release in two weeks, lol).