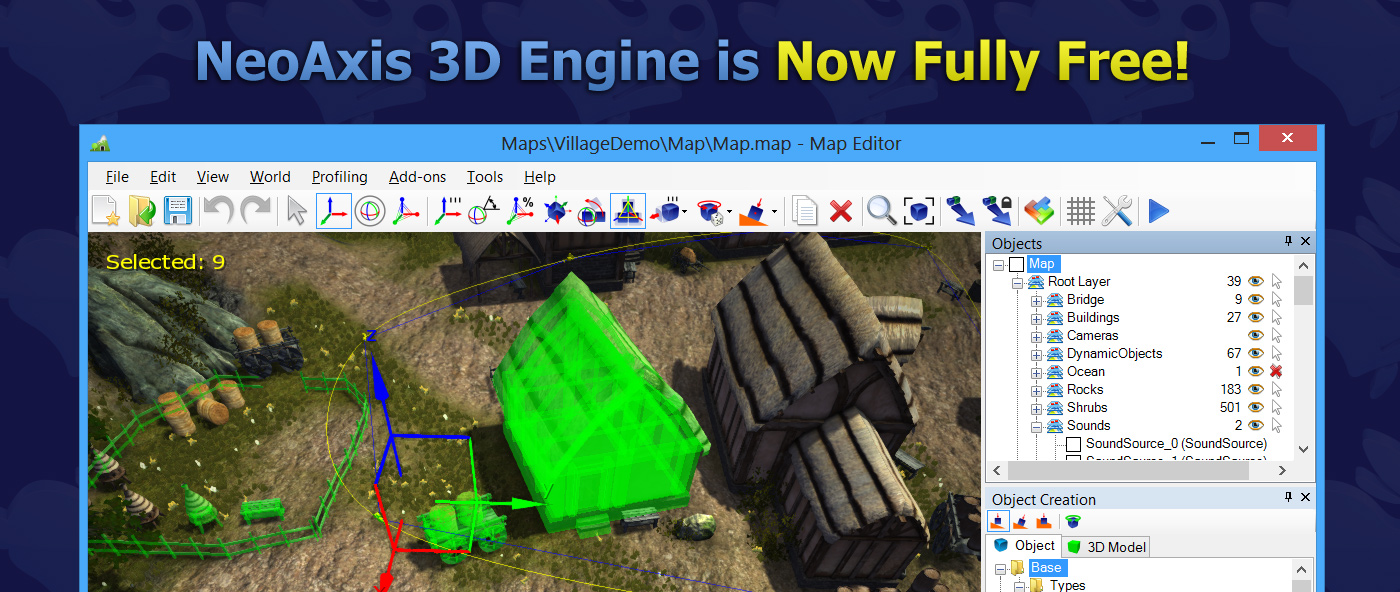 NeoAxis Group Ltd is glad to announce that the universal 3D development framework NeoAxis 3D Engine is now completely free, as the community has been asking for it. You can freely download the recently published SDK 3.0, which includes all the features previously reserved to Unlimited and Source licences. From now, the engine will developed as free tool. Paid licenses will still give customers access to a bigger part of the engine's source code.
About Our Technology
NeoAxis 3D Engine is a free integrated development environment that allows to create projects of any types and complexity. The environment can be used to create video games, simulators, virtual reality and visualization software. It includes a full set of tools for fast and logical development of modern 3D projects.
Licensing Changes
NeoAxis 3D Engine is available in 3 editions, each providing a different level of access to the engine's source code.
Free Edition — free development environment, which includes all features of the engine and tools. Includes the ability to expand the engine by creating add-ons.
Professional Edition — includes the full source code of the engine's tools and bigger access to the source code of the engine components.
Source Edition — includes full source code of the engine.
Community
As you know, NeoAxis is a small and independent company. We are developing NeoAxis engine following our own vision and aren't bound to any investor. As a result of this freedom, we don't have the advertising power of the big guys out there, making it very hard to get noticed in the crowded market of 3D engines. However, we do believe NeoAxis have some serious qualities for anyone in need of a powerful, robust, and easy to use 3D development environment.
For now, we have a small but great community and we need to work together in order to build the future of NeoAxis. I know it hasn't always been easy and some features have been long awaited, but Rome wasn't built in a day and we do believe that NeoAxis is now ready for more awesome, cutting edge features. In NeoAxis Engine 3.0, we have added background loading and unlimited terrain support. We are happy to announce that theses features are now available in the free edition of the engine!
As mentioned on the roadmap, Deferred Shading and visual logic editor are coming and we hope that everyone will enjoy these features that will be included in the free SDK as you requested. I won't say it enough, but your opinions are valuable and help NeoAxis to go in the right direction. To start with, we have made a copy of the SDK available on GitHub, which will be updated when new engine versions will be released. We now need your help to spread the word about the engine, don't hesitate to talk about it to your friends, on blogs, forums and help NeoAxis grow as the best free 3D engine!
Near Future Plans
As we know the community is made of a large number of artists and beginner developers, our short terms plans is to make their life easier and improve NeoAxis rendering capabilities with the addition of 2 main features:
- A new visual logic editor that will give you the ability to easily create map logic and objects behaviors, without any C# knowledge. Awesome for non-programmers!
- Deferred Shading technology for fast multiple lights scene rendering.
Finally, we are working on making NeoAxis work in a web browser, giving you the ability to deploy your games and applications on the web easily, without any need of additional plugins. That will be an great new way for you to easily share your work!
New Features in 3.0.1
Map Editor: Property Tags have been added. They give the ability to add any kind of text parameters to each entity. New property replaces old TextUserData. Porting the code: "entity.TextUserData" replace to "entity.GetTag( "TextUserData" )".
The object to make splines in the editor has been updated. Affected objects: MapCurve, MapCameraCurve, RenderableCurve. You can now add lines and lines with rounded corners.
RenderableCurve object: The ability to add lines and lines with rounded corners has been added. You can now also add collision for the object and set the spline radius per point.
StaticMesh object: The new property EnabledInSimulation has been added.
Bug fix: Sound was not working in WinForms applications.
Links
Read more about the technology
Download SDK
Discuss about the release on the forum
Official website of NeoAxis 3D Engine