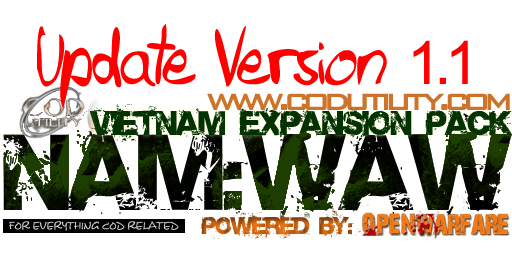 -NAM:WAW Vietnam Expansion Pack Version: 1.1 Released: CodUtility.com (Will be Available for DL here on Moddb.com when I get a chance to upload)
-Powered By: Open Warfare Version: 1.6.2 OpenWarfareMod.com
-Changes Made since Version 1.0:
-Weapons
.Invincible/Connection Interruption/Black Screen on some servers while using the Mosin from the Grenadier Class - FIXED
.Bullet Penetration -FIXED
.CAR-15 is now in place of the Skorpion Under Light Gunner -Full Auto/Single Shot
.SKORPION is now in place of Walther P38 Pistol under Side Arms
.UZI is now in place of the Nambu Pistol under Side Arms
.Grenadier Class Attachments are unlocked (Bayonet & Grenade Launcher)
.Weapon Adjustments
___________________________________________________________
-Teams
.Wehrmacht is now: North Vietnamese Army
.Red Army is now: Australian Task Force
.North Vietnamese Army Skins
.Australian Task Force Skins
.HUD/ICONS
___________________________________________________________
-MAPS
.Tunnels By: MelVin (Using the New NVA/Australian Teams, 3 More in the Finalizing Stage At the moment and will be released shortly)
___________________________________________________________
-CONFIG CHANGES
.Removed All Ranked Settings from Config Files
.Fixed Errors in mapcontrol.cfg and server.cfg as Reported
.Changed Default Perk/Weapon Layouts for all classes
.Removed DVARS that are not Available in NAM:WAW from all config files and added some that were not available to be edited in v1.0.
.Replaced all gametype config files with Stock OW1.6.2 files
.Added/Edited DVARS to make the mod run properly and to the classes.cfg
.Other Changes Im forgetting
Long Story Short:
USE THE CONFIG FILES PROVIDED IN THE NAM:WAW VERSION 1.1 DOWNLOAD WHEN UPGRADING to Version 1.1 or INITIAL INSTALL OR YOU MOST LIKELY WILL HAVE ISSUES WITH CHANGES MADE IN 1.1.
ADDED a mod.arena file to the mod to reduce materials loaded that were not needed from the users/server usermaps directory etc..
Notes: Some options were removed from the OW1.6.2's Config files, make sure to use the config files provided at release of NAM:WAW v1.1 to avoid any issues. Please post any bugs/comments/suggestions in the proper forum at CODUtility.com.
*Map Rotations are set to "map mp_ravine map mp_tunnels map mp_chokepoint map mp_storm map mp_overcong map mp_marsh map mp_lao_cai map mp_siege map mp_waterway map mp_kneedeep map mp_shrine map mp_kwai map mp_makin map mp_makin_day" at time of release using random gametypes consisting of: ass;ch;ctf;dom;dm;gg;koth;sab;sd;tdm;twar. Make sure to add or remove to the map roation depending on NAM:WAW maps you are including and other custom/stocks you may be using.
NAM:WAW Custom Maps Included in map pack at release (Can be Downloaded Individualy as well):
mp_tunnels (NEW)
mp_ravine
mp_chokepoint
mp_storm
mp_overcong
mp_marsh
mp_lao_cai
mp_siege
mp_tunnels
mp_waterway
Make sure to replace all mod files/config files when Installing NAM:WAW Ver. 1.1, for information on setting up a Dedicated server please Visit the NAM:WAW Official Forum
Author email: Visit Codutility.com for more info.
--------------------------------
Installation Instructions:
To test a map:
XP users, place the map files in: Documents and Settings\your_pc_name\Local Settings\Application Data\Activision\CoDWaW\ mods folder . If this folder doesn't exist, just create it.
Vista users, place the map files in: \Users\your_pc_name\AppData\Local\Activision\CoDWaW\ mods folder . If this folder doesn't exist, just create it.