It's been a long time since we shared our last update on the project, but we are in that stage were no new content is being made. We are adjusting levels, balancing gameplay, testing and creating UI elements and that kind of polishing tasks.

That left our artists with a relatively high amount of free time, and we thought it would be great to use it to make an animated teaser to explain the origins of some final bosses and the jelly rebellion, the starting point of the game's campaign. So the teaser makes a great opportunity to talk about that background story that you will find through the game scenarios, characters and enemies.
But enough talking, please take a look to Mutinies and Mutations, a Rest in Jelly Story.



As a small studio creating its first title we did all the editing ourselves and sincerely, why investing the time to learn how to use a video editing tool when you can achieve the same in Unity3D and faster? And that's what we did, we split the images the artist created into different sprites and used Unity to create this kind of animated concept video you've seen.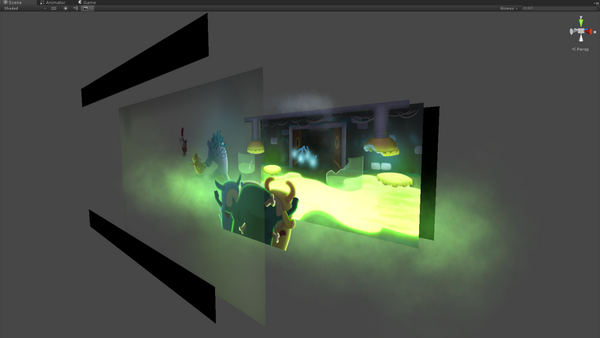 Scene composition of the Teaser in Unity3D
Apart from the animation, Unity3D gave us the possibility to add some visual effects to enhance the art, such as vignette, chromatic aberration, color correction lookup, and many more. Next you can see a comparison that shows how the scene changes before and after applying the effects.
We're not sure if it was the best way to proceed, maybe not the most professional one, but we're pretty sure it was the optimal one in terms of efficiency, because we needed a lot more time to learn, or maybe hire another person to edit the video, but we couldn't afford neither time or money.

We also opened the Rest in Jelly Steam Page to be able to wishlist the game and start getting some attention, please share :D