For a long time we're receiving information that opening a new Mutants Revenge forum, where you can ask your own questions about our mod, would be very welcome.
Perfect Team with pleasure announces that our ModDb forum finally has been OPENED! You are most welcome to ask questions - we will respond for all of them as quickly as it's possible.
Of course we also made a big Units Update and...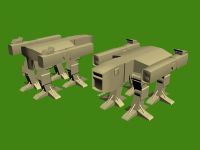 I'm back... mommy...
Mammoth MK. II - Facing the danger of war with the GDI, Nod and Scrin, Forgotten did realise that need of creating something, which could fight the best of enemy's units – the Epic Units – is necessary to survive.
Basing on the old veteran's memories, founded plans and their own engineering knowledge, Forgotten have rebuild the most powerful war machine used in the Second Tiberian War – Mammoth MK.II.
The new one, upgraded with much stronger armour and an additional weaponry impressed even the GDI's engineers, who created the original one 30-years before...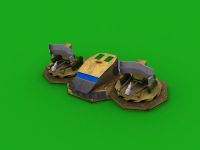 "Now you see me... Now you not!"
Mutants Disrupter Dual Cannon - Advanced defence system using the same disrupter technology, which was used in the Second Tiberian War. Heavily armoured and armed with two upgraded disrupter's cannons can easily destroy multiple targets at one shot and stay out of range of the enemy forces.
However, to increase the attack range and the firepower, Mutants' engineers must decrease the rate of fire, so weapon won't overheat...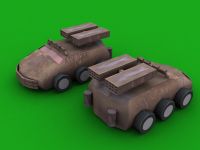 "You need a transport? I've carry only rockets and fuel..."
Mutant Rocket ATV - Like all the other factions, Mutants needed fast anti-armour and anti-aircraft unit to protect their field bases, because of inefficiency of defence systems in some of situations.
That's why their engineers have constructed a Rocket ATV, large-sized wheeled vehicle equipped with the missile launch systems, quite effective against enemy aircraft and armoured forces.
However, it's also very vulnerable for any attacks, because of armour even lighter than this used in the Anubis Tank.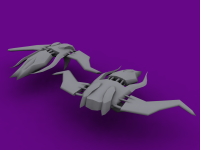 death from above!




Scrin Angel - Angel is a very fast and very dangerous multitasking fighter, the main airship used by the Angels-1 faction. Angel is armed with a light plasma disc launcher and two disintegrators, which help to keep the air superiority.
Cheaper and even more dangerous than the Storm Rider, Angel is an unit that enemy forces should take care of in the first priority...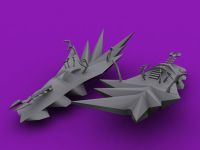 I saw something weird... That looks like moving Tiberium!




Scrin Destroyer - Armed with one large and two smaller energy beams, Destroyer is used as a basic tank in the Crusaders' army. Main gun is effective against the average armoured vehicles, and the two others (thanks to the excellent aiming systems and impressive firing rate) are a fair weapon against enemy aircraft and the infantry forces.
Destroyer isn't also stick to attacking only one target at one time – each of the cannons can engage a quite different enemy in the same moment!

... for the end we got something special for you... first Unit Screens in Game!





... and of course - have a nice week!
~ Makintosh!