Well, it's been a while since we've had a news update. However, the team has been working hard behind the scenes to continue bringing you the unparalleled quality of work that Galaxy at War is famous for. We have a new unit, the Super Battle Droid, also known as the B2, modeled and animated by TiJil and skinned by Master Windu and Dr. Nick.
In other news, we are moving the mod to Starcraft II. We believe that it will provide the community and opportunities that would be the best for the mod. There is still the possibility that it will be coded in for CnC3; however the main focus of the mod team is now to make the mod for Starcraft II.
We are working on a brand new website, and hope to have our own forums up in the next week or so. So stay tuned, we have many forthcoming updates filled with some of our best work yet.
Click on the link to see a larger render.
B2: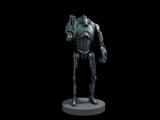 - Galaxy at War Mod Team