Hello and welcome back to another Forgotten Hope 2 update.
Today we have an anouncement from Forgotten Honor as well as a couple of renders of an important Soviet assault gun, the SU-76 (also known as the SU-12) and it's more sucessful derivative, the SU-76M.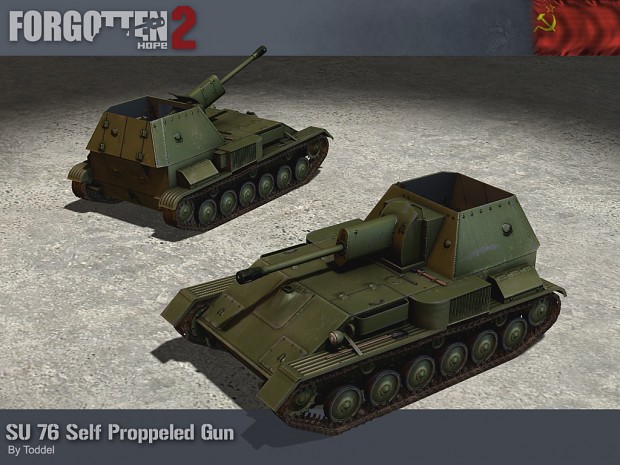 At the start of the war, the Red Army could call on only a handfull of self-propelled guns for infantry support and tank destroying. In late 1942, orders were given for a light self-propelled gun armed with the 76.2 mm Divisional Gun ZiS-3. The winning design was Factory 38's SU-12. This used a lengthened version of the T-70's hull, fitted with an enclosed or canvased roofed casemate at the rear.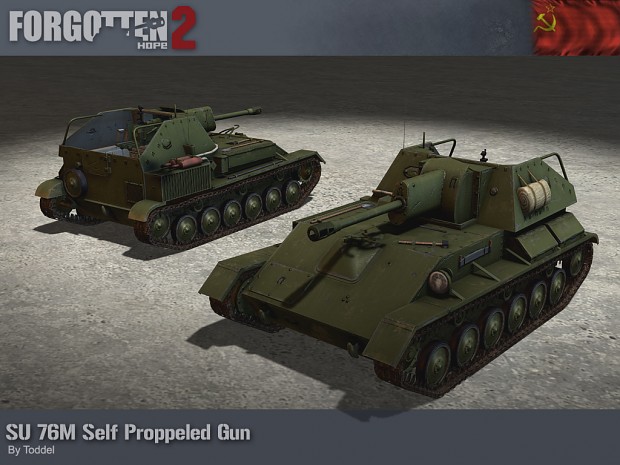 The SU-76 had the same twin engine setup as the early T-70, and the problems this caused were severe enough that production was halted after just 350 had been made. The update to the SU-76M took about 3 months, and involved moving the two engines over to the righthand side of the hull, and lowering the armour protection at the rear. This later change led to the nickname 'bare-arsed Ferdinand', and made the crew extreamly vulnerable.
The SU-76M replaced almost all the infantry tanks in the Red Army. It had such a low ground pressure that it could follow infantry through swamps no other vehicle could, and the large cannon and ease of communication between the crew and supporting infantry made it effective in urban environments too. Both our SU-76 and Su-76M were made by Toddel.
---
Our winners for this week's screenshot competition is mopskind. You can view the winning submission here.
We are now accepting entries for the week of January 28th. If you think you have the best FH2 screenshot, post them href="http://fhpubforum.warumdarum.de/index.php?topic=16835.0">here.
---
That's all for this week, but be sure to come back next time for another update. Until then, feel free to visit our IRC channel, our public forums, and/or our Twitter and Facebook pages to discuss this update and other news.