MOD RELEASE
4/11/15

Moddb.com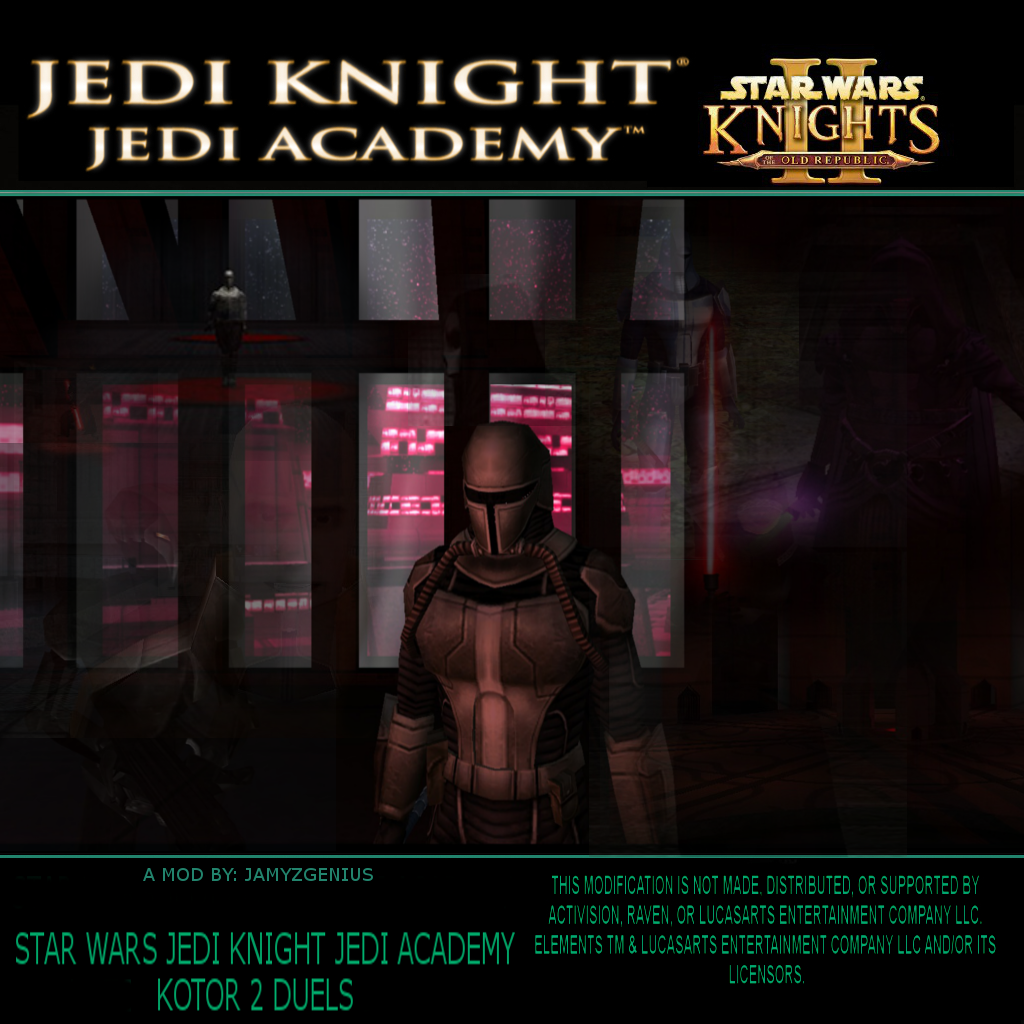 Today this mod is completed. My objective of mix both games was successfully done. I got really satisfied with what I did in the process, now it's time to share with you.
The mod it's a mix of KotOR 2 and Jedi Academy. KotOR 2 because of the environment, the feeling and the atmosphere. Jedi Academy because of the game play and the awesome saber system that is still rocking today 2015. The mod is probably a little bit short, but for people that is not accustomed to duel in SP. This mod will be a new experience to them.
Let's start with a quick review of what the mod has.
Features:
- Tons of new menus to interact from the Galaxy to every planet to every mission.
- A variety of customization options thanks to the authors. There is a variety of models to choose from.
- A new saber menu that will let you choose from Single light-saber, Two sabers to a Dual Light-saber.
- 17 totally new mission from KotOR 2.
- New enemies, every with it's own difficult.
- Challenging bosses. While you start to continue the mission list, the difficult will increase, even if you are in Padawan.
- True duels at HARD MODE difficult with insane handicaps, only for the hardcore.
Mission List. In order to be played:
1.- PERAGUS: Fight with HK
2.- TELOS: Thieves in Module Docks
3.- NAR SHADDAA: Zez Kai Ell Duel
4.- DANTOOINE: Master Vrook Last Stand
5.- KORRIBAN: Young Malak Vision
6.- KORRIBAN: Kreia Vision
7.- KORRIBAN: Darth Revan Encounter
8.- KORRIBAN: Darth Sion Duel
9.- DXUN: Mandalorian Outpost Under Attack
10.- DXUN: Duel with the Sith Lords
11.- DXUN/ONDERON: Master Kavar Duel
12.- EBON HAWK: Visas Encounter
13.- TELOS: Confrontation with Atris
14.- TELOS: Citadel Station Under Attack
15.- TELOS: Assault to the Ravager
16.- MALACHOR: Darth Sion Final Duel
17.- MALACHOR: Trayus Core Duel
I hope you enjoy the content as I did in the development.
Thank you so much for this year or passion and support.
The best for yah!
Best Regards
Jesus F.G./JamyzGenius
CREDIT SECTION UPDATED!
THE MOD HAS A SECTION FOR CREDITS. IN-GAME CREDITS AND A READ-ME IN WHICH I TRIED MY BEST OF MY BEST TO FOUND AND CREDIT EVERYONE. NOT ONLY JEDI ACADEMY MODDERS. THE CREDIT SECTION CONTAINS A HUGE LIST OF PEOPLE INVOLVED IN THE DEVELOPMENT OF KOTOR 2. THE CREDIT LIST CONTAINS CREDIT TO COMPANIES, DEVELOPERS, COMPOSERS, VOICE ACTORS, AND A LOT MORE. FOR THE MODDERS! THANK YOU SO MUCH FOR YOUR CONTRIBUTIONS TO STAR WARS JEDI KNIGHT: JEDI ACADEMY. WITHOUT MODEL PORTS LIKE THE ONES MR. AMBROM DID, THIS MOD WOULD BE JUST AN IDEA IN MY HEAD. THANK YOU SO MUCH. YOU GUYS DON'T KNOW HOW MUCH I APPRECIATE ALL YOUR TIME AND WORK. ALSO, IF I MISSED A READ-ME, OR I MISSED ANY AUTHOR THAT HAS A FILE IN KOTOR 2 DUELS WHICH I DIDN'T CREDIT BY ACCIDENT. PLEASE CONTACT ME ASAP.
---
Edit May 29th 2018: If you are into Multiplayer, check out the map-pack too:
Best Regards,
JamyzGenius