Well, it seems as though everyones doing it... and if you can't beat 'em join 'em!
We've had a very productive few weeks and I'm pleased to bring you a nice big update.
Environmental changes:
Something we've been challenged on in the past, is the quality of our map textures. Well, we hope to please a lot of people with this one.
Prototstar came to us by chance. He posted some of his amazing work on the forum, we asked if he'd work with us and hey presto! We've now got an exceptional texture artist. He is also very knowledgable on how to get not only the best look out of our maps, but also the best feel. Expect to see more work in the upcoming months, a muddy passchendeale, a dry and dusty somme.
For now, a couple of teaser shots:
Lewis Gun:
Danny's been hard at work, texturing his Lewis gun. We have the low poly Lewis gun pan ready. There may be option in the future for a new class to support the machine gunners, a machine gun crewmember as it were. The task for this new class would be to protect the machine gunner, and ressuply him when the time came.
Changelog:
We're testing a variety of in game features, to add to a more realistic, but more fun experience. John "Potteh" Stuart, despite being a UI/HuD artist has kindly offered to work with Wickit to help fix our many code issues. We have several new features which need a lot of testing/tweaking, and many more to come. These include rain effect through to view bobbing. However, we need testers.
We DO have a beta setup and the details on how to apply can be found below.
John has also repalced the health over lay. We've now got a nice simple overlay, that shouldn't be too off putting.
Lee Enfield SMLE:
I've been busy, very busy this month. This weapon, has taken the best part of 3 weeks to complete. As we have few weapons to pick 'n' mix from, we are going to be going with slighter better standard textures than usual. The weapon shall boast a nice big 2048x2048 diffuse, with small spec/norms.
I couldn't have done this without help from wwiionline user "Dracer", who owns one of these and supplied me with enough pictures to get the texture job done.
Lee Enfield Aniamtions:
ChrisTanky has finished the Lee Enfield !
We shall be posted in game video's for our next update, however there's a lot of work to be done, bug's to be fixed.
British Infantry:
These past few weeks, I've spent a good deal of time both texturing and learning the techniques, in order to get this blighter done and dusted. Having discovered the joys of mudbox along the way, I'm eager to be getting on with the German troops.
We hope to have this in game shortly, and will update then with some nice new in game screenshots along with the Lee Enfield.
Jobs: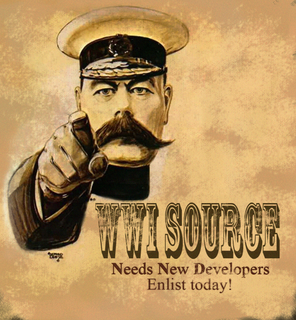 We have a fairly solid team at the moment, however, would still like a few extra members:
-Texture artist
-Animator, both third person and first person
-Coder ( previous experience with Source is a big bonus)
Sound Engineer
BETA Participation:
We DO have a beta up and running. With these changes coming, we'd like a nice big rush of people wishing to join our beta testing ranks. Please apply over on our forums with a pm to myself (volcol) or sol.
Beta tests will be coming up in the near future.
Until next time, stay tuned!
Oh, and don't forget to vote!