Thanks to the efforts of community member ThGryphn, MMH5.5 will now include a new creature manual
for easier comparing upgrades. The manual can be accessed from creature hire screen with a new ingenious drawer bar. RC9 will bring also many more improvements (see below).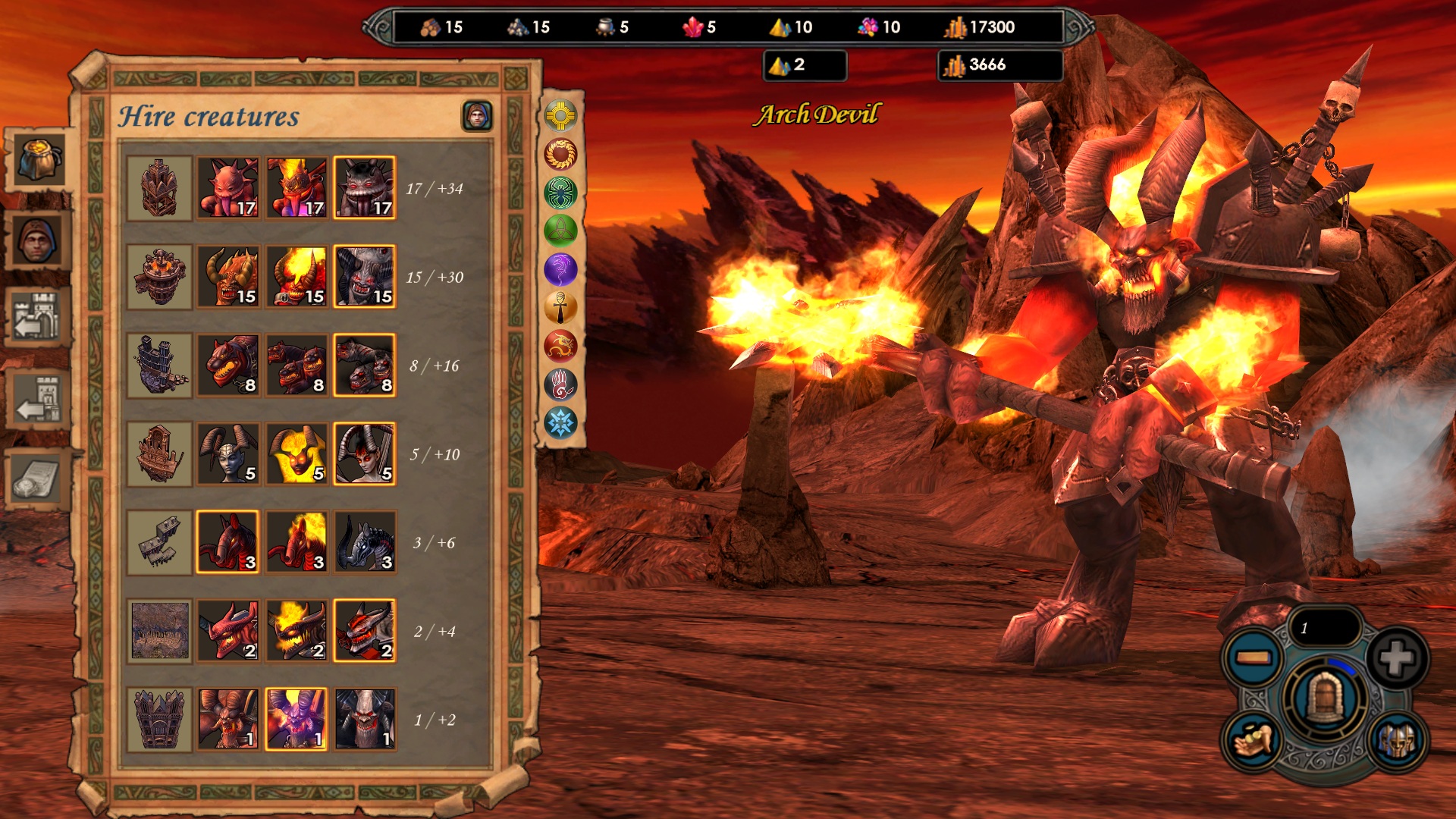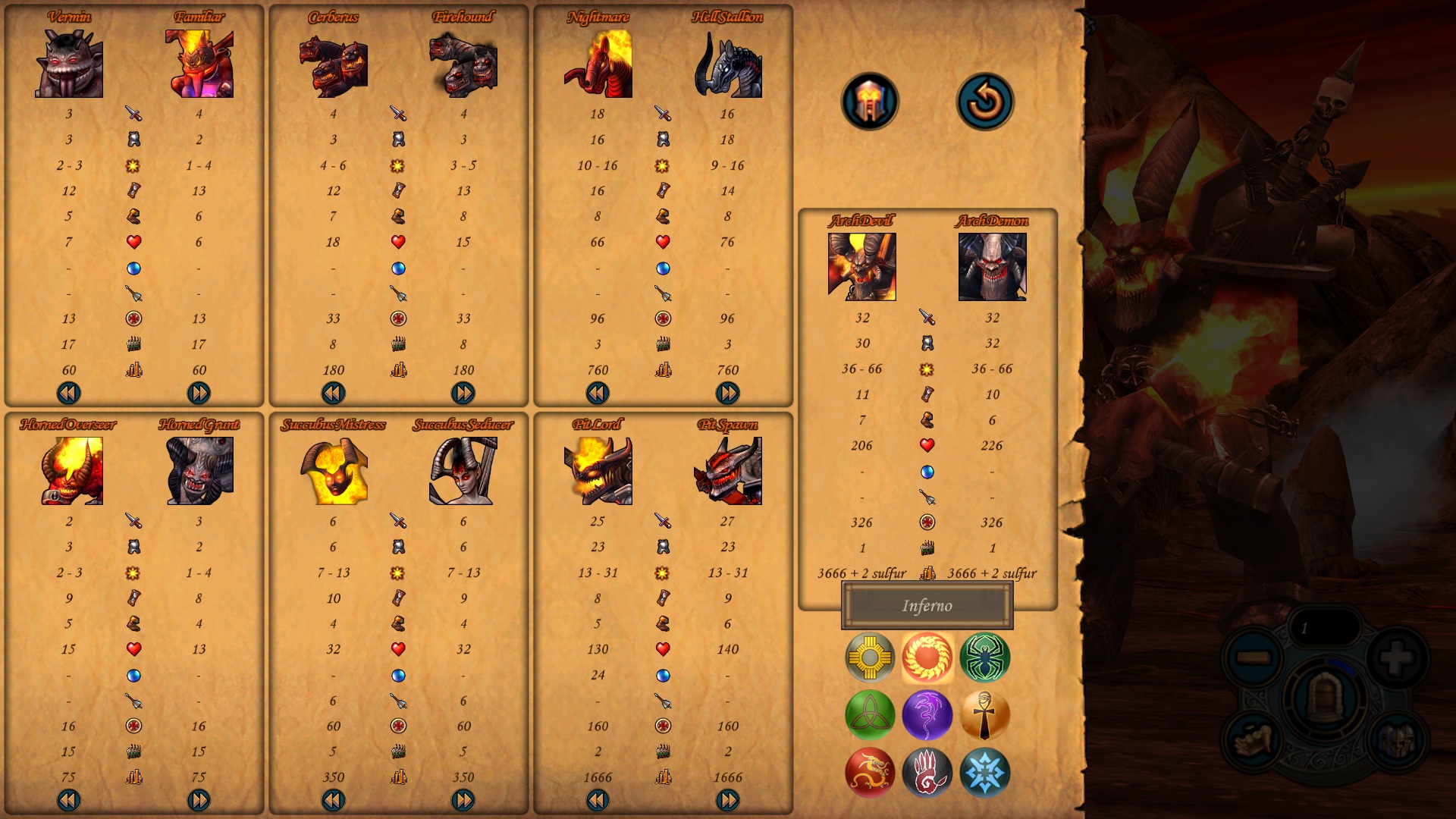 QUICK NOTE: On older PCs the creature manual can cause a lag when opening the creature hire screen, if you don't want this you will unfortunately have to remove the feature entirely, this can be done by removing MMH55-Creaturepedia.pak from your data folder.

New User options (can be modified in MMH55-Settings.pak file):

-Added additional control over game difficulty, AI cheating can be adjusted from off to 6 different levels.
-Added option to handicap AI because some players found game too hard.
-Added option to always automatically ally all AI players against human player.
-Added option to have neutral towns on RMG maps prebuilt to a chosen level, so when you conquer them you don't necessarily need to built them from level 1. The higher the level the stronger the guards.
-added option to make memory mentors forbidden and turn any on the map into skillboosters, for classic RPG experience.

Also:
- Added 64bit version of Utility.exe
- Added 64bit version of Map Editor (might improve stability but have not tested enough yet to be sure).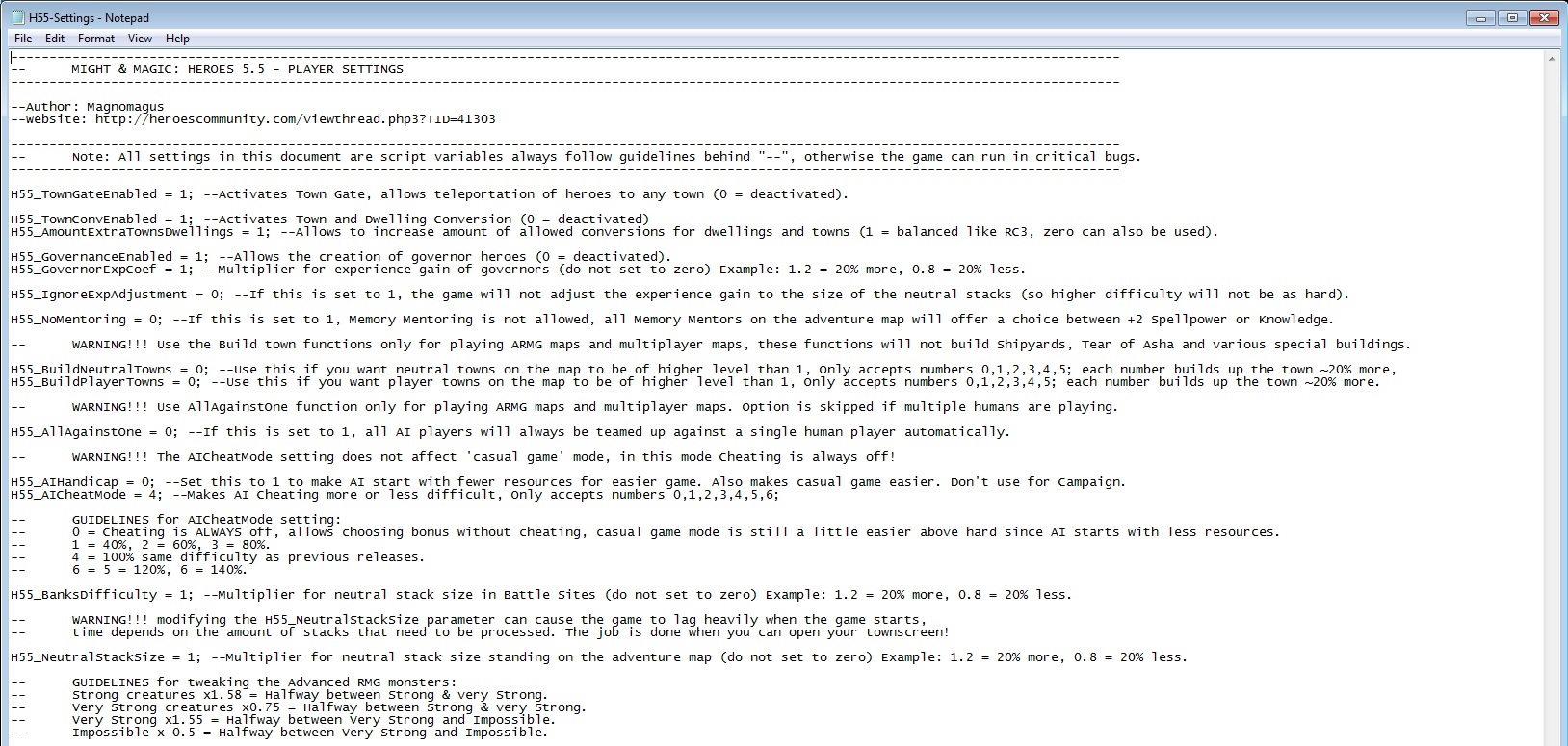 Academy Mini Artifacts

Thanks to the efforts of community member Deflaktor, 4 new reverse engineered changes have been
added, Academy artifacts are now fully rebalanced with better formulae

-- Attack-Defense: 1 + K*150/1000
-- Shatter: 1 + K*100/1000
-- HP: 1 + K*167/1000
-- Luck&Morale: 1 + K*50/1000
-- Speed: 1 + K*25/1000
-- Initiative: 1 + K*500/1000

-Energy channel for archmages is now back, but the effect is 10% instead of 25%
-Reverted initiative nerf on gremlin saboteurs and Titans (because artifacts now don't overpower them)
-Increased tower damage to 80 for side towers and 120 for main tower
-PEST updated to 1.6 fixes issues with summon boat

Revised Imbue ballista gameplay

A long time wish of the community you can now go nuts with it, but still it is balanced.

- Imbue ballista also immediately teaches basic destructive magic+destructive spell and a -1 morale penalty.
- Imbue arrow doesn't cost ATB.
- Imbue Arrow gives random dark magic spell.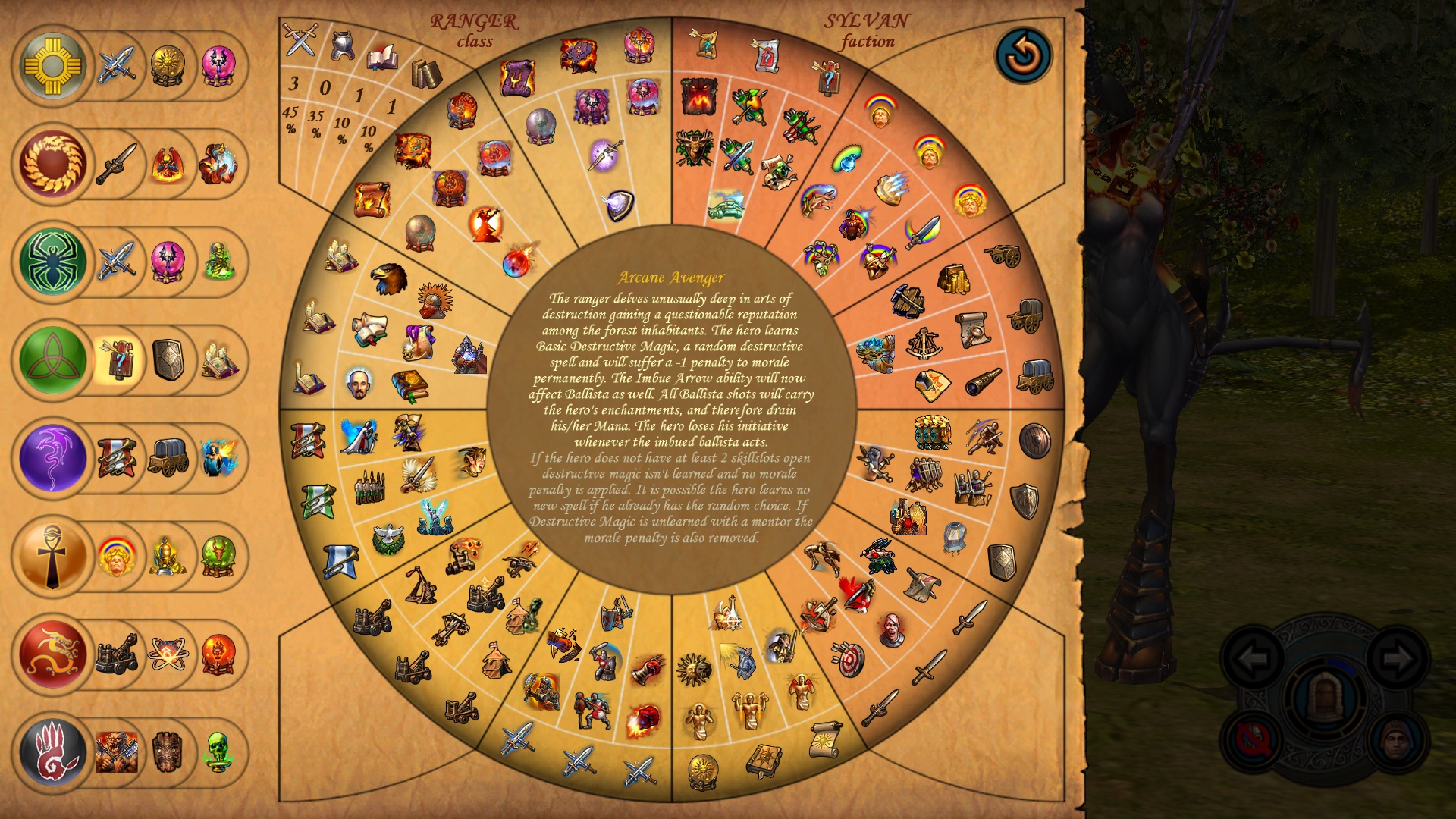 Various
Replaced resource bonus choice with creature bonus (because won't be randomly useless)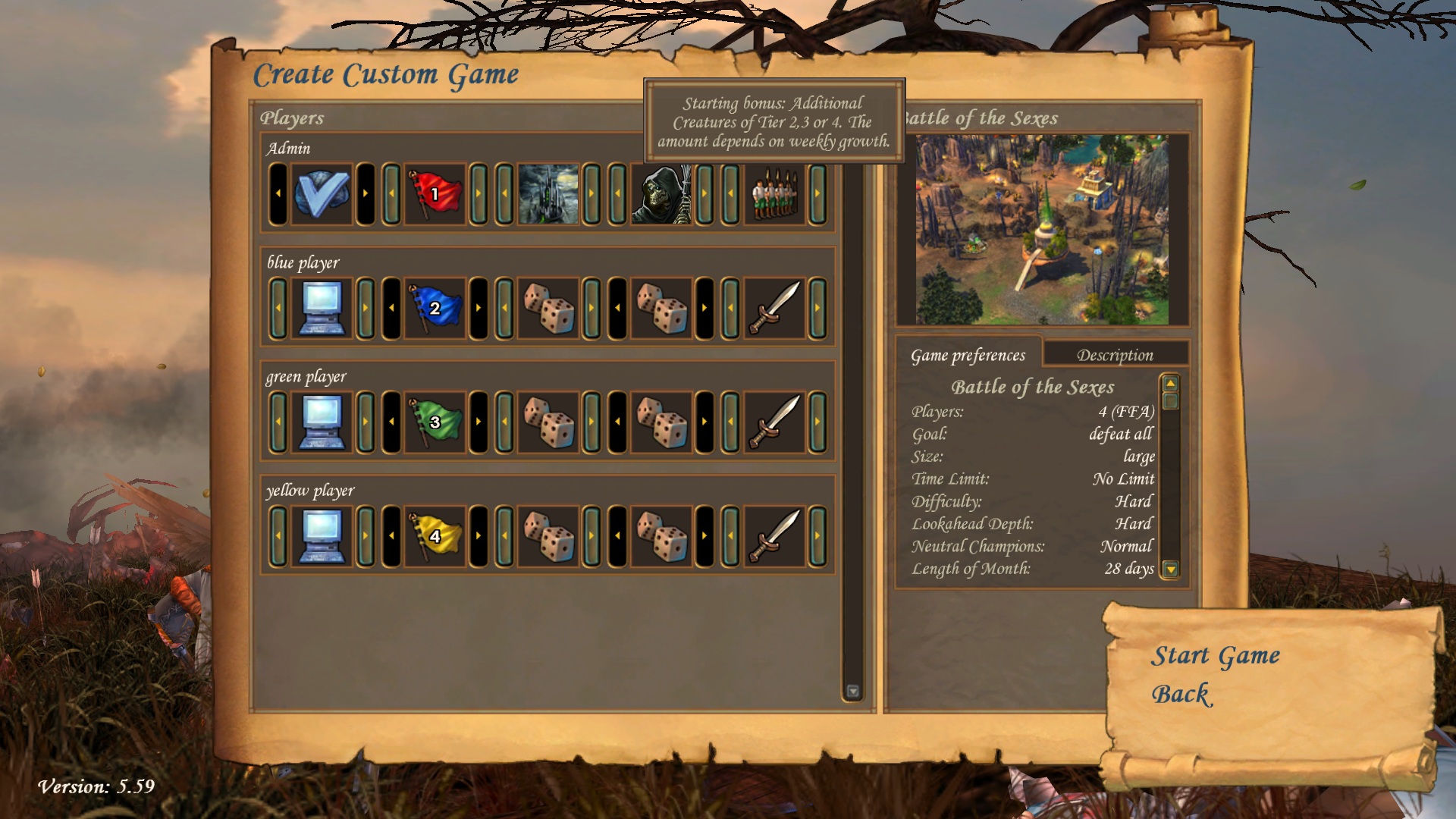 - Soldiers luck gives additional exploration bonus for everyone and academy bonus is removed. The hero will also be more lucky on the adventure map and will collect between 10-30% more gold, resources & creatures from battle sites, resource offerings, grave digging & lost items.
- Shadow Mistresses get Hexing attack instead of Whip Strike (adds 2 spells and removes frenzy)
- Shadow Matriarchs get Swift attack instead of Whip stike (whip strike was bugged with new frenzy)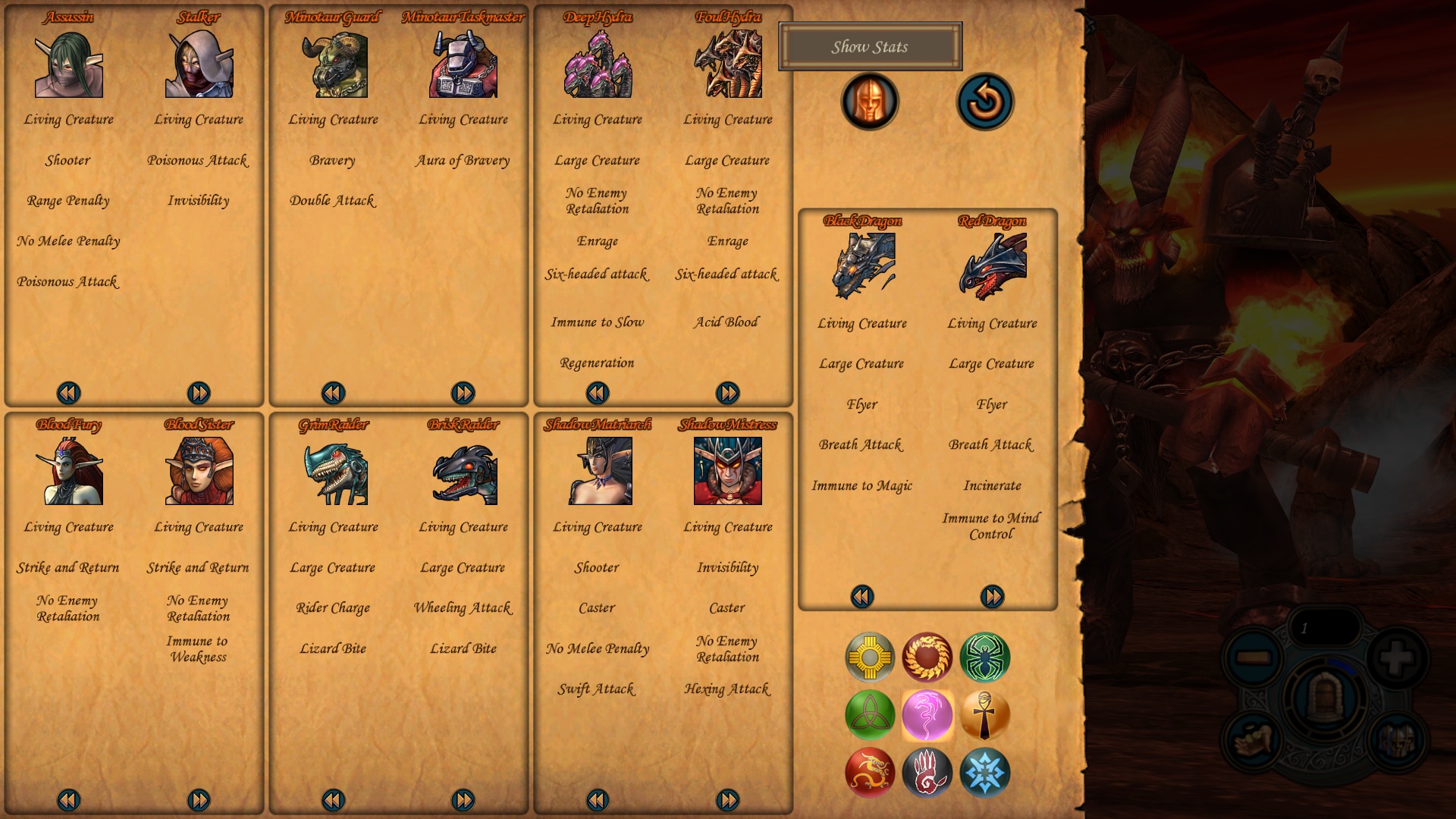 - Improved balance of monster experience values.
- Ring of Sar Issus has Knowledge penalty of -2. (overpowered)
- Increased cost of Phantom Forces spell to 24.
- Fixed script crash after AI tries to resurrect 0 creatures.
- Fixed game breaking bugs in campaign 1 mission 5 when played with MMH55.exe
- Improved texture quality of various UI backgrounds (ThGryphn)
- Fixed ufretin spec icon
- Fixed range txt of crossbowman
- Fixed mysticism txt
- Fixed Chieftain tooltip txt in skillwheel
- Fixed town ore spec txt
- Fixed yrbeth text
- Fixed various spelling errors
- Added missing governance text to sylvan town tooltips
- Added explanation to resourcebar income tooltip