EDIT: An immediate hotfix for RC14 Beta has been released to fix a variety of serious issues that slipped through the net, check the files section!
Today will be the release of an open and somewhat experimental beta for the next version of Heroes 5.5. The previous release RC13a was probably a good product in its own right, that for many players (especially casual) wouldn't need much improvement since it is very complete in terms of features and low on bugs.
Nonetheless, some people always want more and especially the multiplayer community has been very vocal in demanding every class and even every hero to be viable in competitive multiplayer and preferably also improve the game further on a tactical level regardless of the fact that this will require the game to deviate further from the game it is build on.
While not everything in this beta may make it to the final version, there is little doubt the next version will be so significantly different it is more like a Heroes 5.5 '2.0' because the class system got a major overhaul and all skillwheels have been modified.
WARNING: The old campaigns from Vanilla/HOF are not included in the beta, they will come back in the full release. If you are currently in the middle of a campaign playthrough don't update, also finish any map you want to finish before updating (since this version will be too different). Regardless the RC13 uninstaller doesn't remove save games
The rest of this article will be a summary of the changes for each part of the game.
SPELLS
Spellschools have gone through another shake-up mainly to make them more versatile and not focused on a single tactic like debuffing, buffing, summoning, so they are more H3-like basically. Dark magic is balanced to be more effective against necro, Summoning isn't an all-in-one solution for necro dominance.
-Eldritsch arrow moved to light magic level 2, dmg isn't elemental
-Raise dead moved to Dark level 3
-Phantom Forces moved to Dark level 4
-deep freeze, fireball, frost ring, lightning bolt have all dropped one level down
-Implosion is destructive level 5 and slightly more powerful. Deep freeze is cheaper and weaker
-Blind moved to light magic level 4
-Earthquake - summoning level 2
-Magical Immunity moved to summoning level 3
-Suffering, Righteous might, Endurance and Vulnerability are lowered one level
-Ors are immune to curse of netherworld
-conjured phoenix has rebirth ability and -50%HP
-All changed spells have new icons and sometimes names.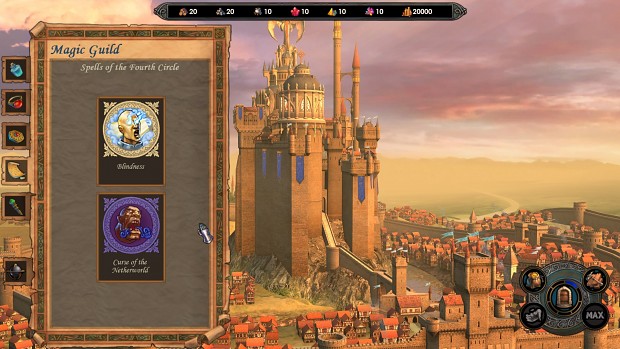 SKILLS
A fundamental change is that Scholar and Wisdom are heavily modified to allow heroes to learn high level spells from 'unusual' schools (not in the towns mage guild). this will greatly improve the tactical variation in the game
-Luck, Avenger and Sorcery have reworked branches.
-Consume corpse is renamed 'drain soul' and has different icons (because eating corpses is inappropriate for humans/elves etc)
-Master of Life is renamed master of ruin and boosts firewall instead of raise dead
-pyromancy no longer gives firewall, but fire trap instead.
-Plague tent does 50% more dmg
-sp bonus was removed from cold death
-pillager does not give +200 with snatch, stays at +100 movement.
-Counterspell was moved to enlightenment to offer new strategy for might heroes.
-Dead man luck is renamed fateweaver and also gives sorrow spell.
-dragon blood crystal summoning is slightly better.
-barbarian skills, tribal teachings, tribal rituals and stamina are all buffed significantly.
-vitality gives 3 instead of 2HP
-consume artifact sets back atb by 0.5
-disruptor specialization does more damage
-master of elementals specialization nerfed SP bonus and hero starts with less primary skills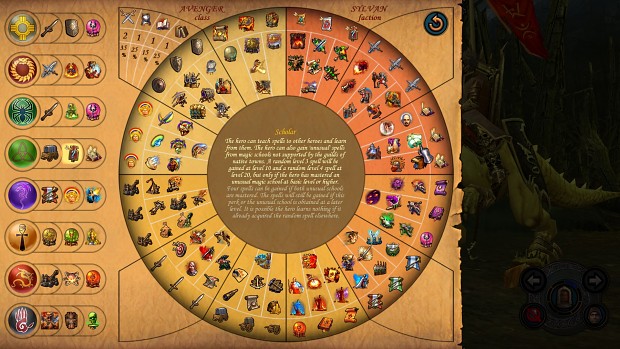 CLASSES
Generally, almost every class has underwent some changes in skillwheel to equalize early game and there is much more room for each faction to experiment with 'unusual magic'
-Haven: now has 2 knight classes, a dark and a light one, instead of paladin which was basically a weak knight offering little difference from the real knight
-Inferno: gatekeepers have rare option to learn light magic
-Sylvan: new Avenger class focused on imbuing arrows with dark or destructive magic, ranger is more conventional 'forest knight'
-Necropolis: Since Raise dead was moved to dark magic, a new heavy magic class is introduced: Nethermage, the necromancer is now the balanced class and has pretty much same development as TOE version.
-Dungeon: weak Assassin class replaced with Trickster class starting with luck, modified minotaur guards to work with soldiers luck, has rare option to go for light magic
-Fortress: Runemage is now offensive balanced class with better access to summoning and dark, Flamekeeper is heavy magic class for light+destructive combo
-Academy: Seer replaced with enchanter starting with light magic, elementalist is nerfed and renamed conjurer and is balanced class, Wizard is heavy magic class
-Stronghold: balance improvements to skillwheels (as with all factions)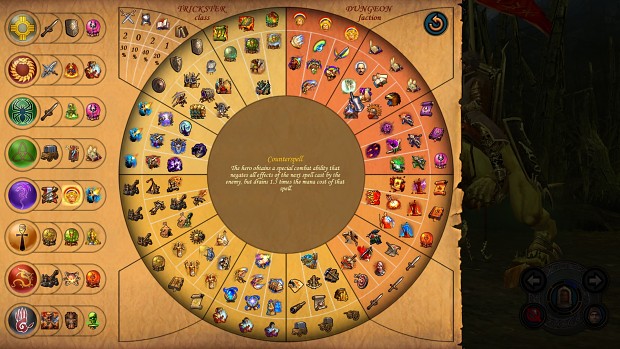 HEROES
The changelist here is massive and I'm not writing it down since it can be observed mostly from browsing through the heroes in custom game menu.
A lot of heroes will have different specs or haved moved between classes as a consequence of class and skillwheel changes. In the process of moving heroes to appropriate places a lot of bios have been updated to H7 lore status and mistakes in lore have been corrected, most TOE heroes have their 'lore specialization' back. (such as deleb having iron maiden again). The starting skills of the hero will be mentioned in the spec description.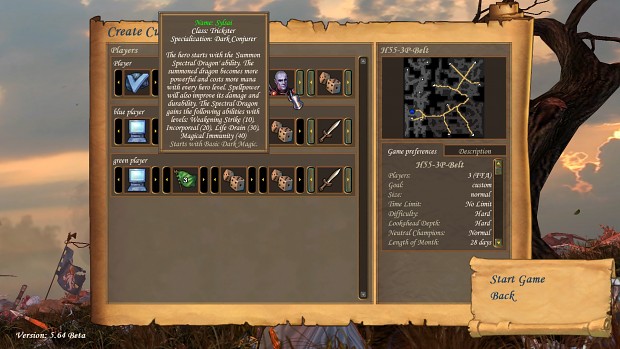 CREATURES
All creatures have around 20-25% more HP to achieve the following goals:
-Improve unit movement tactics
-Weaken exploitative 1-unit blocker tactics, boost stronghold that lacks the ability for such tactics
-Lower importance of first turn and effect of RNG on battle outcome.
-Higher danger level of melee neutrals.
-Lower danger level of ranged and destructive neutrals.
-Weaken destructive heroes a bit (could have been done by other means but it was already a welcome side effect).
other creature stuff
-changed the appearance of wolves to match the haven faction (color temperature), haven now summons wolves and sylvan water elementals, since it fits h7 lore (wolfs duchy) better.
-regeneration abilites and spell have been adjusted to new HP values.
-magnetic golems healing is reduced to 25% spell DMG.
-vampire healing reduced to 40% (adjustment for higher HP)
-minotaur guards have reworked stats and assault ability instead of double attack (to work with soldiers luck).
-stronghold t5 rage level 3 doesn't give double attack but +8 Attack instead, since this was very unfair to executioners.
-executioners have double attack instead of cleave.
ARTIFACTS
-All +% DMG boosting artifacts reduced to 30% from 50%
-All -% DMG protection artifacts reduced to 40% from 50% OR 20% from 25%
-All scrolls also give +2 Knowledge
-All wands also give +2 Spellpower
-ring of vitality is minor
-ring of banishment is relic
-dwarven smithy hammer is minor
-sword of might improved to +3 attack
-beginners magic wand improved to +3 Spellpower
ADVANCED RMG
-2 new template series (Ladder & Gladiator) for multiplayer games with starting towns far apart