Hey there awesome community!
The Mount & Musket: Battalion team is proud to present you; MM Russia!
New features:
New faction: Russia
Realistic cannon system
- Realistic reloading, Get the cannonballs in, ram them down.
- Aiming up/down.
- Limber and unlimbering cannons to a horse.
- Destructible buildings In several stages.

Musicians
- Drums
- Flutes
- Bagpipes
- Trumpets/Bugles/horns
Improved User Interface:
- Easy Unit Selection, Preview of the unit, Which weapons he gets and what kind of class he is.
- Conquest game mode now with flag selection.
- Scoreboard with Live/dead.
Improved particle effects
- Smoke shoots out more realistically and stays shorter.
- Smoke displays on all ranges.
Performance improvement
- Reduced memory usage by a lot because of removing most of the native models and textures.
- New models have a lot less faces and perform a lot better.
- 4 LOD stages for all new models making linebattles perform well now.
Recoded Capture the flag
- You spawn near your own flags like in Conquest
- Your horse won't go as fast anymore while carrying the flag
Admin Tools
- Temporary Ban.
- Freeze player.
- Switch Player to other team.
- Switch Player to Spectator.
- Teleport to player.
- Bring player.
- Teleport through wall.
Admin weapons
- Admin horse; Strong and fast.
- Banhammer
- HolyHandgrenade
New Weapons
- All muskets replaced with new high detail and historically accurate firearms.
- A lot of new cold steel.
- Opolochenie will spawn with random weapons, From broken bottles to sythes.
- New realistic flags for all the factions.
Random stuff
Walking
New Maps
New Horse models and textures with backpacks.
Stat rebalancing for all the units.
Singleplayer Custom Battles
I know you guys have been waiting long for this one but I can say your going to feel where all the time went.
While your downloading, Think about giving back to the community by donating for the public servers! Donate.22nd.eu Cheers, The Mount & Musket: Battalion team.
Download link: Moddb.com
Russian renders: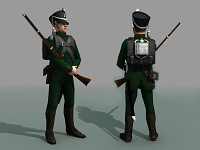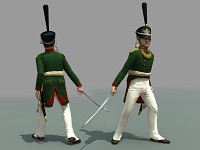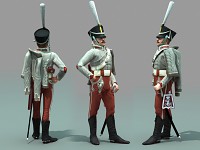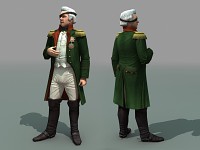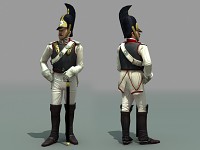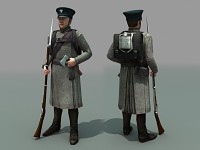 Moddb.com
Overview about the new Cannon system:
Firing:

Mount and Musket: Russia, New Cannon system teaser video - Mod DB
Destroyable buildings: