First they gave Minecraft a huge mention on the Team Fortress 2 blog because of the Minecraft-themed Team Fortress 2 map, then the interview with PC Gamer came online. Not only is TF2 one of my favorite games ever, and I subscribe to PC Gamer (my favorite PC gaming magazine), a lot of other people enjoy them as well.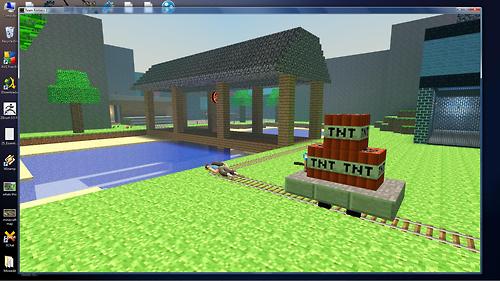 dccollection wrote: So for the last couple of days, I decided to start making TF2 maps again. I always imagined how my worlds in Minecraft would fare as maps for a multiplayer shooter, so to that end, I started this.


(Does my voice really sound like that? Ugh.)




Also, you can download the current version here

When I finish this payload map, I'll upload the prefabs and textures I put together so that people can easily create their own minecraft maps.
This is so cool I can't even start to grasp it! VALVe's made four of my favorite games ever (HL1, HL2, Portal and Team Fortress 2), and I have secret dreams of getting Minecraft up on Steam once it's more complete. I own almost 200 games on Steam, which honestly has helped keep AAA PC gaming alive after traditional publishers started abandoning it.
This is so cool that I can almost forgive them for forgetting about Gordon. Almost.
Not quite.
There's a thunderstorm here at the moment. Lightning strikes and heavy rain. And then the sales went up to 1000 copies sold in a 24 hour period.

I'm not sure what to do! I'm honored, happy and proud, all at the same time. Thank you, everyone, who have tried the game, or bought it, or talked to their friends about it, or mentioned it on their billions of views per day websites.
In more concrete news, I noticed that BIGJam starts next week. I will release the SMP server before I leave for that. It might be buggy, but I promise to fix it when I get back. It will be missing mobs. Mobs will come later on, and when they're in, the game will officially be in beta, and the price will go up to 14.95 euro.
While in beta, I will start polishing the game and adding alternative payment providers for people who can't use paypal, and keep piling in new content.
Also, Minecraft Alpha 1.0.13_01 is now up!
New look for the Slimes
Some work on multiplayer
The client now checks if two instances of the game try to save to the same level, and quits if it does.
Fixed a hang/crash bug related to lighting. It wasn't an actual hang bug, just an "each frame of the game takes exponentially longer to render than the last" bug, which is pretty much the same thing.
Overall bug fixes
Thanks for sending me your levels, please let me know if levels still crash after this update.
As for the server, it's extremely full, and is currently getting eight connection attempts per second.