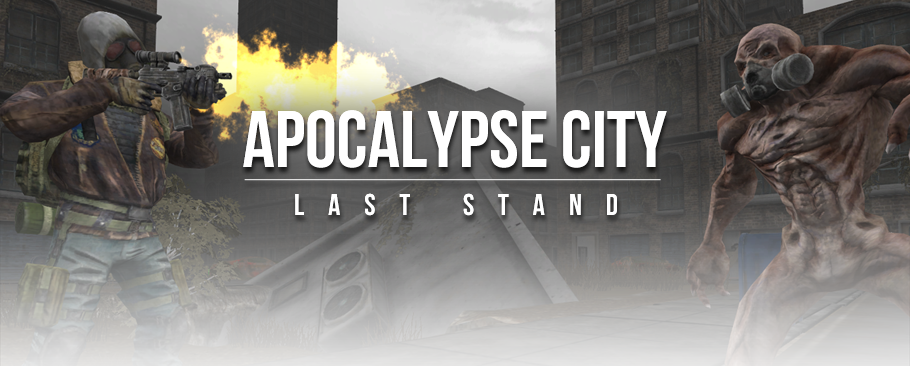 MijiKai Game Studio presents Apocalypse City: Last Stand! A Free to Play, Browser-based Survival Game. Featuring fast-paced survival action in your web browser Powered by Unity 5 WebGL!
Check out Apocalypse City: Last Stand - Gameplay (v1.0)
About Game:
Apocalypse City: Last Stand is a casual survival game that includes deathmatch style gameplay with survival elements. Engage in untimed free-for-all matches while exploring post-apocalyptic environments trying to survive mutated creatures and rogue survivors. Search for loot such as armor, medkits, and extra ammo to gun down your enemies. Hunt mutated creatures, battle for top ranking survivor status, or make a friend and try to survive together!
Game Features:
Free To Play: No purchase necessary to play
Play Anywhere: Play anywhere, anytime on any Windows, Mac, or Linux-based OS with WebGL enabled Web Browsers.
Survival Gameplay: Explore a post-apocalyptic environment, search for loot, survive mutated creatures and up to 4 players per game session.
Infinite Play: Engage in an free-for-all deathmatch that has no end, play until you've killed your share of mutated creatures for the day, or racked in enough player kills to stock up on points for the leaderboard.
Loot Items: Discover various loot (pickup) items in-game that will aid your survival per game session.
Mutants: Beware of mutated creatures that roam the apocalypse, they will hunt you and your friends at all cost.
Kill Points: Points are awarded for player kills earned and stored for daily, weekly, and monthly high-scores.
Leaderboard: Compete against other players for top ranking survivor status of the game!
Social Networks:

Visit Website: Apocalypsecity.com | Follow us on Twitter: Twitter.com | Like us on Facebook: Facebook.com