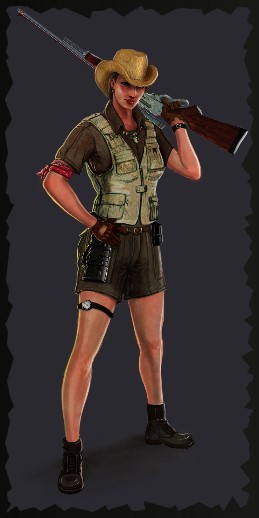 Stats:
Health: 100
Sprint speed: Moderate
Gender: Female
Pros:
Can pick off enemies from a distance
Able to slow/paralyse dinosaurs using a tranquilizer dart
Cons:
Weak
Tactical Summary:
The paleontologist is essentially a sniper with a special ability. Her goal is to immobilize the enemy as fast as possible while maintaining a safe distance. She is a natural partner to the Heavy Gunner as she lacks any close quarters weapons or tactics. After all, close quarters combat wouldn't benefit her research. The Scientist spots a Pteranodonin the distance, soaring high in the skies above, looking for prey. Her rifle is at the ready.
The paleontologist's sniper rifle gives her a huge advantage over the other team members since she has the ability to take out distant dinosaurs on the ground, but is also able snipe scouting Pteranodons right out of the air. Quickly, the paleontologist finds the nearest high ground and kneels. Steadying her aim, she sends a single cartridge barrelling towards the Pteranodon at 1500 meters per second.
Sniper Rifle: The primary firing mode shoots a 7.62mm cartridge specially designed to pierce both scale and bone. It is accurate at any range but causes less damage to targets in the distance due to the loss of bullet velocity. Because of this, it is preferable to use this weapon at medium range. A well placed shot can kill a small dinosaur in one hit.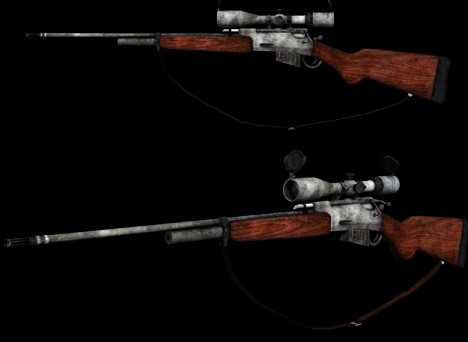 Tranquilizer Dart (Sniper Rifle Secondary Fire): The secondary firing mode shoots tranquilizer darts, which can slow down even the biggest of dinosaurs such as the T-Rex. Its limited ammo capacity and lengthy reload time makes it a very situational weapon requiring strategy planning to be effective. The dart also causes the dinosaur player's screen to blur intensely as well as causing a decrease in movement speed for a short period of time.
Tazer: Inflicts a small amount of damage and causes short term paralysis to smaller dinosaurs. The tazer has no effect on a T-Rex.