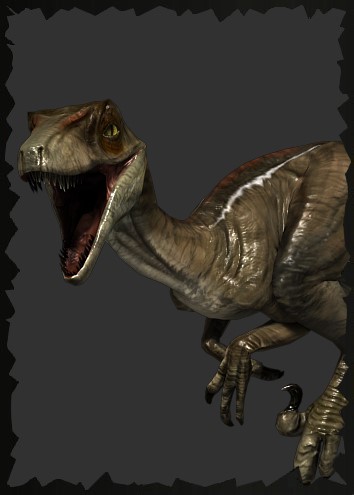 Stats:
Health: 150
Sprint speed: Very Fast
Pros:
Hight Agility allows for
dodging bullets
Very high run speed
Can pounce enemies, dealing periodic damage and immobilising them
Cons:
Can only pounce the heavy from behind
Tactical Summary:
This is the dinosaur assault class, its major role on the team is to seek and destroy.
The Raptor is extremely swift and can run circles around the human players. Its agility allows them to dodge weapons fire and close in for the kill with their deadly pounce attack.
The Raptor's nemesis is the Trapper, who can trap you with a net which will render you completely immobile and vulnerable to attack.


Bite: A simple bite that causes minimal damage to an enemy player. This attack can be executed while running and jumping.

Pounce: Pounce The Pounce is the Raptor's attack of choice. This ability pins the enemy to the ground while the raptor gnaws on them. It can be performed from any direction while running or jumping, however it i s favorable to pounce from behind the enemy for bonus damage. Pouncing from behind also negates certain defenses other classes have against the Raptor's pounce.
...
Run Stun: A very fast run, then body roll to any enemy; this can cause them to spin out of control and be stunned for a few seconds, allowing the raptor or team members to take advantage of the stunning effect.