Welcome to June's fourth and the twelfth overall weekly update by the team of the Crysis total conversion modification MECHWARRIOR: LIVING LEGENDS.
June has come to an end and wow, it's been a super-busy and productive week. Huge steps in terms of polishing and stabilising have been taken and we're proud to present to you one of the most extensive weekly updates we've had so far. We'll start out with the textured four variants of the Inner Sphere's Mauler and continue with various impressions from SA_Sandblasted. Again, a number of playtest impressions will conclude this update. We recommend to check them out carefully, because there are yet again exciting things to see: yes, it'll be possible to take certain vehicles under water and even fight there.
Four Variants With Textures: Inner Sphere Mauler
Early in April, we introduced to you this Inner Sphere's assault Mech. Finally, it has received its textures which we are proud to present to you today. For size comparison reasons, there's an Elemental in one of the screenshots and for reasons of completeness, the variants have been explained again.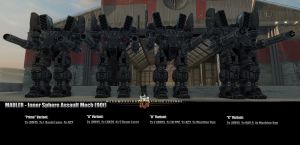 Progress Report: SA_Sandblasted
One of the team's most recent additions, Rolke, is more and more turning out to be an invaluable asset when it comes to level art: many of the assets you'll see when playing SA_Sandblasted have been created or at least modified by him, who originally joined as a level designer but has proven his value as an environmental artist. Check out some of the most recent changes to MWLL's desert map on the screenshot and panoramas below.
Playtest Impressions
Again, here are a few pictures from this week's playtest.