June is almost over and polishing is delivering nice results, while in other areas, we're still seeing new features being implemented. For this update, we've got four variants of the Inner Sphere's Partisan, a progress report on SA_Marshes and no less than SIX playtest screenshots. Enjoy!
Four Variants: Inner Sphere Partisan
It's been a while that we did not feature a Mech at this place. This update brings the Inner Sphere's airdefense tank Partisan in its four variants - textures have yet to be completed. As you can see, some of the loadouts are not only suitable for quickly taking down heavy enemy aircraft, but should also serve well in a supporting role against enemy Mechs.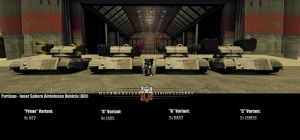 Progress Report: SA_Marshes
SA_Marshes is a prime example of how polishing and improving details can lead to a very much changed appearance and more impressive package. The three panorama shots show this swamp scenery at different times of the day and the large screenshot shows more details on the airstrip, which is still the place where the majority of the fighting will take place. Overgrown and decayed buildings and vehicles suggest that this base has been given up quite some time ago... the Clans and the Inner Sphere however are still fighting hard for every inch of this ground.
Playtest Impressions
Again, here are a few pictures from this week's playtest.