The second week of April of 2009 is over and so it's already time for the second weekly update. A number of interesting things have been going on this past week. Among other things, joystick support is making excellent progress, 64 buttons for 32-bit operating systems and 128 buttons for 64-bit operating systems are basically confirmed. This should be great news not only for those lucky owners of Steel Battallion controllers among you. Now let's see what else this past week had to offer.
Updated vehicle: Modular weapons on the Oro, the Clan's heavy battle tank
Early in the advent calendar, we've been showing to you the four versions of the Inner Sphere's main battle tank, the Demolisher. As this vehicle turned out to become more and more popular in our playtests, Kamikaze successfully spiced up its Clan counterpart with modular weapons technology. In addition, the tank is now quite a bit bigger and bulkier, finally doing its weight of 80 tons justice. Check out the four currently implemented versions below and also note how the Inner Sphere's Longinus battle armor compares in size.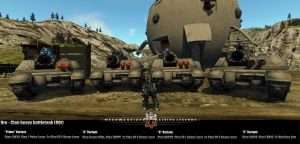 New map: ToA_IvoryTower
Those of you visiting the forums frequently are certainly well aware of this map. The team was quite impressed by Rolke's work and is proud to announce him as its newest developer and level designer. Below are not one, not two, but three panorama shots of this map. The first one shows a wide angle to give you an idea of the scale and dimensions this map will be playing on, the second one shows some of the scenery in a close up and the third screenshot shows one of the outposts. At this time, Ivory Tower is developed for the Trial of Annihilation (ToA) game mode. Please note that this map is still very early in development and therefore very much subject to change.
Bonus pictures
Here are a few screenshots from this week's playtest.