Hello to the ModDB community and welcome to the first weekly update in April of 2009, presented by the team of the Crysis total conversion modification MECHWARRIOR: LIVING LEGENDS.
After releasing more than 130 screenshots, 4 videos and an exclusive audio file, we've decided to take a slightly different approach and put an end to the 'Advent / Release Countdown calendar'. From now on, we'll be presenting to you a selected set of newly implemented features and assets - once a week. This should accommodate all those looking for eye candy as well as those looking for more specific information.
Here we go.
New 'Mech: Inner Sphere MAULER
90 tons of steel are shaping up to reinforce the Inner Sphere's forces in MechWarrior: Living Legends: the Mauler makes its first appearance on the grand stage. The four variants currently implemented can be seen on the screenshot below. With its two hard-mounted LRM-launchers, the Mauler is an excellent pick for long range support tasks. However, the "A" and "C" variant show that this ''Mech will also be able to make a stand in close-range encounters.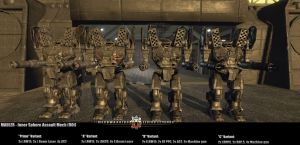 New particle effects
The Gauss rifle and the PPC received new particle effects which are being shown in the screenshots below.
Time of Day established on SA_Inferno
A rocky wasteland beneath a sky blackened by the ashes of an erupting volcano doesn't sound like the time of day would matter much. We've created a short video clip that proves this assumption wrong. Check it out below.